Bathroom, kitchen and appliance supplier PJH has relocated its Scottish depot to near Glasgow airport.
PJH said the move was part of its ongoing programme of investment to improve the way it interacts with its customers.
The new depot will be located just nine miles outside of Glasgow city centre and offers customers a more convenient location and improved parking facilities.
The centre occupies 45,000sq ft of space and includes a brand new customer collections area, as well as a modern appearance and newly refurbished offices.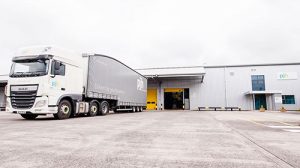 Simon Fletcher, head of operations at PJH Group, said: "The new location is a welcome move for PJH's growing customer base in Scotland and reflects the importance the company places on delivering the best customer experience. Logistically the Depot's new location is much better than before, but its size, design and layout, including the new Customer Collections area, will also contribute greatly to an enhanced level of customer service.
"The success of PJH's many product ranges, as well as its many other initiatives, is helping the company's already strong presence in Scotland improve further. The new location, with its enhanced facilities, recognises this importance and continues the company's commitment to continually exceeding customer expectations and to affirming its 'together we're better' branding."