Cosentino ended 2015 and an estimated consolidated turnover of €715 million (£543m) – up 20% on 2014.
The Spanish work surfaces manufacturer, which has more than 100 sales and logistics centres worldwide, also hired 685 new employees worldwide – 200 of which were in its home country. This brings the total number of employees to over 3,300 worldwide, representing 44 nationalities.
During 2015, the company opened more than 10 Cosentino Centres worldwide, new Cosentino City showrooms in New York and Milan, and took over a Canadian Toronto-based distributor.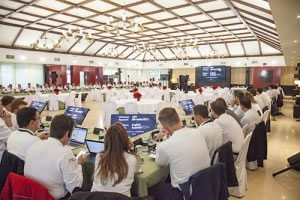 In an end-of-year conference attended by more than 90 of the company's directors, the group's president Francisco Martínez-Cosentino (pictured) said: "The meetings are very significant, because they show that we are achieving a high level of professionalism in the company, orderly management and an inclusive policy to continue to grow sustainably. In just one year we have hired nearly 700 new employees and this puts us in a position, together with our partners and customers, to continue leading in this industry and meet new challenges and short-term investments. 
"The entire management has an unwavering commitment of to safety and improved working practices in the workplace, as well as for the rest of the value chain. This is a fundamental aspect from which much of our investment commitment stems, as does the growth of the sales network and the constant updating of all our factories with the latest and best technology."