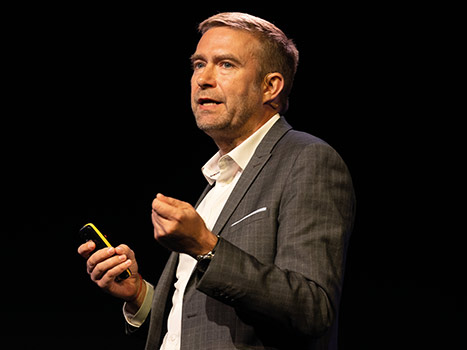 Haier Europe saw a 20% growth and achieved £2.43 billion in revenue in 2021. CEO of Haier Europe, Yannick Fierling, believes its success is down to its partnerships with its retailers who can demonstrate appliances to customers
Independent research agency Euromonitor International put Haier at the top of its global major appliances brand rankings for the 13th year in 2021. Globally, Haier's revenue reached RMB 227.5bn (£28.04 bn), with year-on-year growth of 15.6%.
Fierling spoke to kbbreview exclusively at the company's AGM. He said: "I'm proud to say that the Covid period has probably been the best illustration of this business model in this respect. Because when shops were closed and the market overall was down, the Haier brand in Europe was growing by 20%.
"I am convinced that was thanks to the partnership with our retailers. And, I could give you many illustrations of when we've helped our partners in this difficult time. Because again, we could easily connect with them by having a local team."
One of the critical parts of the retailer partnership is the retailer's ability to demonstrate the products – especially smart appliances. Haier is highlighting the concept of its connected home appliances being an experience rather than just products, and it believes the best way to convey that message to customers is on the shopfloor.
Fierling said: "We're working with retailers to display them on the shopfloor. We usually will have a dedicated, connected space that can display connectivity, and you can explain exactly how things work. The biggest challenge with explaining connected appliances is when they are unplugged. When you don't have somebody to demonstrate the appliance."
An ideal example of showcasing the smart home is in the Haier showroom in Shanghai. Fierling explained the experiential store: "When you visit the shop in Shanghai, you're not entering a shop, but a house. It's pretty unbelievable. On the first floor, it explains what the smart home is and why you should have a smart appliance.
"But afterwards, the customer enters a living room, a bathroom, a kitchen, a laundry room, and they experience connectivity and smartness. It has been a pretty big wow moment because they feel in touch with what they are purchasing."