Kitchens and fitted bedroom furniture supplier Lanzet has revealed 'record' profits in its end-of-year results.
The company has seen turnover double year-on-year and profits are up by £640,000 on the previous year.
It has attributed this "profit surge" to a significant increase in sales during 2016, its continued investment in plant and machinery and its commitment to renewable energy solutions.
It added that innovation and boosting operational efficiencies has helped to streamline the business.
Over the last 18 months, Lanzet has upped its green credentials and reduced costs by installing a commercial biomass oven to efficiently burn its waste products generated during the on-site kitchen manufacturing process.
It has also added a further 8,000sq ft to its warehousing at its Accrington Road operation, invested in a new production line of CNC machinery, which has further enhanced its manufacturing capabilities and helped to increase its monthly supply of bespoke kitchens for house building products across the UK.
As a result of this growth, it has seen staff numbers increase to more than 30 people employed across its two sites in Blackburn and Reading. It has also seen the appointment of a new sales manager Rich Casement-Anderson and installation manager Lenny Minero, as well as tripling its transport fleet.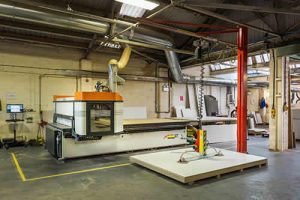 Managing director, Barry Casement (pictured top), said: "Three years ago we set out an ambitious growth plan and have exceeded all targets. We look forward to further growing the business in the next three years to a £10 million turnover business.
"While our core customer base of small to medium regional house builders creating new housing developments has remained robust, we have rapidly expanded into new areas such as permitted build, apartments, student accommodation and social housing through to more prestigious top end developments.
"Word-of-mouth recommendation still drives our new business and we're delighted that our customers go on to recommend us time after time."
He concluded: "Undoubtedly, our ability to handle the whole kitchen installation process – from designing off plan to professional installation – is supporting our on-going success. By increasing efficiencies our average lead-time is just three weeks. Contractors see the value and time savings made by outsourcing the kitchen specification part of their overall schemes to us as their supply partner, providing product choice, surveying and measurement, design and fit."