Bedfordshire-based wet room manufacturer On The Level (OTL) has been selected to supply 300 bespoke bathroom and shower room floors at the Defence and National Rehabilitation Centre (DNRC) at Headley Court.
The DNRC in Epsom, Surrey provides clinical rehabilitation for injured service men and women to achieve optimal levels of health and fitness.
OTL managing director James Clark said: "I feel so proud of everyone on the OTL team, to have been selected to supply our flooring systems for such an important and ground breaking project.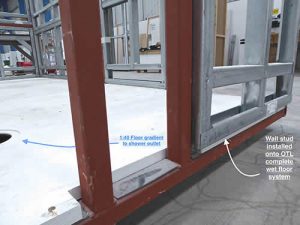 "Listening to some of the testimonials on the DNRC site from the ex-servicemen that this facility will help, we truly can't imagine the situation they were and are still faced with on the front line. Every single person at On The Level is incredibly proud and humbled to play even a small part in this amazing project."
OTL won the contract to create these modular style floors through third party pod manufacturer partner Metechno.