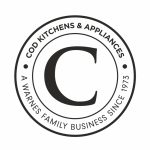 Website COD Kitchens & Appliances
Kitchen and Bathroom CAD Designer
COD Kitchens & Appliances (a family owned and run business established in 1973, based on Altrincham) are looking for a talented, confident, creative individual to join our team, assisting our top designers with creating exciting living spaces.
This position is for a designer who has prior experience working with CAD software. This would be an ideal opportunity for someone who prides themselves in their work and may like to progress. You must be able to communicate with a range of people within the business and have a level of knowledge and understanding with CAD software to design Bedrooms, Kitchens, Interiors, and Bathrooms.
Skills and experience required:
• Prior experience working with CAD software preferably Winner.
• Exposure of working to short deadlines.
• Enthusiastic about interior design and CAD software.
• A strong and confident communicator with the ability to build relationships with colleagues, clients, and subcontractors.
• Able to demonstrate an impeccable attention to detail.
• Willing to listen to feedback and grow within the company.
• Flexible and able to work hours that aren't typical to meet under the needs of the business. (We will need someone who is open to working on Saturdays)
• Work well as a team and can respond quickly to challenges faced.
What you will get with this role:
• A salary suited to amount of experience.
• Training with our different suppliers.
• A company pension scheme.
• 20 days annual leave plus public holidays
• On-Site free parking.
Job Type: Full-time, Permanent
Salary: From £22,00.00 per year (based on experience)
Schedule: 8-hours / 5 days a week (excluding Sundays)
Location: Altrincham WA14 4EP: reliably commute or plan to relocate before starting work (required)
Experience: Kitchen CAD Design: 1 year (preferred)
Work Location: One location WA14 4EP