Our mystery shopper visits the Dorset coastal town and finds a high standard of service and showrooms blisfully free from spiders in baths and dusty displays
Kitchen Elegance, Bournemouth Road
In the pretty area of Ashley Cross just inland from Poole, this is a well laid-out showroom set over two floors. The main displays upstairs include several Leicht kitchens, with German appliances – with Gaggenau, Miele and Neff among the usual suspects on show. After going upstairs, I was approached by Matt, who asked if he could help. He was precise in his advice – pointing out the 340mm depth of cupboards – and explained that Kitchen Elegance employed its own fitters and could handle projects from start to finish with free CAD design after visiting homes. Matt did this all with charm and pointed out that if I was looking for a bathroom as well, a good choice would be Kitchen Elegance's sister store, Bathroom Elegance, elsewhere in Poole. His approach was hard to fault. He even offered a fairly precise quote on what one particular display kitchen of Leicht with Miele appliances would cost (£12,000). I got the impression of a highly competent operation, where the sales patter had weight behind it.
SERVICE: 4 SHOWROOM: 4
TOTAL: 8/10 : Charm and a smart showroom promoting plenty of confidence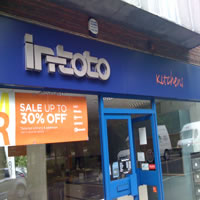 In-toto, Commercial Road
The Poole branch of in-toto, also in Ashley Cross, overlooked the grass square in this leafy suburb. I was approached by Sarah shortly after going in, and she asked if I was looking for a modern or traditional style of kitchen. On being asked about appliances, she recommended the Bauknecht products, which were prominently on display. She also pointed out that in-toto offered a full design and fitting service and introduced me to the head of the fitting team in the shop. The displays were nicely put together, with bathrooms to the left of the door as you went in and kitchens on the right. Sarah laid a lot of emphasis on the quality and solidity of the furniture that in-toto sold, adding that it was nice for her to be able to sell kitchens in which she had faith, unlike a couple of the chains she had previously worked in, "where I would not have bought my own kitchen".
SERVICE: 3 SHOWROOM: 4
TOTAL: 7/10: A good example of the In-toto franchise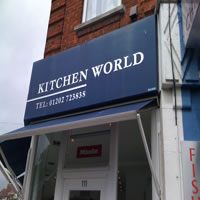 Kitchen World, Parkstone Road
A corner store with limited but well-used space displaying mid-to-high range products, this was alongside Poole's main council offices. On the day of my visit, proprietor Steven Jones was out to lunch. The woman who looked after me was an able deputy, but did suggest that if I wanted to talk about my requirements in detail, then it would be best to speak to Steven. There were some attractive displays, with a mix of modern and traditional styles, so a Belfast sink sat alongside a modern cupboard. Products on show included Burbidge, Blanco, Neff, Miele, De Dietrich, AEG and Insinkerator. Kitchen World offered a full design and installation service, and although it tended not to supply budget kitchens, it did cover most other price bands. I walked away with a pile of catalogues to browse through.
SERVICE: 3 SHOWROOM: 3
TOTAL: 6/10: Worth ringing ahead to ensure the proprietor will be there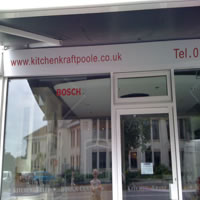 Kitchen Kraft, Parkstone Road
This was another showroom that catered for both traditional and modern tastes, with Shaker cabinets sharing floor space with a striking moon-shaped cooker hood by Italian maker Air Uno, priced at £700 plus installation. Another display went fully traditional, pairing a Bertazzoni range beneath an old-fashioned overhanging mantelpiece. What made this showroom stand out were some striking individual pieces, which Lynne, wife of owner Trevor, suggested to me could really be used to make a kitchen stand out from the crowd. Overall, this was a surprising shop, with its rather modest space containing some genuinely impressive show kitchens. Lynne told me that a lot of the furniture sold was made locally, which seemed a nice bonus, and added that Trevor was always happy to plan and design a kitchen for customers, "although obviously we'd like you to buy it from us too".
SERVICE: 4 SHOWROOM: 3
TOTAL: 7/10: An individual showroom for those that want something a bit different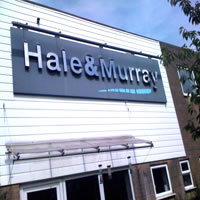 Hale and Murray, Abingdon Road
Those who like to know the source of what they are buying will be particularly happy with this shop, because the Hale and Murray factory was behind it. This was a family-owned business covering kitchens, bathrooms and bedrooms. The first-floor reflected this and started disconcertingly with a toilet fixture right alongside a kitchen cabinet. Then it was more kitchens and a bedroom. All of this was laid out as if it were at home and if you opened the drawers and cupboards, you found pasta, tea bags and cereals. Apart from the Hale and Murray furniture, other names included Second Nature. I was left alone to browse for a while, but was helped by a woman (one of the family), who said they were happy to handle design and installation.
SERVICE: 3 SHOWROOM: 3
TOTAL: 6/10: They don't just install your kitchen, they make a lot of it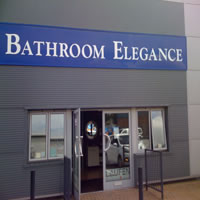 Bathroom Elegance, Nuffield Road
The sister company to Kitchen Elegance was on the edge of the Nuffield Industrial Estate in the north of Poole. It was an impressive showroom with plenty of space for its elegant displays. The first thing I noticed when I walked through the door was a Burgbad bathroom laid out to the left and the high-end brands continued as I walked around the shop. There was a lot of Laufen, but plenty of other big names too, including Grohe and Hansgrohe, Catalano, Utopia, Porcelanosa, Vado and Bauhaus. Initially, I was left to look at all this without sales attention being forced upon me, but as soon as I asked designer Lee something, he was more than helpful. He demonstrated a bath that played music and showed me some Bauhaus cupboards in more detail. When he realised that I had also visited Kitchen Elegance earlier in the day, he also made the point that if a customer bought from both shops a "further 2.5% discount" was available, which seemed like a smart offer.
SERVICE: 4 SHOWROOM: 4
TOTAL: 8/10: An elegant and excellent bathroom showroom
WINNERS PROFILE
Kitchen and Bathroom Elegance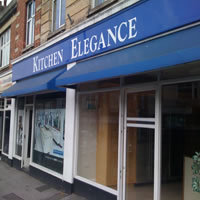 A pair of shops run by the same company gets the garland this month, partly because they work well together. On the day I visited, staff were alert enough to establish that I was looking for both kitchens and bathrooms and the one shop told the other to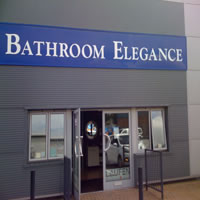 expect a potential customer. Impressive. Kitchen Elegance is the longer-established of the two shops. It was set up by husband and wife Rob and Carolyn Rosselli in 1986 in the Ashley Cross showroom. Although it started with just the two of them, Kitchen Elegance now has more than 15 staff and the size of the showroom has quadrupled. Bathroom Elegance's 4,000sq ft showroom was added in 2007 and Living Elegance followed in 2009. It showcases furniture for bedrooms, lounges, dining rooms and studies.