Samsung used the IFA tech show in Berlin to unveil its 'Samsung Connect' smart-home feature, which allows users to control the brand's smart appliances using voice commands.
Samsung Connect has now been integrated in the Family Hub refrigerator, with users now able to ask for the time and weather updates, search the internet, read news articles, play music and radio, add items to their shopping list, and view inside the fridge without opening it.
The Connect platform is also capable of connecting and controlling IoT devices, regardless of the operating system, such as Android and iOS.
European languages are also being added to the Hub fridge on a phased basis this year and will include British English, German, French and Italian.
"Samsung has continuously enhanced the Family Hub since its first introduction at CES 2016, focusing on improving consumer lifestyles," said JS Park, executive vice-president of the Digital Appliances Business at Samsung. "Our endeavour to advance the smart features of home appliances has always been closely tied to our mission to make a meaningful difference in the lives of individual consumers and families with innovations that matter."
Samsung also used the Berlin tech show to take the wraps off its new WW8800M washing machine with QuickDrive technology.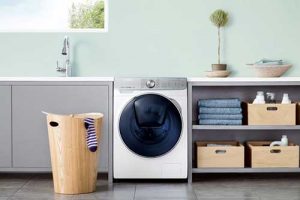 QuickDrive claims to allow users to "dramatically" reduce laundry load times without compromising on washing performance – with its Super Speed setting finishing in just 39 minutes.
Throughout the washing cycle, QuickDrive also offers a range of smart features, with the IoT-ready WW8800M boasting an AI-powered laundry assistant, which provides three key smart features:
Enables consumers to manage a laundry finishing time, freeing consumers to control their schedule on their own terms;
Automatic recommendations for optimal wash cycles based on the information such as colour, fabric type, and degree of soiling inputted by the user, eliminating the need for guessing about which cycle is best;
Monitors the washer, proactively alerting users about potential problems and providing quick troubleshooting support.
"QuickDrive is the industry's game-changer, dramatically cutting the amount of time it takes for users to do laundry and giving them more time to enjoy life," said BS Suh, executive vice-president of the Digital Appliances Business at Samsung. "The new WW8800M washing machine uses QuickDrive technology to provide fast and powerful washing performance, with a range of technologies and smart functionality that make doing laundry so much easier."