German appliance brand Küppersbusch has appointed Euromobel as its UK and Ireland representative effective from September 1.
Küppersbusch said it hoped the partnership would further strengthen its brand in the UK market.
Dr Stefan Popp, managing director of Küppersbusch, commented: "We are delighted to be working with a renowned KBB specialist Euromobel, providing a solid platform to further strengthen our brand in the UK. As a worldwide premium appliance brand, our focus is to offer the latest cutting-edge innovations and versatile design-led product solutions."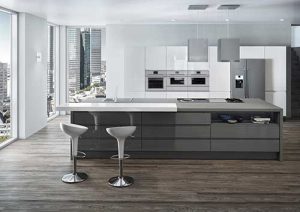 Euromobel managing director Bodie Kelay said: "We are thrilled to add Küppersbusch to our portfolio, it's an award-winning appliance brand built on 140 years of heritage and still continues to set new standards in design, technology, performance and functionality.
"As a specialist for leading KBB brands for more than three decades, we constantly strive to enhance our offering to retailers and specifiers, delivering a competitive mix of unique complementary products."
Main image left to right: Mart Rand, international sales director, Küppersbusch; Bodie Kelay, managing director, Euromobel; and Dr Stefan Popp, managing director, Küppersbusch