'I'd love for someone to design kickass bathroom showrooms' 

Rebecca Nottingham chats to double kbbreview award-winning interior designer Ros Wilson about her signature style, her impression of the KBB market and her plans for the future
The Roselind Wilson Design studio is located in a quaint little mews in an affluent part of north London. It's a stone's throw away from the Interior Design School – which seems appropriate considering the nature of her business – and is surrounded by a selection of architecture practices, stylish bars and trendy cafés. There's also a rumour that a famous singer/songwriter owns the studio opposite, something that certainly grabs my attention.
Celebrity gossip aside, we've been keen for the opportunity to interview Ros ever since she bagged two of the most coveted honours at this year's kbbreview Retail and Design Awards – Kitchen Designer of the Year: Project cost over £50,000 and Bathroom Designer of the Year: Project cost over £25,000.
"It was the first time we'd entered the kbbreview awards and, if I'm honest, I genuinely didn't think we'd win one, let alone two," she recalls.
"I really felt that we'd earned those awards because we actually had to present our designs to industry experts, explain the brief and how we'd overcome certain issues. They're two awards that we're really, really proud of."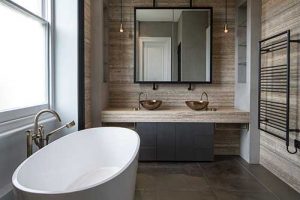 As it turns out, Ros and her team are no strangers to awards ceremonies and industry accolades. Since 2012, they've been nominated for 12 awards and picked up no fewer than 10 trophies. The studio is also a finalist in three categories at this year's International Design and Architecture Awards, which take place later this month.
Ros has been developing her career in the interior architecture and design arena over the past 17 years. Prior to leaving her native South Africa for London, she gained a business management degree and an interior design diploma. She then worked alongside an established independent interior designer which allowed her to gain valuable experience of the luxury market.
She then held a senior position for three years at Helen Green Interiors, one of London's top design studios, which she describes as "a highly-pressured role, but a fantastic grounding in my profession", before leaving to set up her own practice seven years ago.
In that time, Ros, along with her team of designers, has been busy building the practice and gaining recognition for their signature style. But it's only in the past year, since her twin sister and marketing specialist, Geraldine Wilson, joined the company that she's really been able to think properly about the direction she wants the business to take.
"There's been a lot of change going on here since I started the business nearly eight years ago," Ros explains. "Geraldine came on board 12 months ago and it's only since then that I've really felt we've started to navigate into the kind of structure I want the company to have.
"I want to establish a stronger brand that will focus on the understated luxury of balanced living. Eventually I want to open an international branch and create a more holistic service to our clients."
Commenting on the marketing strategy, Geraldine says: "We're currently in the process of redesigning our logo and our website, so that we get our message straight and attract the right clients.
"The website will be the key platform and, at the back of that, we'll have a diverse content strategy that will focus on a design blog and social media content, as well as exposure for Ros, so we can build up her profile in the industry.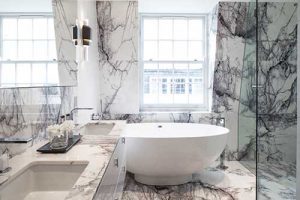 "At the moment, we're a team of four, but we're also looking to recruit more staff, so that we have the right talent behind us to help us build the business. That's essentially the core of the marketing strategy for the next three years at least."
Interior design
According to Ros, at its current size the studio can comfortably work on between seven and eight projects per year. They range from full-scale interior architecture work, including planning consent and structural changes throughout the property, and interior design.
"It's definitely not just 'fabrics and cushions' like a lot of people think," she says. "We can do the interior design or we'll do the full process – collate the drawing package for tender, send it out for tender, tender analysis appoint a contractor and oversee the work right through to the end," she explains. "The bigger projects are great to work on, because you work with the client for longer and get to know them really well. The project is really satisfying."
Though, as an interior architect and interior designer, Ros's role on a project is usually more complicated than solely focusing on the kitchen or bathroom, because of their importance within the home, as she explains, they're always keen to be involved in the design of these rooms in some way.
"Kitchens and bathrooms are a big part of our future as a design practice," she explains. "The rooms play such a key role in the home that we want to get involved in any stage we can.
"The kitchen, particularly, is so interesting, because everyone sees it as such an important room in the home. But what's absolutely fascinating is that the way people use their kitchen is always so different.
"There's the client that wants a separate kitchen to keep cooking smells contained or the client that prefers the open-plan layout. There's the client that wants the dumbwaiter and then there's the one who wants an open-place space, but with the option of hiding certain aspects when they need to. There are just so many ways that people want to allow their kitchen to function and this is what makes designing them so exciting."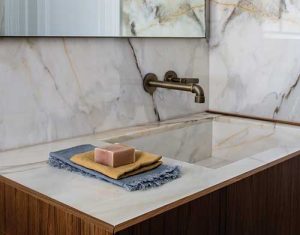 Ros tells me that her clients have a mixed perception of kitchen and bathroom design. Many, she says, view kitchen design as an actual profession while, more often than not, they don't see the need for a bathroom designer at all.
"The kitchen designer actually sits in a strong position, because people perceive them as a credible design source," she says. "When we're pitching for a kitchen design, as part of a whole-house solution, they often say, 'shouldn't we just go to a kitchen designer?' – the same can't be said for bathrooms.
"Most of our clients don't see the need for a bathroom designer as such, because the component parts of a bathroom can come together more easily in their mind.
"However, we're on a very interesting road in bathroom design at the moment, because the concept has taken such a leap forward. I definitely believe the significant developments in technology coming through in the bathroom sector will make people realise that it doesn't have to be a rectangular box where you have a toilet, a bath and a basin. There's so much scope in terms of colours, materials and finishes, that it doesn't just have to be a bland, neutral space like everyone else's. But to achieve it, they need to work with specialist designers."
So, is there anything the industry could do to change the public's perception and make them recognise the importance of specialist bathroom designers?
"Generally speaking, bathroom showrooms don't really get that message across. Most aren't particularly inspiring places to hang out," she says. "They all tend to look too clinical and outdated.
"I'd like to see showroom design flipped on its head; I'd love for someone to create really kickass- looking bathroom showrooms on the high street. If retailers soften the finishes, create a more comfortable setting through good lighting and adding different textures and materials, that would be the first way to go to make it a more inviting space.
"CP Hart has it down, but they're at the very top end of the market. If they launched mid-market subsidiaries, I think they'd end up dominating that sector of the market."
Commercial barriers
I point out that, unlike interior designers, retailers are governed by stricter parameters and, if consumers want neutral finishes and clinical spaces, isn't there an argument for displays to follow that trend?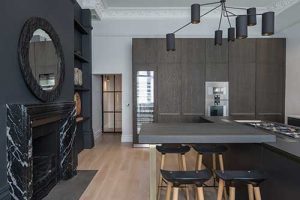 "I agree. Interior designers have a completely different approach to design from retailers," she explains. "Designers in retail showrooms are dictated to by certain parameters, because their role is important commercially. Because of that, their creativity can be stifled in terms of the products they can specify, whereas we have the ability to push the boundaries of design a lot more.
"Our role is to journey with their clients – it's a lifestyle solution. It's not about the client saying 'we'll get our bathroom done here, our kitchen done here and will you [the interior designer] do the bedrooms and soft furnishings?' – we like to umbrella things, and tie the whole house into a design because of the solution we're trying to provide."
"Whatever role I take on a project, the design is always influenced by the client's journey and the way they live," she adds. "I don't have any ideas before I arrive at a house. I work best when I've been to a property and spoken to the client. I look around, listen and observe. Then, I step away and reflect on the floor plan and that's when my ideas come flooding through.
"My inspiration for design is more about experiences and observations. I might see a piece of graffiti on a wall, or I might get drawn to the design of a car or an outfit someone is wearing. I love fabrics, too. I usually start by laying out a selection of different types and colours on the table. I get excited about those and how they work together and that then gets me thinking about style and finishes."
By her own admission, the role her studio plays on a project will vary, which inevitably affects the extent of their involvement on a kitchen or bathroom design. Most of the time, they will get the opportunity to design them from scratch, in which case they will work with manufacturers or joiners, who will make bespoke products to their design specifications. Other times, their role is just to oversee a kitchen or bathroom design. In these instances, they will sit in on the meetings between the retailer and the client and guide them on finishes and colour schemes that fit in with the design of the rest of the home.
With that in mind, I'm keen to hear about her experience of working with kitchen and bathroom retailers and whether she'd like to see a more cohesive relationship between them and interior designers.
"I've had a mixed bag of experience working alongside retailers," she says. "Some have forgotten, or not thought about, including some elements that I would treat as standard in a design.
"With others, because they recognise the value we can bring to the project, the process has very much been a partnership. I'd definitely like to see more KBB retailers geared up to work with interior designers so that, even when it's their design, they're open to our thoughts and ideas, so that the design fits in with the whole-house concept."