'This is a worldwide destination store'

Smeg has just opened a flagship store in London's West End. Chief executive Vittorio Bertazzoni gave Sean Hannam an exclusive tour
"I am very happy," says Vittorio Bertazzoni, the chief executive of Smeg.
He has every right to be. It's the day before the official opening of the family-owned, premium Italian appliance brand's flagship store in St James's Market in the heart of central London – 14 Regent Street – and the place is looking immaculate.
As we are talking, the autumn sunshine is streaming through the single-pane glass windows – said to be the largest in London – and passers-by are pausing to take selfies with the retro small appliances and the Dolce & Gabbana hand-painted fridges on display.
The 6,400 square-foot, open-plan store is split over three floors and features more than 300 Smeg products.
On the ground floor is a retail space, which centres on Smeg's small and large appliances, including the Portofino and Victoria range cookers.
There's also an area dedicated to selling family produce from Montecoppe – the Italian farm owned by Smeg. Shoppers can purchase Parmesan cheeses, balsamic vinegars and wines that are exclusively available in-store. On the ground floor, there's also a floor-to-ceiling 'living wall' of green foliage, while the mezzanine level has a design lounge and meeting space and limited-edition FAB fridges are visible from street level. In the basement, there's a purpose-built theatre for cooking demonstrations.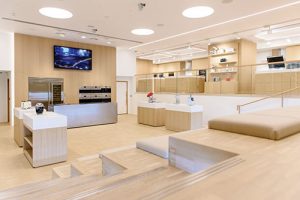 "Do you like it?" asks Bertazzoni. I tell him it looks great.
The overall effect is stunning – it's one of the most impressive retail spaces I've ever seen – and part of a huge £10 million investment from Smeg, which also includes a new UK headquarters in Abingdon, Oxfordshire.
In a post-Brexit economic climate, it's a massive commitment from the brand. So why has it decided to open a store in London – and why now?
"The decision was taken a couple of years ago – these things take a certain amount of time to put in place," he says.
"It's not our first store – we have several showrooms round the world, in Milan, Paris, Melbourne, Copenhagen, Stockholm… and it's very consistent. I think it's a great location – when I first saw it, I was very impressed.
"It's not just about London – this is a worldwide destination store. It's going to be very important for the group as a whole – not only for the UK."
I ask him if it's a challenge being a brand that is sold through retailers, but is also now a retailer itself?
"We are not a retailer – our intention is not to be a retailer – we don't have a strategy to open 200 stores in the next couple of years. This is something that is more of a brand exercise, but of course we're going to sell through the showroom – that's obvious – but we feel that we need showrooms around the world to properly display all of our products. We have a huge Smeg catalogue – one of the biggest in the industry.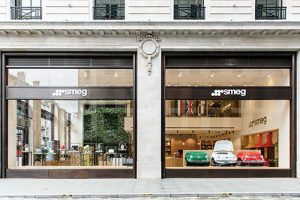 "We also know that there are lot of builders and developers who are based in London – that's important, because we want to show them the depth of the range."
He adds: "There are various reasons that fit very well with our strategy. We are also expanding the business into other areas – not only SDA, but food – my family has a farm that produces Parmesan cheese that you can see in the showroom. We're also going to have Smeg coffee – that's a project we've been working on for a couple of years. To have a showroom and a working kitchen gives us the opportunity to talk about the brand and what we care about – it's great food and our Italian heritage."
As the owner of a European brand that is investing heavily in the UK, is he worried about the effects of Brexit on his business?
"Brexit has come, but we decided to continue and not pull back with this investment. As a family business, we have always said that we believe we are here for the long term – to open such a showroom in London is not a short-term view, even without Brexit."
He adds: "We had to be brave to make this move – London was one of the missing cities… It's very important and strategic for our brand."
It's just one part of a multimillion-pound investment in the UK, isn't it?
"Yes – in the past three years, we have invested quite a lot because of the headquarters and a showroom [in the UK HQ] to display more products for the trade. The UK has always been an important market – it's a clear sign that we want to continue despite Brexit.
"We won't be optimistic just for the sake of being optimistic, but we have a great team of people and some great trade customers. We want to continue on that path. I think the [store] opening is a clear demonstration that Smeg is still investing in this market and still very focused on it."
Bertazzoni tells me that kitchen specialists will continue to be a major focus for the brand.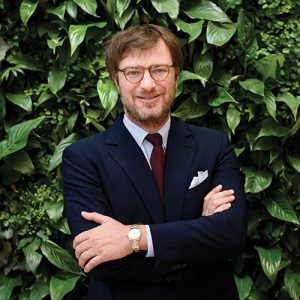 "We want to focus on them even more in the future – personally, I see the opening of this showroom as a big opportunity for everyone who loves Smeg and who trades with Smeg. It's going to really help the brand image and profile to grow even more.
"Where we have done this exercise before, in other capital cities and important markets, it has worked really well."
I ask Bertazzoni how business is for Smeg worldwide?
"We are quite satisfied – we are showing medium to high single-digit growth. It's pleasing – we have good expectations for the last part of the year. We are running at full speed with our SDA range, but we also have new products – it's been a great success worldwide and we are extending the range. We have many products in the pipeline. The white-goods industry has been consistent in Europe and the US and Asia – it is a positive year."
And what's his view of the future of high-street retail?
"It's very difficult to track general worldwide trends, but I think it's very interesting what Amazon did a couple of months ago, by buying Whole Foods – the very famous organic supermarket chain. Physical displays and physical stores will never disappear – that's my own point of view. You need to provide very good quality and very good displays – it doesn't matter if it's an expensive product or a regular product – but the standards that are required today are higher and higher."
With its London store, Smeg has certainly taken them to new heights.
'It is a permanent billboard in one of the most iconic locations in the world…'
---
Smeg UK managing director Mike Giddings on the thinking behind the new London store
We are an aspirational, design-led brand with global ambitions and with a significant presence in the UK. London is one of the most dynamic, vibrant and design-led cities, catering for the most internationally diverse and aspirational customer base in the world.
The store is here to raise our profile as a brand and to increase our desirability with the more discerning consumer and to allow us to take our seat at the top table of aspirational designer brands.
We felt a West End location that is high profile, vibrant, fast-moving and extremely desirable, alongside so many aspirational, highly respected fashion and lifestyle brands and quality restaurants, fits with our ambitions. Raising our profile in this way will benefit all our UK trading partners – big and small and countrywide. It is a permanent billboard in one of the most iconic locations in the world.