German kitchen manufacturer Schüller has revealed the newest additions to its Schüller C and Next125 ranges.
Part of the Schüller C collection is the country-style Vienna kitchen and a heavy metal-look kitchen featuring a 'Targa' front (pictured).
Schüller has also introduced a multifunctional utility room concept, which it claimed could present an area for growth in the market.
The company is also adding a pop of colour to its premium handleless Next125 range, which features geometric shapes in a 'cubically linear' style.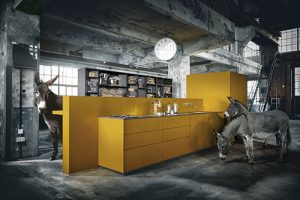 Schüller said its new Next125 ranges would be marketed in 2018.