Sink manufacturer Astracast has announced it is under new ownership.
The company was acquired in August this year by businessman and entrepreneur Darren Cooper, who said he had identified "a huge opportunity" to turn the company around through reinvestment, restructuring and a new focus.
The acquisition will see the company's two old factories replaced with two new ISO9001-approved factories – a 42,000sq ft facility in Leeds and a 75,000sq ft unit in Malta.
The new factories will be up and running in the first quarter of 2018, it said.
These will be purpose-built for new business growth, with 50% more capacity available to accommodate expected UK and export growth for Astracast.
A new 4,000sq ft headquarters will also open in Leeds in February next year.
The company has revealed that it would be unveiling new product developments at kbb Birmingham in March 2018, which will include the production of a new range of sinks in composite, stainless steel and ceramics.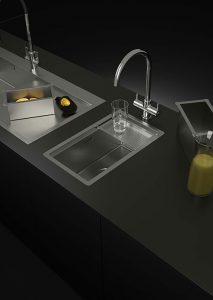 As part of its business transition, Astracast said it would be putting a greater focus and investment in its staff, improved training, better logistics and a new brand identity.
Astracast was formerly part of the Spring Ram Corporation's group of companies, which specialised in home-improvement products.
It claims to be one of the largest sink manufacturers in the world, but admitted that in recent years the company had "slipped from its position as number one" and struggled to maintain its profitability because of its structure and product base.
"We are going to take the brand back to great," said managing director Darren Cooper. "Our aim is to become the number-one brand once again over the next three years. By removing the resource-draining, unprofitable baths sector, and putting all our resources and energy into the core business of sinks, we will take the business to the next level. Astracast has a heritage and expertise second to none, and with this we have the solid foundations upon which to rebuild the brand.
"Existing customers are fully on board with the brand transformation and see this as a huge positive step. One of the strongest demonstrations of commitment comes from Travis Perkins, which has just agreed a new two-and-a-half year contract with the company, moving from OEM. Long-term commitment has also been agreed with all other major customers."
Image top left to right: Astracast MD Darren Cooper and sales director Tony Westwood