'We unite the entire industry'
Rebecca Nottingham talks to Suzie Williford (pictured), vice-president for industry relations at the National Kitchen and Bath Association (NKBA), the KBSA's American counterpart, to get the lowdown on how the association operates and how its approach could benefit the UK KBB industry
There's no denying that the UK's kitchen, bedroom and bathroom industry is well represented by trade associations. Retailers can rely on the KBSA, the BMA looks out for bathroom manufacturers, SBID represents the design community, while the BiKBBI has the interests of installers at heart.
The positives of this, of course, are that the needs of everyone associated with the KBB sector are being looked after by a specialist organisation. However, rather than creating one big, strong community, this approach has created, what many describe as, a rather fragmented industry.
I've lost count of the number of times I've heard someone say 'what we need is one organisation that acts as the voice of the entire industry'.
So, to see if the UK KBB industry could indeed benefit from having one all-encompassing umbrella organisation, let's look at the US market, which operates exactly in this way.
Like AMK, the KBSA's German equivalent, the US kitchen and bathroom industry is represented by one, individual organisation, the National Kitchen and Bath Association (NKBA). Rather than having a separate association for each sector – retailers, manufacturers, installers, designers etc, as we do in the UK, the NKBA looks after the interests of anyone working in the industry.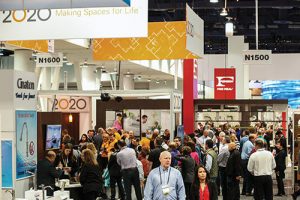 "We're really very different in the association world, because we are an all-industry association," explains Suzie Williford, vice-president for industry relations at the NKBA. "We represent retailers, the design community, manufacturers, sales reps, installers – we are totally broad-based. This is great, because it brings the entire industry together as one community."
Originally known as the American Institute of Kitchen Dealers (AIKD), the NKBA was established in 1963 by a group of kitchen retailers who wanted to bring like minds together to help the industry grow. But whereas here in the UK the KBSA has continued to speak on behalf of KBB retailers – and while the BMA, BiKBBI and SBID look after their associated professionals – in the 54 years since its inception, the NKBA has evolved to include and represent KBB people from all corners of the US and Canada.
"Our board of directors is made up of volunteers from the industry," Williford explains. "It's a nine-person board with manufacturers, retailers, designers, etc. So it's a nice cross-section of our industry. They are responsible for approving our strategy and overseeing our fiduciary responsibilities."
In a nutshell, anyone can join the NKBA, so long as they work in the kitchen and bathroom industry in some capacity and pay an annual fee [figure dependant on the size of the company]. It now has more than 14,000 member companies, and represents over 50,000 kitchen and bathroom professionals.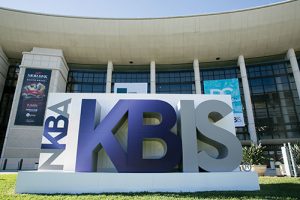 "Our membership numbers grow every year," says Williford. "That is a direct result of the fact that we have created a kitchen and bath community. Over here, through us, a manufacturer can reach the design community, the building community and dealers. Similarly, those groups can reach the manufacturers and the installers. When these groups of people are provided with an opportunity to network like this, build their business, share ideas and learn, everybody benefits."
Grass roots
The NKBA has its headquarters in Hackettstown, New Jersey, with over 40 employees, of which Williford is one. The NKBA also has volunteer led, grass root groups, known as chapters, in 70 locations throughout the US and Canada. This, according to Williford, provides a benefit, on a local level, for kitchen and bathroom professionals to participate on a regular basis.
"Each chapter has its own group of officers – professionals from the kitchen and bath industry – who come together in their local areas to network, support, share ideas, learn and grow their business," she says. "So, the NKBA is not only a national association, but it also has a huge grass-roots effort at local industry level to ensure that kitchen and bath professionals, throughout the US and Canada, get the level of support required."
Considering how many sectors are associated with the KBB industry, and how vastly the needs of individuals and groups operating within them will differ, I'm keen to find out how easy it is to create a 'one-size-fits-all' trade association.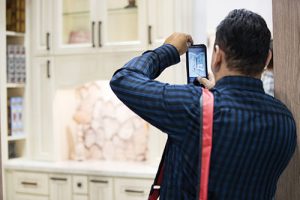 "We recognise that the value of being a member of the NKBA will be different for every business and every individual," she explains. "Some people join because they want to be able to grow their business by accessing the design community, for example. Some groups are more interested in membership, so that they can be a part of our trade show, KBIS [Kitchen and Bath Industry Show], which is the biggest industry event in the country. For others, it's so they can be active in the regional chapters. It really depends what they're looking for, but we offer benefits for everyone.
Community
"That said, we find that in today's world of social media, because people actually feel really disconnected from other people, one thing every member has in common is that they all want to be part of a like-minded community."
Like the KBSA, BMA, SBID and BiKBBI, raising industry standards through training and education is a major part of the NKBA's strategy. Speaking to Williford, it's clear that one major similarity between the UK and US KBB industries is that, rather than being a recognised career path, most people tend to get into the industry by chance. Something, she says, the NKBA and its members are trying to change.
"One of the things we're all working to combat is, rather than just stumbling into it by accident, as a lot of people do, to get people to recognise opportunities in the industry as a genuine career path," she says. "For example, over here someone would aim to get a design qualification, but then they might end up with a speciality in kitchen and bath design, rather than specifically aiming to get into that area of expertise. That's something we're trying desperately to change with the certification, education and training programmes we're running and by working in conjunction with colleges."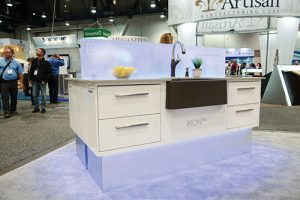 In addition to building an industry community and running KBIS – the US equivalent of kbb Birmingham – another notable way that the NKBA supports the industry is through its lead-generation programme. This ensures "quality consumer leads" are passed on to the right businesses and individuals. When the programme was launched in 1995, according to the NKBA, it generated 4,000 leads that year. In 2012, it also set up the Kitchen and Bath Career Centre, an electronic recruitment resource for the industry.
Williford admits she has very little experience and understanding of how the UK KBB market operates. However, after explaining the set-up here and how each specialist group within the industry is represented by its own association, I ask her if she feels we could also benefit from having an umbrella association like the NKBA?
"No doubt I believe that the right approach is cooperation among the different groups within the industry," she concludes. "With this silo approach you appear to have in the UK, you run the risk of every sector, or every business, becoming too independent and stagnating. Which compromises the ability for your industry to grow. Does that mean one big association like us? It's really for your industry to decide."
So, it's over to you…