'We're ready to give kitchen studios another go…'

Italian appliance brand Smeg has strengthened its support for independent studios by launching a huge new trade showroom in Abingdon, Oxfordshire. UK MD Mike Giddings tells Tim Wallace why it's a key part of the company's forward strategy
These are busy times for Smeg. Not content with opening a new flagship store in London's Regent Street in October, the company has also recently launched an impressive trade showroom and training facility in Abingdon, Oxfordshire.
The 14,000sq ft space – the Atrium – houses more than 300 products, from ovens and fridges to wine coolers and warming drawers, all with that unmistakable quirkiness that characterises the Smeg brand. There's also a large 'living kitchen' with demonstration facilities and a dining area, plus a conference suite able to house more than 60 guests.
Smeg UK managing director Mike Giddings is in a confident mood on the day of my visit, admitting the brand has neglected UK kitchen studios in the past but insisting they're now a key part of his plans to grow the brand…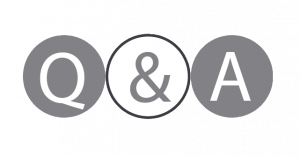 Q: The new consumer and trade showrooms suggest you're ramping up your support for independent stores?

A: Yes, manufacturers talk about supporting the independents, but a lot of it is just lip service. They say one thing, but they don't back it up. For us, it's absolutely vital that we're part of the independent sector and that applies to electrical retail and kitchen studios. To be fair, over the years we've made more progress on electrical retail.
Q: Why not kitchen studios?
A: One of the issues is that a lot of the team are ex-electrical retail guys, so you naturally gravitate to where you feel most comfortable. We feel now we're ready to give kitchen studios another go. We want to be part of it – we're back and we're taking it seriously. We've tended to neglect our responsibilities to the kitchen studio side of the market, but our proposition is now much stronger. We have a clear brand identity, we have fantastic products, and you can see we're in it for the long term. We've spent a lot of money.
Q: How much?
A: It's a £10 million-plus budget. Just buying this building alone was half of that. It's about taking our brand image up and taking the industry up. It's 70% trade, 30% consumer. The new London showroom is more about the consumer, so there's a yin and yang going on between the two massive investments. We've got a very bold statement when a lot of other people aren't making much noise.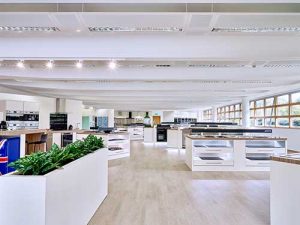 Q: Why do you think that is?
A: The market is tough. We're growing but the currency situation isn't helping.
We've managed to sell our way through the past 12 months, which have been pretty tough. We are where we are because of a strong brand, clear identity and new products.
Q: What do you put the tough market down to?
A: The loss of confidence. Brexit came as a bit of a shock. Who knows if that will turn out to be the right decision? Whether it does or it doesn't, there are three or four years of difficult times. Clearly, the currency has deteriorated, so we all have to set our economics on this market. Confidence will be low and currency will be volatile, if not negative. It's a case of hope for the best, but plan for the worst. We've been doing that.
Q: How much have prices had to rise?
A: We've had three or four price increases in the past 12 months. It's been like pitching a tent in a landslide. The last price increase hasn't covered it. I know most manufacturers have had to do the same because it's about survival. We have to have a stable business to maintain this investment, but this is about the long term. Things will get better and we'll be around when it does. It's not quite a recession, but it's lacking energy, it's not as dynamic. In the past couple of months, it's come back a bit.
Q: What's the mood among your retail partners?
A: We've had some very big customers here [for the launch] like Stellisons and maybe people are getting used to it. The good brands and good retailers will get the business. We do well with Stellisons. [MD] Steve Scogings coming here is a big thing for us. He deals with everyone and everyone knows who he is. He's been very positive. There'll always be challenges, but there's no need to be that gloomy.
Q: Does the big frustration remain the internet? Are independents still struggling to make margin?
A: The problem we have with the internet is if that pillar's going up at the expense of all the others, you turn into a bit of a one-trick pony. You need a good spread of business. The internet is a big factor in the consumer's decision-making, but you've got to keep a balance. That's not easy, but clearly the first litmus test is margin. If the retailer can make a margin, it's just another challenge. The worry is they can't make the margin to compete. So we work on trying to make sure the margin is there for retailers who want to support our brand. If you don't, you'll only end up with one channel and we can't afford that.
It's difficult. The market is getting more and more diverse, more and more people are trying to sell appliances, sinks, taps, whatever. So whenever there's more competition, it gets difficult to maintain a status quo or any evenness in the market.
Q: What's the appeal of the Smeg brand for kitchen studios?
A: With most retailers we're not the main event, we're a novelty act. It's colourful, it's bright, breezy, a bit of fun, there's always something to talk about. That's where we score. The point of difference is important to some retailers. It brings people into the store, it's attractive, it's tactile, there's an allure to the range that isn't there with a lot of other appliance brands. They tend to look the same.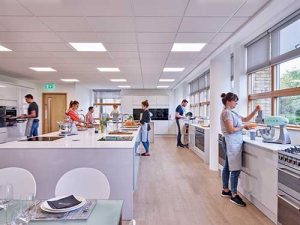 Q: The worry must be that consumers use showrooms to see the brand, then buy the products cheaper online…
A: Our supporting retailers can and do compete. We wouldn't have grown at the rate we have, in every channel bar none, if we hadn't got control of our business and making sure the retailers can make their margin. We have online business, but we have electrical retail business, national accounts, kitchen studio business… There's profit to be made with Smeg and a viable proposition. We're not anti-internet. We want a share of all those channels, if we can get it. We do try to have an even spread.
Q: Have the likes of AO.com etc seriously disrupted the market?
A: I don't think so. There's a place for AO.com and Currys. John Lewis is doing very well, but it's only a percentage of the market, it's not the market. I know a lot of retailers who are doing unbelievably well. But those that are short-sighted will struggle because the industry is getting faster every day.
The likes of AO and Currys are very good at educating online and have all the digital facilities, but when you're paying £3,500 for a range cooker, there's nothing like touching it. So that's where we still think there's a big part to play for traditional retailers. You can buy a washing machine simplistically online, but not a £3,500 range cooker. That's why we'll continue to ramp up our independent proposition next year. We all know it's getting smaller, but most of the kitchen studios are really, really good.
There's a latent demand for Smeg there and we are very determined to get our fair share. We've got a good proposition but the problem is not enough of the retailers know about it. We'll look at the kbb show next year – the event has come back into vogue a bit and it would be the right time to set our stall out.
Q: Are some product sectors performing better than others?
A: Most of our channels are doing really well. We've grown dramatically in range cooking over the past few years, and from a standing start small appliances are up to £7 million. But our built-in proposition has just got stronger and stronger. We've been a refrigeration brand, but first and foremost we're a cooking brand. It's where all the product development is going. We're also changing our logistics. Everything is built and we're ready to go.
Q: Where are independents getting things right?
A: They do a lot of theatre, it's a lot more about the experience. Consumers are looking for an event when they go shopping these days. It's not just about buying something you need, but something you don't need, and making the experience much more enjoyable. That's where the new breed of retailers are investing and that's where they'll stand out from the crowd. There's no future in selling white boxes with a minimal price point. They have to look at more aspirational brands. They have to introduce theatre and experience. Most of the good retailers are going aspirational.