Premium Swiss appliance brand V-Zug is to withdraw its retail operations from the UK and Ireland as of May 31, 2018.
The decision has been reached due to the "increasingly negative prospects created by Brexit", a company statement said, adding that economic conditions have "changed drastically on account of the decision to leave the EU, which has also impacted on V-Zug's business operations and shows no signs of stopping.
"Customers who already own V-Zug appliances have nothing to worry about, as V-Zug will continue to guarantee its provision of all warranties and services. Any orders that have been placed, but not yet dispatched, will, of course, still be processed as normal."
V-Zug is currently in talks with three employees affected by the situation "to find solutions that will suit them".
Speaking exclusively to kbbreview, UK and Ireland sales director Rhys Evans (pictured) said: "Following discussions since October, the final decision was taken last week to exit the UK and Ireland in our own brand capacity.
"This is a Swiss assumption on the lack of progress on Brexit and they feel the next few years will be too challenging to the brand. The UK team fought to keep the status quo, but again it was not enough to persuade the board to provide further investment."
Evans confirmed V-Zug UK would continue to work with the company to help its network of 45 existing UK retailers through this "transitional period".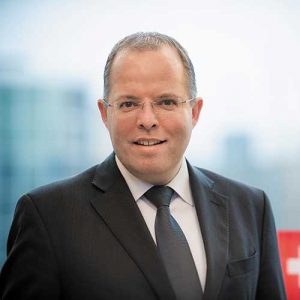 "The UK operation, as far as personnel, will cease at the end of February with the phased final deliveries staged up until the end of May," Evans continued. "All service and after-care will be maintained for the required number of years and be administered from our European office in Belgium."
The news has come as a surprise to many in the industry, following an optimistic assessment of the Brexit situation by V-Zug head of sales and marketing, Europe, Dieter Elmiger, in our October issue.
"We're completely relaxed about the topic of Brexit," he told kbbreview. "Switzerland has never been in the EU, that's why we can see the decision from another perspective. We see the result neither as an advantage nor a disadvantage. We see it in a typically Swiss way – as a neutral outcome.
"I'm not saying there won't be challenges, and there's no doubt we will all have to be prepared to adapt in certain ways, when we know what it really means. But we are certainly not worried about it, because of our own national history."