Consumers will become more daring with bathroom designs in 2018, although the trend for minimalism looks set to grown in popularity, according to Ideal Standard.
Ideal Standard International designer Robin Levien has predicted that darker shades will not only be taking over the kitchen, but will also be popular in bathrooms in the New Year.
He saod he expected to see more homeowners opting for black flooring and dark grey walls, which he claimed could actually make a smaller bathroom appear larger.
Complementing this theme, Levien said that homeowners will also opt for matt finishes on ceramics and bathroom storage as gloss, which has reigned supreme, can appear too brash when paired with minimalistic looks, which are rising in popularity.
With British bathrooms shrinking, optimising the space available is a key consideration among homeowners. This is filtering through to ceramics, which are seeing finer edges than ever before, which also helps to create a "sharp, dynamic" look, according to Levien.
The minimalism trend is also affecting end-users' shower preferences too, he added, stating that people are opting for a seamless, clear piece of glass on shower enclosures, with no joins, folds or detail. This means that walls and other décor details take centre stage in the bathroom.
Tiles will continue to grow in popularity in 2018, he added, in particular ones that can be arranged in geometric designs on both walls and floors.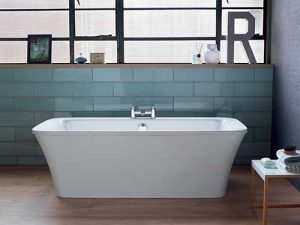 However, Levien also predicted that wallpaper in the bathroom will make waves in the next 12 months.
In the past, he explained, damp conditions made it impossible to have wallpaper on bathroom walls, as it would peel off too easily. However, new technologies mean that wallpaper in bathrooms would have a "real staying power", which opens up an array of design and pattern opportunities for bathroom walls.
Metallics in tones of copper, rose gold and brass are growing in popularity among homeowners, adding an antiqued aesthetic back into the bathroom.
Other trends Levien is anticipating in 2018 are the installation of dimmer switches to create a relaxing mood and surround speakers being installed beneath baths to offer optimum quality when listening to music in the bath or shower.
"Britons' lives are busier than ever before and the 'me time' presented by our bathrooms becomes all the more important," said Levien. "The trends we expect to see in 2018 reflect this and position the bathroom as a relaxing and calming space in which to get away from it all.
"However, the growing need for consumers to use their homes to showcase their personality means that trends that allow homeowners to create truly unique looks are also rising.
"We've collated these two themes together and believe that the bathrooms in British homes will mirror these ideas during the next 12 months."