'Distribution stifled our potential…'

Italian appliance brand Bertazzoni's recent split from distributor GDHA left many debating its motives. Tim Wallace asks CEO Paolo Bertazzoni (pictured) and UK and Eire managing director Maurizio Severgnini why changing its route to market was necessary and whether the move is paying dividends
The origins of Italian kitchen appliance manufacturer Bertazzoni go way back to the 19th century when its founder, Francesco Bertazzoni, was sitting on a draughty train heading through the Alps and noticed wood-burning stoves were being used to keep passengers warm. He quickly seized on the idea, and by 1909 his sons had built their own factory in Guastalla, near Parma, eventually going into mass-production using techniques first used in the motor industry.
The company has come a long way since then, now producing not just full-sized cooking ranges, but built-in wall ovens, gas, electric and induction hobs, hoods, fridges and dishwashers. Last May, it also took the bold move of changing its route to market – ending its distribution agreement with GDHA and setting up a permanent UK subsidiary in the Wirral.
But as I sit down to chat with CEO Paolo Bertazzoni and UK and Eire managing director Maurizio Severgnini it's those continued links with the automotive industry that the company particularly prides itself on. "Cars are part of our tradition in this part of Italy," Bertazzoni tells me. "There's a shared culture. Some of our engineers have worked in the Ferrari factory, it's only 40km from here near Modena. They brought with them part of that experience. We all know about Ferrari, Maserati, Lamborghini, Ducati… it's a land of engineering!"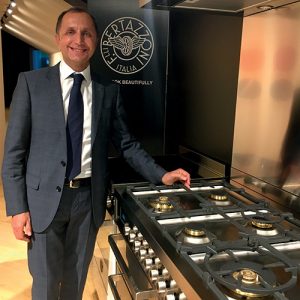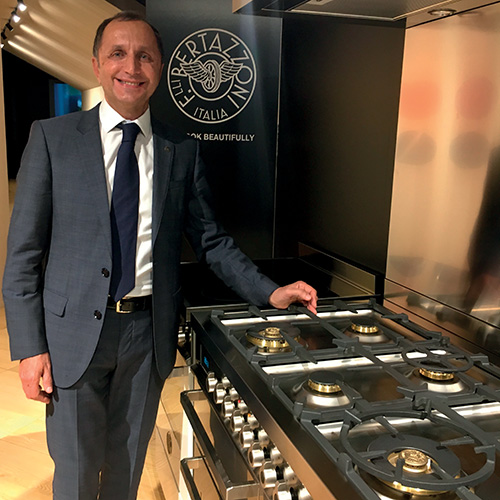 The relationship even goes as far as agreeing a deal to use a superior type of paint normally only used on Italian cars. "We weren't happy with the quality of kitchen industry standards," Bertazzoni reveals. "The result was a slight orange peel effect, but the automotive paint was giving us a much better result. We also found out there were subcontractors for these sports cars who could give us a better price. With them being so close, it was a very lucky chance."
My meeting comes as the pair develop ambitious plans for the UK, despite continued uncertainty over Brexit in the wider market. They're also happy to explain the reasons behind their split from GDHA and why they believe the Bertazzoni brand has a bright future in the UK…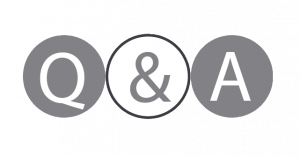 Q: Why did Bertazzoni change its route to market by setting up its own UK subsidiary?
Paolo Bertazzoni: We had a good relationship with GDHA, but we needed to align the strategies of the two companies and it was not easy. We want to come closer to the end user. It's very important for us to achieve that by having direct access to the market.
Maurizio Severgnini: In the past three years, the brand has performed reasonably well, but we felt we weren't able to achieve what we believe is its full potential in the UK. So we took the strategic decision to open a subsidiary in the UK. My appointment as MD, last May, coincided with that decision. We've also opened subsidiaries in other core markets – France, the Nordics and the Netherlands.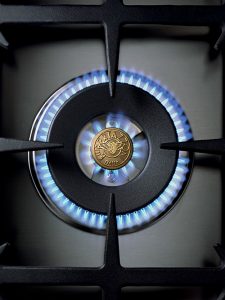 Q: Did you feel like a small fish in a large pond with GDHA?
PB: Yes, certainly with this aspect of being two manufacturing companies with different history and positioning. We felt we had to go upmarket to stay on a certain level of price, positioning and customer. It wasn't easy for us to convey our strategy to them.
Q: What impact is the decision having on the brand's performance?
MS: We now have an HQ and showroom in the Wirral, and our own team of that can directly service the market. And, most importantly, we are now having direct conversations with our trade partners and consumers.
The numbers for us in the UK still have room to grow, but some of the dealers who've come on board with direct accounts have delivered, in a few months, the same turnover that they did in the whole of last year. It's proof that our strategy is the right way forward.
Q: Are you now hoping to grow your retail network?
MS: We already have around 80 dealers in the UK with direct accounts, but then there are retailers all over the UK that sell the brand less frequently and, therefore, still buy through distributors. The target is 150 dealers, but equally we're also talking to some distributors to give us the reach. But it's all about territorial coverage in the right places. We don't want to be market leaders.
PB: The route to market is a very clear commercial policy, so all the interests of our dealers are respected. We do not need to push a huge amount of product and sell it whatever it takes. We sell it because our products are desirable and the retailer can make money.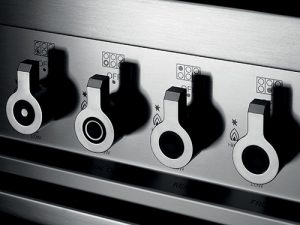 MS: We create a demand and dealers appreciate adding value to their business by dealing with us. We have a very clear commercial strategy, enabling our business partners to earn the correct amount of margin for the products. Which is not the case with many other brands in our market.
Q: Where do you see the biggest potential for the brand?
MS: Just looking at the range cooker category, where we are strongest, we don't have total territorial coverage yet, which means there are plenty more consumers that have the opportunity to access our brand. We will retain our core focus on range-cooking appliances, but also have plans to expand our presence in the built-in market, both in the UK and worldwide.
Q: Do you sympathise with independents who claim products like appliances, sinks and taps are sold much cheaper online and through the merchant channels?
PB: Well, the arrival of the new digital economy and e-commerce is certainly something that we have to handle with a lot of care. We cannot stop it.
Q: Can you control it?
PB: We can kind of control it depending on what kind of policies we have. Certainly you can't control the fact that one internet dealer is slashing the price. All you can control is that the next time, because you know who he is and what he's doing, you're not going to deliver goods to him. To control the market is hard work for everybody and it's not possible or legal. But we can go through a strategy of selective distribution.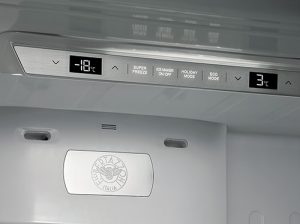 MS: We are present with internet operators in the UK, but there's a fairly orderly approach. Sometimes someone goes out of sync, but normally it's soon fixed. There's a general understanding among our dealers that they want to make money. Everybody tries to respect the brand position.
Q: Even the internet dealers?
PB: Yes, we have good internet dealers. We're not going to act in a divisive way so we don't deliver to one channel or another but of course we have a clear policy.
MS: Even the large retailers have a multichannel approach – bricks and mortar and internet. The internet is here to stay. There's no point in fighting it. But ours is not a product where you sell more if you discount it. It's the service, the training and communicating with the consumer in the right way.
Q: What's your view on Brexit?
PB: I think everyone will come to their senses. In the end, the disadvantages of breaking up are so clear that nobody will go down that road. Neither party could afford it. It's a matter of a different type of integration and hopefully our politicians will find a way to make it work for us as businesses and for us as people.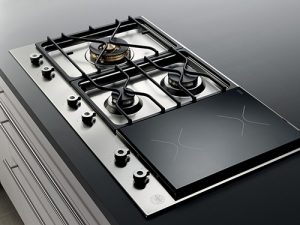 We'd have been better to stay together, but that is just my opinion. I know Britain is an island and has always had a very independent approach to things, to politics too. And also there are parts of the European culture and British culture that are not exactly the same. I'm sure this is a serious setback for us, because the influence of Britain was very important and very fruitful. So we'll see how this will develop.
Q: Do you think Brexit might have a negative impact on your plans for the brand in the UK?
MS: It's still early days and we haven't seen any major impact so far. The only question mark we could have is linked to the performance of different currencies and the strength of the pound, which might mean some price adjustments. But we've not seen that yet.
I've been in this industry long enough to experience different economic cycles and currency changes to know that these issues tend to be short-term. We will make adjustments as and when we need to, but the Brexit situation isn't one I'm particularly concerned about. Whatever will be will be, it's outside of our control and we will manage the outcome in the best way we can.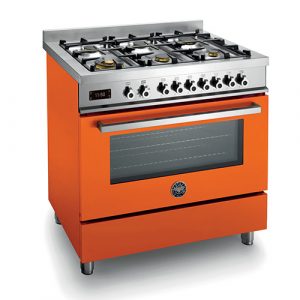 Q: Some appliance suppliers, like Smeg, are saying things won't improve for three or four years…
PB: For us, growth is possible. For people or companies that have been in the UK, like the German brands, and Smeg of course, there are more uncertainties. But for us, we have progress ahead of us.
MS: We're now starting to put our roots down and we've got plenty of growth to come. Normally in a big storm it's the big trees that suffer. The little ones survive. We don't ask the retailer for a massive amount of capital expenditure. We don't tie up the cash of the retailer in stock, on products that might sell or might not. There are a lot of benefits in dealing with us. It's not just the discount you give, it's the total package you offer. And in a world where competitors are pushing volume at all costs, which creates pressure on the margin a retailer can make, it gives a reason to choose Bertazzoni.
Q: What kind of turnover are you looking for?
MS: A 7% to 8% value of the range cooker market, so it's not volume, it's the value element. We will reach about £20 million (£17.5m) retail value. We're not in a hurry, but we know we have to do it within five years.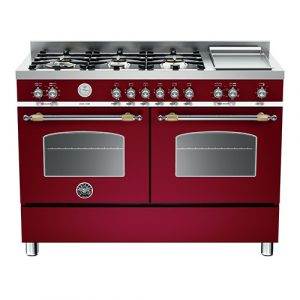 PB: Again it's selective distribution, we want to be a certain market segment. We want to have a clear policy, so we don't have to make rash sales or huge discounts. Also I think we need more products. We can't just expect people to love us. So we have a very ambitious and already realised €20m investment plan where we're renovating the whole platform of Bertazzoni products by 2019. That will include building a new factory on the side of here.
MS: The company has invested in local stock so we can supply very quickly. That's a big change. Sometimes the lead time was 10 weeks for delivery, now in the worst-case scenario it's four weeks and in most cases it's within a week.
Q: Are raw materials prices going up?
PB: Yes, they've taken a steep rise in the past few months and there are no signs of them going down. Our costs are affected and our prices will be changed. I don't know when they will be changed. But the impact of raw materials is taking a toll on our costs. When you don't have stability, you have a lot of side effects. We try to absorb as much as possible with more efficiency…