Why are British KBB manufacturers so reluctant to sell themselves in overseas markets? Martin Taylor, managing director of sales agency Decorit, vents his frustrations
I was somewhat bemused reading the various articles and opinions under the 'I'm backing Britain' banner in your December issue.
Every one of your contributors concentrated on British products in the UK domestic market, yet no one mentioned the British KBB sector being active abroad in an export capacity.
This has become a bugbear of mine. I noticed at EuroCucina in Milan in April 2016, just prior to the Brexit referendum, that there were no British kitchen companies exhibiting at arguably the most important worldwide platform in our sector. Yet there were kitchen manufacturers from all over the rest of the world.
At IMM in Cologne in January 2017, Howdens was a lone UK presence. The exhibitors list for EuroCucina 2018 hasn't yet been made public, but my bet is the UK will once again be poorly represented, if at all.
Yet, alongside the predictable presence of the Italian and German giants, there will also be kitchen companies from Russia, Bulgaria, Romania, India, China, Canada and many others.
I doubt that such countries have better technologies, quality, products and brands than their UK competitors. But, for whatever reason, our manufacturers seem reluctant to take the plunge overseas.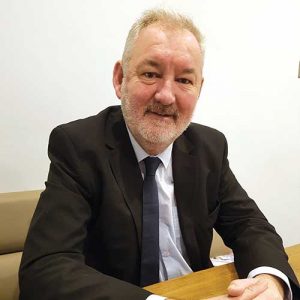 There is no other sector like ours. UK KBB furniture manufacturers represent a very strong sector with real power, but little or no imagination, from a commercial, technical or design point of view. The Germans and Italians lead, we follow. Our engineering, car, banking, fashion, cultural and various other sectors all participate in their own global markets. It's a question I repeatedly come back to.
Why don't we promote our kitchen, bathroom and bedroom products in export markets like our European and worldwide counterparts do? Why has there been such reluctance?
There has been a historic trend to slavishly follow the German and Italian markets, exacerbated by laziness and a lack, or even perhaps a fear of, creativity.
Is this an island mentality – domestic market self-satisfaction? Look at Howdens and Symphony. They are massive, but their ratio of domestic to export sales is absurd.
I am not saying Howdens or Symphony need to take on Nobilia. But what I am saying is that marketing a traditional English-, rather than British-, style kitchen in Europe and further afield would be a first stepping stone. The lack of presence we currently have is almost unnatural.
I think that Symphony or JJO might struggle in Italy and Germany with their current offer. But how about marketing the Laura Ashley brand? Instead of Colonial Kitchens, how about Country House Kitchens? Michel Roux Jnr? How about working in partnership with a Scavolini or a Poggenpohl – using their already established outlets maybe?
Despite the uncertainty of Brexit, there are some very favourable conditions for British companies to take advantage of. Obviously, the exchange rate is currently in our favour and would seem to be set fair for some considerable time.
The troubles at Alno AG and the teetering of a number of our continental counterparts also means there is market share to be gained, particularly in the growing euro zone.
I anticipate the counter-argument that British kitchen styles are not sought-after in continental Europe. I would agree that they aren't, and that we follow the German and Italian trends. But only because our KBB sector has lost its nerve and hasn't tried to create a presence at shows like EuroCucina.
As a sales agency for a number of Italian and Spanish manufacturers of components, I work very closely with many UK KBB companies. They are all my customers, but they could be bigger players if they were to do what most other manufacturers worldwide do, and look to export markets for growth. It's just a question of getting a toehold and developing the presence.
I maintain that an in-frame lacquered or classic British kitchen could at least find a niche, if marketed and sold correctly.
I'm not a Union Jack-clad tub-thumper, but I'm a Brit who is used to succeeding in export markets. And it pains me that I'm a lone voice in our KBB sector.
Does anyone fancy joining me?
For a response from Symphony, see Letters, page 30