'We have the foundation to take us to the next level'

HiB has moved into a new 85,000sq ft distribution centre in Tamworth to help it keep up with growing demand. MD Robert Ginsberg (pictured) tells Amie Filcher how its new HQ will benefit the business and reflects on the success of the company rebrand two years ago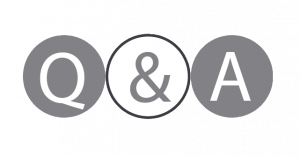 Q: How have things developed since we spoke to you two years ago?
A: What we have noticed, hopefully because of the rebrand, is a change in how people perceive bathroom cabinets and mirrors in bathroom design, with them being a more central factor. That was backed up by a retailer forum we had in our previous location a few months ago.
We wanted to find out how mirrors and cabinets fit into the process. Mainly it was said to be a key component, especially with the lighting we put in. Lighting has become increasingly important in the bathroom. It's one of the 'wow' items now.
Q: Tell us about Inspire House – HiB's new headquarters…
A: It's over double the size of our previous centre and it gives us the foundation to take the business to the next level. This is part of our long-term plan for the future of the business.
We wanted it to be somewhere that would take us on the next part of our journey, but also be somewhere that everyone likes coming to work, which is why we gave people the opportunity to choose the name of the building and café. We wanted the building to fit our personality and culture.
Q: I take it that business is going well?
A: It has been very encouraging and a strong few years for us. We've seen growth as a result of the new ranges that we've brought out, which has helped to increase our position in the marketplace. We've also seen an increase in the developer and specification market.
Within the past three financial years, we've grown by over 20% each year. And that was highlighted in the [Scale-up Institute's] Scale-up Index 2017.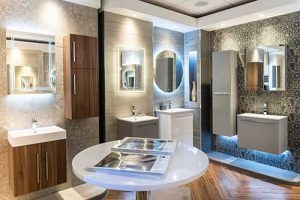 Q: How's the market faring? Have you seen any impact from Brexit?
A: It had an impact initially on currency after the vote, but at the moment, on the macroeconomic side, the economy is doing OK. It's bouncing along without doing anything spectacular.
All we can do is worry about what we can control. If we're doing all of the right things, and bringing out the right products, and working with our customers, then there are opportunities out there. That's what we're focusing on.
I remember in the last recession, everyone had to be careful and look at their operational costs, and we had to as well. But there was one area where we didn't cut costs, and that was on the marketing side.
We kept investing in research and development and new products, and we did really well during that period. We may not have initially seen the ongoing repeats on that, because the economy wasn't in a good state, but when things started to pick up, because of the foundation that we had put in place we saw the benefits.
The same applies with Brexit. We'll continue to do what we do. If Brexit hits the economy, then we may not grow as quickly as if it was flying.
But there are still options. It's all to do with the relationship between supplier and customer.
Q: Do you think some European suppliers have used Brexit has an excuse to increase prices?
A: Brexit has had an impact, certainly with the currency and the fall of the pound against the dollar and the euro. That would have hit everyone who deals in those currencies. So there was an issue. That said, you've also got to bear in mind the market you're in. We have no plans to increase prices. You've got to look at the market and decide whether it's right and needed.
After the Brexit vote, there were reactions within days and even then we held off. We wanted to see what was happening. Within our finance department, we hedge currency, which is just sensible and good practice. We had to make some movements around six months afterwards, but we wanted to give the market time to stabilise.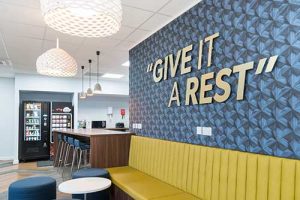 Q: You've established business in the Middle East and Europe. Was this always part of the business plan?
A: Part of the vision for the future of the business was if we've got this facility and the space, then we are obviously looking to fill it and to grow. We feel that our ranges offer something different from what's in Europe, so that's an opportunity for us. As is the developer and specification market, which is an area that we've seen grow as well. And that's also to do with the branding change that is certainly more consumer-friendly.
They're seeing us more and so we're getting more business. When our trade customers suddenly want 10, 20, 30, 100 mirrors and cabinets, we have that stock availability, which many others don't have.
The Middle East is going fine. We've got a good network of showrooms across virtually all of the countries in the Middle East. But we do think there are growth opportunities in other markets as well.
Q: Who is your main competitor?
A: It's tricky because a lot of people do mirrors and cabinets. But the difference with us is that if you look at our brochure, the first 60 pages are mirrors and cabinets, so it says that we specialise in mirrors and cabinets. A lot of other people will have a 300-page brochure with lots of different products for the bathroom and somewhere on page 120, they'll have some mirrors and cabinets.
So, we have lots of competition, which is good, because it drives us forward, but we're slightly unique, as we specialise in the product sectors that we do and really focus on that. Our customers can trust that we will be the first to innovate and come up with new ideas on technology and products.
Q: Do you see much competition from cheaper imports being sold online?
A: There will always be people who try to bring out something similar. By the time they [competitors] have gone through the whole process of bringing out new products, we're already on to the next launches. We could spend all of our time worrying about the fact that people are doing that, but what's more important is making sure that we're staying ahead.
I suppose we should be flattered that people think that our products are worth copying. Going back many years, we brought out one mirror, which was a great success, and a few years later at an exhibition there must have been the same product on 30 to 40 stands, but we already had the next generation of technology. Showrooms want to be working with a key number of solid suppliers.
If we're bringing out new products, they want to work with us, as opposed to people who might be bringing out similar products a year after us.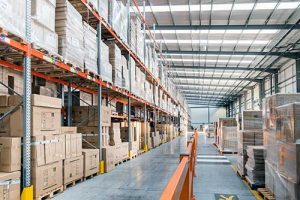 Q: What do you offer that competitors can't?
A: Innovation. As I said, lighting has become very important, and ambience. We look at different industries when we're looking at product development and bring that into the bathroom. For example, with ambient lighting we've brought out a number of ranges that have colour temperature changing – going from a cool white to a warm white.
Over the years, we've also had steam-free and LED and added things like charging sockets and Bluetooth technology into our products. We have very much led the market in our sectors and stayed true to what customers know we can deliver for them.
The bathroom sector has become a fashion industry and therefore we need to be bringing out new products regularly and moving the whole product sector forward.
Q: Is the smart-home market giving these products a boost?
A: Yes, smart has certainly been growing. But we have to make sure that when we bring something out, there is a balance between what is practical and what is gimmicky. You don't want something that seems great, but you're not going to use it.
Q: Will you be expanding into new sectors?
A: We would only go into something new if we can offer something unique. There are plenty of suppliers for every area of the bathroom market already. So why come to us for a different product sector? If we see a product, or see a gap, like we did with ventilation, then we would bring something out.
Q: Do you think the bathroom market is overcrowded and confusing?
A: If you're in the industry, it may seem like there are a lot of suppliers, but to a consumer walking into a showroom, it's what they see and the advice that they get there. That's where showrooms still have a massive role to play and are key to everything. Good showrooms make it easy for the consumer.
Success is a two-way thing – coming up with ideas and listening to customers. We've had lots of feedback about how we could help retailers and we've listened and put it all into the melting pot.