Home renovation and design platform Houzz has launched Houzz Pro+, a premium local marketing programme and subscription service for home professionals, after a successful trial.
Houzz UK, its free platform, has seen its professional community triple to 35,000 since its launch in July 2014.
Using geo-targeting, Houzz Pro+ displays a professional's business profile and portfolio to homeowners in their local area. Professionals subscribed to the service also have access to the Pro+ Dashboard, an analytics tool that lets users track and analyse their exposure on Houzz.
Sharon Czapnik Down of developer Shandler Homes, has been using Pro+ specifically for the London market and said: "Within the first three months using Pro+, we have won two new contracts with a combined project cost of £350,000. It's been a fantastic tool to showcase our projects and really does get to the right calibre of clientele. It's by far the best result we've had with online tools."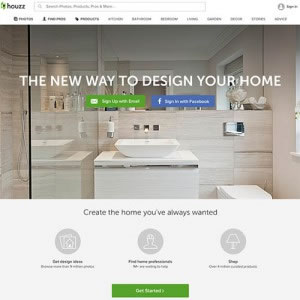 Houzz Pro+ is offered in addition to the free platform and tools that Houzz provides. UK professionals from over 60 trades, including interior designers, architects and home builders, use Houzz as a business tool and to collaborate with clients and connect with homeowners looking to renovate their homes.
Over two million monthly unique users now use Houzz UK to renovate and design their homes.
Houzz UK managing director Andrew Small said: "Our goal with Houzz Pro+ local marketing programme is to deliver a service that helps professionals build their brands and increase their exposure to homeowners in their local area the way they want. Given the strong reception we've seen for Houzz Pro+ in London, we're excited to roll out the service across the UK and provide professionals with another option to build their brands and attract the right clients."