'We're the Aldi of the bathroom market' 

Not content with a bathroom e-tail business boasting turnover of £13 million, Bathroom Takeaway has recently revealed ambitious plans to open 15 retail stores nationwide. Founder and MD Julian Smith (pictured) gives Amie Filcher the full story
With a name like Bathroom Takeaway, I almost expect to be greeted by Ant and Dec when I arrive at the company's warehouse in Manchester's Trafford Park.
Instead, I'm met by managing director Julian Smith, who has a long history in the bathroom industry, having worked for the likes of Methven and PlumbWorld.
Online retailer Bathroom Takeaway made its first sale in November 2014 and in the three years since then has gone on to hit a turnover of £13 million.
It saw 48% growth between July and December last year with 12% growth in November alone and is coming into profit for the first time this year.
However, despite seeing success as a low- to mid-market e-tailer, which currently accounts for 80% of its sales, Smith has his sights set on a clicks-and-bricks business model and aims to open 15 stores nationwide that will offer a two-man, within-the-hour, white-glove delivery service.
And he may be on to something, with a growing number of online players, such as Amazon and Alibaba, recently investing in bricks-and-mortar stores as well.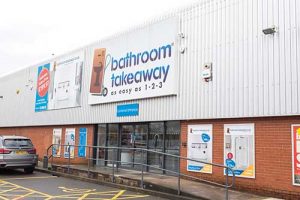 "I'm convinced that 'clicks-and-bricks' is definitely the way," he says. "Customers, and tradespeople, certainly when they're making a big purchase, want more confidence."
Bathroom Takeaway opened its first storefront in Manchester in January last year, with a second planned to open in Birmingham in March, and a third in London later this year.
He's even managed to get some Coronation Street stars involved with the business, with Jack Shepherd, who plays David Platt, opening the Manchester store and Shayne Ward, who plays Aidan Connor, lined up to open the Birmingham outlet. And Bathroom Takeaway has even kitted out a few of the Corrie stars' bathrooms.
As well as a one-hour delivery offer, Smith aims to have a speedy pick-up window for customers that want to order online and collect in-store.
"It's all about the logistics, and we've got the framework for it," he says. "The consumer is so demanding, if you look at Argos now, order in the morning and get it in four hours. And that's what it's all about for generation 'I want it now' – unless you're right at the top with designer brands, where actually making people wait creates an element of value and desirability.
"But we know where we are. We are a low- to mid- market bathroom e-tailer that does B2B and B2C, and we do it very well with good-quality products and great service."
He also explains that this framework for fast delivery isn't something its competitors could easily compete with, even if they wanted to, making it a niche player in the market.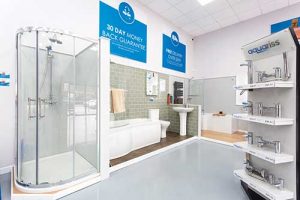 "We're reaching a pivotal point now where the business starts to come into its own and we've got the model right," he explains. "We're in a niche and our competitors can't emulate our model.
"If you're Better Bathrooms today and you've got these massive showrooms and the fixed overheads are enormous, it can't turn itself into a Bathroom Takeaway. It's just not possible.
"Bathstore recently tried Bath Supermarket, but it closed that. It decided it couldn't play at this end of the market, but probably because it was trying to apply Bathstore facilities and resources into a part of the market that you're either in or you're not."
Products
Bathroom Takeaway sources the majority of its products from China, with some coming from Europe and the Middle East and its standard baths sourced in the UK.
So with a large portion of its products being sourced abroad is he concerned with Brexit?
"I think Brexit is a bit of a red herring," he says. "Whether it happens or not, it's not something that we're going to care about. We're just going to get on with running our business. The pound is coming back against the dollar to what is a reasonable rate. We're not currency traders. When we place an order to our supplier, we know what the value of that purchase order is and we're happy with it at the time. If the pound moves within three months of the order arriving, you win and lose. But we're taking a position now where, with our overheads and costs, we're able to ride that better than our competition that have massive fixed overheads."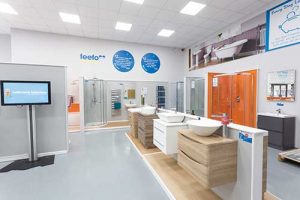 The company also has its own Aquariss brand of products, which Smith claims is now gaining recognition in the market. Aquariss makes up the bulk of its product ranges, along with a few other select brands and some unbranded products.
Trade
While the majority of its sales take place online, the remainder are made up of physical stores (around 7% to 8%) and trade.
Smith admits that trade was never something he had considered for the Bathroom Takeaway business model and that he essentially stumbled into it.
However, he claims that he now has a clear goal to grow that side of the business and hopes to refine its trade model in the Birmingham store.
"We have quite a bit of trade supply now, it's growing. About 15% of our business is now sold to trade that we never invited, it was just people coming along," he says. "The first one that made me really sit up and think was the shower door. A developer in Wilmslow rang up and said, 'I've bought one door from you, it was a bifold door at £89.99, I thought it would be crap, I can't believe it. Can I have 213 more?' So we supplied him the 213, he saved a fortune, we were happy, and we thought, 'Hang on a second, there are orders out there at £14,000 to £15,000 a go – we should be going for those as well'.
"Last year, we did something in the region of half-a-million pounds, just on the phone talking to tradespeople. Ringing people up and saying, 'You've bought five toilets from us. What else do you need?' So we're very proactive in analysing what people have bought and then asking what else can we do."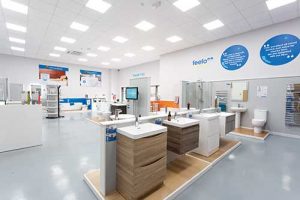 Giving it even more credibility in the market, Bathroom Takeaway has partnered with national retailer Topps Tiles. The partnership sees the store feature tiles from Topps Tiles and both retailers offer their customers a discount for each other to promote business between the two.
"We've had a fantastic relationship with them from day one, and we give a discount code to their customers and they give one to ours. So there's a nice interchange," Smith explains. "It's providing all of the tiling in the showroom. So we've made a nice little hook there with a national brand."
But the company didn't get to this position overnight, despite growing at a rapid speed. With around 80% of start-up businesses failing within the first 18 months, according to Bloomberg, a business and markets analyst, Smith claimed it needed to be aggressive on price at the beginning in order to break into the market.
"Hand on heart, I think we were too aggressive on price at the start. But when we're a business with £1m worth of overheads a year and no sales, which is where we were on November 1, 2014, you have to be aggressive to break into the market," he explains. "Now you could argue that we used a sledgehammer to crack a nut and we could have gone at it a little bit softer. We purposely set out to be somewhere around 15 to 20% cheaper than anybody else, which is very aggressive, and when we first started people wouldn't associate us with brands like Bathstore, whereas now they do."
He claims that it is now purposely growing more slowly to make more money, as managing the level of rapid growth it had previously seen could be "tricky".
He also hits back at naysayers that claimed the business wouldn't survive the first six months by not only making it to the three-year mark, but also opening its first storefront in January 2017, with two more planned this year.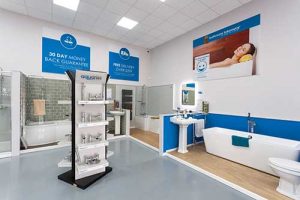 "We've announced ourselves in the market," he says. "We're now here to stay and it's a really big year for us. We're now coming into profit, opening a second store, then a third and fourth, and the market is recognising us. Bathroom Takeaway is becoming a name. We're very well known in the Manchester area, we've been on TV, on radio, we've raised our profile with our support for our two charities and we've got our branded bus driving around all over the place. You don't see any other bathroom brand with its own double-decker bus."
Breaking into Europe
For a business that's only recently turned three years old, you would think it would be taking baby steps, but much like a fearless toddler, it has dived headfirst into the European market.
Bathroom Takeaway entered the German market last year and already has a 15,000sq ft distribution hub there, which services the German, French and Italian markets.
The company registered businesses in both Germany and France, as Smith says trying to infiltrate a UK business into these countries simply doesn't work.
"You have to go through that painful process, because Germans buy from Germans, the French buy from the French and anybody else buys from Germans. That's basically the way it works," he claims.
Smith plans to expand on the success it has seen in Europe, with his next move seeing it take on a bigger warehouse that includes a showroom on the front for customers to visit, which he aims to have completed next year.
"It's a fast-growing market for us. It's turning over nearly £2 million a year," Smith says. "And France and Italy have really come to life over the past three to four months. The German business is very strong. We've had a distribution hub out there for about a year, and that's worked very well for us. We saw the opportunity and we didn't want to wait."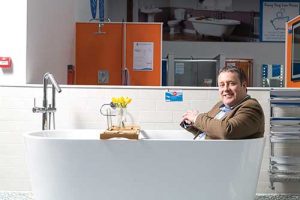 This company certainly doesn't rest on its laurels and has already diversified its business into other channels by launching www.kitchensync.co.uk, which sells kitchen sinks and taps, and www.warmehaus.co.uk, which sells radiators.
The stock for these websites are held in the same warehouse as its Bathroom Takeaway stock and packed and shipped by the same warehouse staff, with the websites hosted on the same server as www.bathroomtakeaway.co.uk, so they don't add any extra costs to the business, Smith tells me.
This is also a business model that he thinks a number of players in the industry are going to have to adopt in order to survive in a static market.
"We very much take that view that this business will move into other areas of the market," he explains. "And I think established brands will have no choice. Some of the pure-play distribution channel brands are going to think at some point, 'We are being so undermined, we're going to have to go direct'. And more people now want to adopt that.
"It's not long before we'll see a major brand selling direct, because the cost of selling in the market is static for everybody, it's just a question of are the margins there?"
Not fast enough
The business has come along at a rapid pace, but Smith thinks it could have been done even faster.
"We could have started slower with price and been like-for-like with competitors. But instead of turning over £13m, we'd be turning over £5m," he says.
"Time was of the essence and we thought we had a really good niche model, and if we'd have started slower, then there could have been somebody else jumping on board. I'd like to have done it faster. I'd argue that we are six to nine months behind where we should be."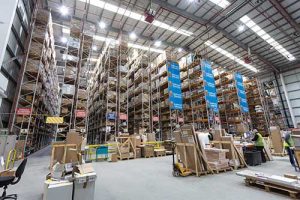 Having worked for companies such as PlumbWorld, Methven and Wolseley, Smith is very familiar with the market and has had a successful career over the years.
However, he admits that Bathroom Takeaway was always on the cards. "When I decided to leave Grafton [owner of PlumbWorld], in the back of my mind was Bathroom Takeaway," he explains. "And having the experience with PlumbWorld, and knowing the supply chain so well, I always wanted to start a business that actually looks after its people as well as it looks after its customers."
Smith says the company has gone above and beyond to invest in its people. It even introduced a pension scheme two years before it was required to, costing him £65,000 that he claims he didn't have to spend.
He says the company intentionally set out to be disruptive in the market and believes it has achieved that and has managed to scare a number of its competitors in the process.
So I ask him how he would sum up what Bathroom Takeaway is in the industry?
"We're the Aldi of the bathroom market," he says, "and it's as simple as that. The range isn't as big, but what we have is done pretty well, there are some bits in Aldi I wouldn't buy, but there's quite a lot I would, because it's the same as its competitors."