Trendspotting

Rebecca Nottingham goes on the hunt for trends during a whistle-stop tour of kbb Birmingham with celebrity designer Linda Barker
I join Linda Barker on the Multipanel stand, where she's spent the day promoting her new waterproof bathroom panel collection.
Once she's proudly shown off the range to me – the stone and wood-effect designs, she excitedly explains, were inspired by the luxury of five-star hotels and spas – we have just about enough time for a quick whizz around the show before she has to get glammed up for her appearance at the kbbreview Awards dinner, following her stint as a judge in the kitchen design categories.
As we set off on our tour, heading further into the bathroom hall, I ask Linda what her impression of the kbb exhibition was before she arrived. "I go to a lot of shows looking for design inspiration and kbb is always on my radar. But, I struggle to remember what I saw at the last event. What's exciting about this year's show is that there's already loads standing out to me and I haven't even done a full tour yet. There's been a real buzz around the show on social media and the vibe in the halls is brilliant. It's really exciting."
I ask if any brands in particular stood out on her way into the show and she immediately tells me that Bathroom Brands' stand had caught her eye. "These guys are looking really smart. It's a fantastic stand and I've spotted some really strong trends coming through on here.
"I feel like we've neglected bathrooms for so long but, quite rightly, by the looks of kbb, this is the year of some really exciting, innovative products in the bathroom.
"I love the emergence of colour – I've seen a lot of new finishes in brassware, like here in Crosswater's MPRO range. I love the striking matt black and the brushed brass. Finally, we can have something different from polished chrome.
"White sanitaryware is still very on-trend, but it can look very clinical, the innovations in brassware finishes are exciting and give designers the chance to be bolder. It feels like we've played it safe in bathrooms for so long and now we're really seeing some exciting innovations coming through."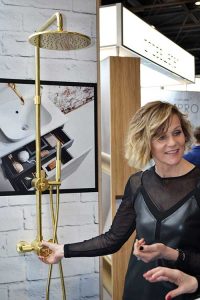 Still on the Bathroom Brands stand, she points to an array of taps and showers, together with a freestanding bath, which she describes as "absolutely stunning". It turns out to be Union, the brand's new bathroom collection.
Freestanding heroes
"There's a big move in bathrooms at the moment to include a freestanding tub. I think we're definitely moving away from that safe trend for panelling them in and actually making a hero of the bath. We're seeing smaller, neater shapes coming through, so they can even be specified in smaller bathrooms now. I love that the industry is coming up with solutions that fit in smaller bathrooms as well."
We leave the Crosswater stand and, while we're making our way through the bathroom hall, I ask her to point out any trends or products that particularly stand out. We walk past a couple of stands where blush pink is clearly the colour of the moment: "It's really lovely to see that finish coming through, but I think you have to be careful with colour in the bathroom – too much can be overpowering.
"That marriage of traditional and contemporary is just lovely," she enthuses as we pass the Hurlingham Baths stand. "I'm a big fan of that classic/modern look. I love wall taps, especially a nice cross-handle design, teamed with a beautiful countertop basin."
We're on our way to the kitchen hall when a display on the Frontline stand catches her eye.
"I'm a big fan of the Crittal-style enclosures," she explains, looking at Frontline's Aquaglass+ Velar black-framed walk-in enclosure. "Everyone's still loving the subway tiles and I think the black frame of the enclosure adds a real statement."
Walking around the stand, a few more products within Frontline's room-set displays spark her interest, including the stone freestanding bath and Vetro Stone electric radiator. Frontline's new Scandi-style Structure cabinet also ignites an interesting discussion about furniture design.
"I hate seeing 'kitchen style' storage used in the bathroom, it seems lazy. There's room for a new approach to bathroom furniture design. I like this [Frontline's Structure cabinet] because it's stylish and looks like a piece of furniture in its own right."
Attention-grabber
We eventually arrive in the kitchen halls and it's Caple's New York loft-apartment style stand that grabs Linda's attention first.
"I absolutely love this," she exclaims, pointing to a gold sink and tap combination on one of Caple's huge island kitchen displays (pictured top). "It's so striking," she adds. "Some people worry about a sink on an island unit, but, when you have a sink and tap like this, you want to make a statement.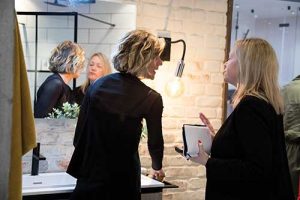 "Caple's kitchen designs are really exciting," she enthuses. "They've not only mixed a variety of different materials, which I love, but they've identified this trend for different thicknesses and depths. They've introduced much more texture, too, which I think looks fab. In terms of their appliances, it looks like they've identified what's happening in appliance design at the very high-end of the market, and are bringing that cutting-edge finish and design to the mid-market."
It doesn't take long to realise that the open-plan trend is still thriving. The floating shelves and open units on Nobilia's StoneArt display kick off a lengthy chat about where kitchen design is heading.
"The open-plan trend is huge and it means that, more and more, we want the kitchen to flow through into the living room," she says. "We're entertaining in our kitchens more, so we want a beautiful space. We don't want it to scream 'look at me, I'm a kitchen' we want to see a mix of beautiful finishes and materials.
"I also like the floating shelves and open shelving that we're seeing more of, which really helps the transition of the kitchen into the living space.
"I've seen very few islands here that are just single slabs – we're seeing lots more depth and shape in island units now and that's really exciting. "I saw Rock, by Colin Wong, earlier and I loved his island units and his approach to kitchen design."
Our tour of kbb is cut short by the Tannoy announcement that the show will be closing in five minutes – just enough time for me to get Linda's final thoughts on the exhibition.
"2018 is going to be a very exciting year for the KBB industry," she declares. "I've never been a big fan of the white gloss kitchen to be honest, so it's exciting to see such an amazing range of colours, textures, materials and finishes coming through.
"The bathroom industry has played it safe and has been static for a while, but the impression I've got from our tour of the show is that those days are over and people are really designing bathrooms again.
"There's so much inspiration and there's a real sense of confidence – it's a really strong show. It speaks volumes and highlights that the industry's really serious about what it's doing and where it's going."