Betta Living's location on the Lakeside retail park in Thurrock was certainly bringing in the customers on the day David Harris visited. He talks to some of its customers about their experience at the store
The first thing you notice about Betta Living's store on Lakeside Retail Park in Thurrock, Essex, is that it is surrounded by potential competitors. Wren, Dreams, Oak Furniture Land, Sofaworks, Homesense and MultiYork are all within view. If, like Betta Living, you sell kitchens, bathrooms, bedrooms and accessories, all such stores offer rivalry in one way or another.
Is this a disadvantage? It depends which way you look at it. Bathroom and kitchen retailers in out-of-the-way suburban sites are fond of observing that although they are not always full of customers, those customers that do come to them are serious about buying.
The argument generally goes along the lines that one serious customer is worth 10 browsers. This is why specialist stores in out-of-the way spots may appear empty much of the time, but survive well because the few customers that do come in spend much more on average than those visiting shops in busy, commercial areas.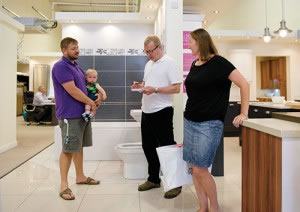 On the other hand, it was quite clear on the morning we visited Betta Living's Lakeside store that passing trade was a regular feature and that this was increased precisely because other similar shops were nearby. It was also evident that this passing trade had the potential to produce some sales, although this is difficult to quantify.
A few of the customers we spoke to had come specifically for Betta Living, but others were on the retail park because it has a lot of home improvement stores. Others had noticed the shop when they were at Lakeside on a general visit. Betta Living certainly made the store noticeable with various promotional efforts. There was a bath filled with balloons at the entrance (a lot of those dropping in grabbed a balloon for the kids, had a quick look, and left). There was a hot dog supplier churning out complimentary hot dogs alongside, with drinks also available.
If passing potential customers were thinking about coming in to the store, Betta Living was making a commendable effort to entice them in. Even so, the first customers we spoke to, sisters Vicky and Charlotte Evans, had specifically come to Betta Living from Canvey Island, a half- hour up the road. The kitchen they wanted was for Vicky, who had a budget of "around £4,000" and wanted it to put it in the new home she was buying.
She had visited other kitchen retailers, she said, but had been put off by the fact that some seemed unwilling to take her very seriously until she actually had her house, which she is in the process of buying. Vicky, 26, said: "I'd never go back to Wren because they just wouldn't help as I hadn't got a place. They also wanted a payment for design. We were really put off, to be honest."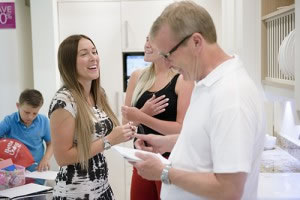 The sisters had also visited Howdens but seemed happier with the sort of service they had received at Betta Living, where Vicky had moved on a stage by identifying the type of kitchen she was looking for. She said: "They were much friendlier here. It just helps if there is someone who will chat to you knowledgeably and at least tries to understand the circumstances you are in. None of the places we have been to so far seemed very interested in doing that. Here, they talk to you and they're helpful."
Of course, not everybody wants to be spoken to too much. Zeke Hobbs and his fiancée Paige Gibon had travelled to the Lakeside retail park from Hastings, nearly 50 miles away. It was partly to look in the local Ikea, but also to wander around looking at what else was on offer. Zeke said: "We just looked in the door and saw they might have some of what we were looking for. We are just about to move into a new flat and would quite like a new bed. I like to be just left to look around really. People do come up to you, but I don't like that. I like to be just left alone."
The couple had looked online, but Zeke said he felt that a bed was one of those things that you did need to see and look at closely before buying, so their online trawl was very much a precursor to visiting stores.
The fact that the Zeke, 23, had spotted the beds while walking by Betta Living was partly due to the way the store is laid out in three parallel lines of bedrooms, bathrooms and kitchens – each stretching from the front to the back of the shop. None of the three parts of the business (kitchens, bedrooms and bathrooms) is buried at the back, in other words, so passers-by can see each section on offer immediately.
Also looking for a new bed were Mark and Caroline Sykes from Hornchurch, who "just happened to walk by" and had come in because they saw beds through the door. Like many other customers, they were also looking at beds in other stores on the retail park, so the fact that it was near other similar stores was the only reason that they happened upon it.
They shared Zeke's dislike of being approached – at least in too heavy-handed a fashion. "I really don't like being bothered too much. It makes me feel like I'm being stalked if I am followed around the shop," said Caroline. The pair had done "plenty of research" on the internet, but Mark said that because they were buying a bed, he felt that it was important not to buy online. He said: "I really don't think you should buy a bed unless you have lain down on it to see what it is like, or at least sat on it."
The couple also took the chance to look at new kitchens while they were there, something else they were considering if they could find something at the right price. Mark, who is in the building trade, said that he would install anything they bought and he would be looking for a good price rather than a full installation service.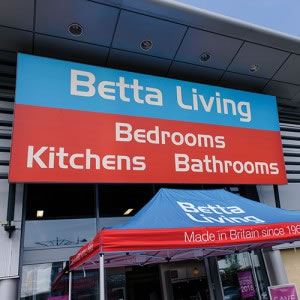 The layout of the store, with bedrooms, kitchens and bathrooms all visible, also appealed to Kenny and Anna Liebenberg, both in their 30s. They had travelled around the M25 with their baby son Dylan from their home in Welling, Kent, to look at what was on offer at Lakeside. Although they had come to look at bathrooms in particular, they ended up looking at kitchens and bedrooms as well, said Anna. The couple, who have settled in Britain from their native South Africa (him) and Poland (her), have just bought a home here and want to improve it as much as they can.
Before coming to Betta Living, they had done research on the internet and had visited various other stores, including The Range, "looking for inspiration" and "to get some ideas", as Anna put it. When I spoke to them, they hadn't yet talked to any of the sales staff at Betta Living, but seemed happy to be able to browse on their own and were about to approach staff with questions about bathrooms.
Kenny, who is a project design engineer, already had some design expertise so said that, although he would consider buying a bathroom that would be installed by the retailer, he would be perfectly happy overseeing the project himself if necessary – in fact, he would probably prefer it.
It was a similar story with Craig and Lucy Blinkhorn, who had just bought a house in Upminster, just four miles from Thurrock. They were at the retail park to buy a lot of things for their new home. Craig works in the building trade, so he too said that whatever kitchen they finally decided upon, he would probably install it himself. "I do a lot of kitchen stuff in my work anyway, so if we get something, it shouldn't be a problem putting it in myself or getting some mates to help me," he said.
We have seen a few things in various shops here, which are advertised as 60% off, which is the sort of reduction we like, providing it is genuine.
Craig and Lucy said it was unlikely that they would buy on their first visit to a kitchen shop, but that was because they lived relatively close by. They said they would probably identify possibilities, go away and talk about it, and then return to buy – with price again a vital factor.
Getting a good deal was something that all the customers at Betta Living seemed to have in common. Certainly, it was the case with Patricia Mackenzie and Caroline Zimano, who were there together with Patricia's son Zane to look for kitchen furniture for a "future buy" in nearby Greenhithe, Kent, from where they had travelled that morning. Patricia, who was buying the house, said that one of the main things she was looking for was reductions, as she was on a limited budget.
She said: "We have seen a few things in various shops here, which are advertised as 60% off, which is the sort of reduction we like, providing it is genuine." The cousins both liked the idea of the company from which they bought their kitchen also fitting it, "but at the right price", largely because it would then be fitted properly and that there would be a clear line of responsibility from retailer to customer.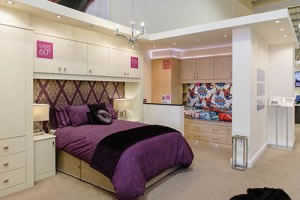 Patricia said: "If they fit it for you, then you have someone to come back to if anything goes wrong. That makes me feel a lot happier. If you get someone else to do it, then the firm that sold you the kitchen and the person that put it in can start blaming each other if something goes wrong."
If the main thing that Patricia was looking for was a kitchen, she was also pleased that bedrooms and bathrooms were covered at Betta Living as well. She had also noticed that online the store offered a wide range of accessories, from bed linen to wallpaper to kitchenware, all of which she said she would be looking for when she moved into her new home.
"I wouldn't necessarily get everything from the same place, because there is a lot of choice, but it does seem good when one shop tries to cover all the bases," she said. Both Patricia and Caroline said that they had enjoyed the welcome they received from store manager Rosie and her team, which seemed to underline the fact that one of the diplomatic challenges facing staff is identifying those customers that want attention and those that want to be left to browse in peace.
But one thing that does seem to be appreciated is the events that Betta Living puts on. On the day we were there, the hot dogs were clearly very popular. Earlier in the summer, the store had put on special celebrations for Wimbledon. It may be a matter of debate whether such things increase sales or not, but they do seem to get more customers in store. It might not mean that those coming in end up buying – in fact most probably don't – but you don't make sales without customers, and even one sale pays for quite a lot of hot dogs.