"To survive and grow we must be quicker and more responsive', says Russell Barnes, owner of Italian bathroom brand Brass & Clay and former UK managing director for the Laufen group
The UK bathroom market was booming, brands were doing well and we were working hard, making good profits and employing more people. We could see a rosy future for our brand and all the people we worked with.
I remember this moment so clearly – I arrived home one Friday evening after a long week, after four months of record sales, to a phone call from one Derek Miller of kbbreview and Scope bathrooms fame. I am sure Derek would forgive me, but it was like a call from the grim reaper.
He was advising me to get our house in order as a big change was coming and it would hit us all very hard financially, and practically, and would take a generation to recover from.
While at the time I wondered what medication he was on, his prediction was spot on and, with hindsight, some of the best advice I had ever received. Within weeks the pound dropped from its highs of €1.40 to lows of €1.03, the market demand changed from high-value brands to low-value imports from the Far East. Those consumers that were even considering a bathroom change downsized their aspirations and budgets.
The impact, as we all know, was huge in many ways, from laying off good people, to cutting costs across the business [Laufen]. The whole business structure needed review and implementation. With the rise of internet trading for bathrooms, the established brands started losing their grip on traditional markets and we all looked inwardly at our business models.
Our lives and our industry would never be the same again. However, out of such negativity, it is possible to make some great changes for a positive future.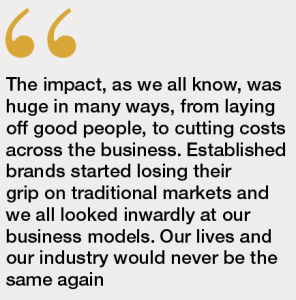 The changes and risks the recession brought to the business ran through the entire supply chain, from the beginning of production – laying off highly-skilled workers, losing people with generational families involved, not to mention losing vital industry skills forever – to industry de-stocking. The manufacturing industry was in free fall.
Sales through the traditional showroom markets had slowed, hence distributors were using their existing stocks, with no new orders arriving at the factories – this was the lowest level we could reach. Slowly, the markets recovered and distributors were no longer relying on their large previous stock levels to guarantee deliveries. Expectations were that manufacturers should hold more stocks and faster delivery. Pre-recession, manufacturers kept lower levels of stock at the factory end.  We had to change our processes to quicken delivery lead times. The basic change had to be that we should lead the route to market with better and more advanced internal systems to reduce stock levels in the entire chain, with even quicker supply times. We would never return to the old inefficient ways. With the vast choice that is now available to our consumers, we are now in a better position to respond to a more bespoke offer that consumers demand. A positive from a negative.
Identification of regions where opportunities and markets were not as badly affected by the global recession would be an area for investment to get us through this stormy period. For reasons I still do not fully understand, the global five-star hotel project market was doing better than we all expected, so a good look at these types of markets that we were not traditionally strong in became the focus of our attention.
We needed to raise our profile in regions where we were less well known and while they too had recession problems, we could take some market share to try and offset the demise of our European stronghold. This foresight by our group leadership gave us a strategy for growth, which we then invested in, and which also proved to be very positive.
During the whole time of the recession, we chose to invest for the future in areas such as new product development, because if any company expected to return or even survive this period, it was necessary to be prepared for the future. Simply cutting costs for the moment and hoping to return profitably and stronger later when the recession ends is not a strategy that market-leading companies should be taking or risking. 
A very aggressive new product development programme, encompassing the very latest technology with the best design and marketing teams, would lead us into new market segments and develop the business worldwide.
The rise of internet trading and the revolution this brought has forced traditional manufacturing companies to examine their response and change times. To survive and grow we must be quicker, be more responsive, have better products, with greater innovation.
I think these basic principles extend to all of us in this business and one that we should all take forward to ensure a successful future.
Having weathered the storm for 10 years or more, trying to take negatives and turn them into positives, I have now embarked on a new adventure – launching a new brand into an extremely competitive UK market. Am I crazy? At my time of life is it a risk worth taking?
The way I look at it is this. If you can run and flourish in a recession, learn from the lessons we sat through, then I think there is always an opportunity to be taken. One that helps keep the big players on their toes and allows smaller businesses to come forward. This will help progress all our businesses together.
In this bathroom business, Brass and Clay really does run through our veins.
Considering where this journey all started, I hope and pray that I never have another Friday evening phone call from Derek like that. However, looking back now, it does make me smile.