"We were brutally honest with ourselves about our strengths and weaknesses", says Graham Jackson, managing director, Bell Northampton
The 21st century has created an almost "perfect storm" for retailers, with a combination of recession and consumer behavioural changes creating a real need for change in the way the home furnishings industry works.
For retailers, the challenge has never been greater – an increasingly volatile market where the only certainty is uncertainty… or is it?
I'm a seasoned retailer, which broadly means that I have seen recessions before and there are some aspects of a business that never change. 
Retailing is a simple business – sales, margins and costs are all under our control and we have to be proactive in addressing each of these areas to ensure that we have a competitive edge. However, even more crucial during a downturn is cash flow – paying staff, rent and other outgoings is essential and not always easy.
Managing cash flow is tough. You need to be exceedingly disciplined and particularly demanding of both clients and suppliers. The key is not to be afraid to ask for what you need.
Ask suppliers to extend terms or loan products or offer other deals that mean your outlay is lessened. In our experience, they are surprisingly supportive and many will look for a solution that works for both parties.
Ask customers and suppliers to pay. This seems so simple, but is an area that is neglected or avoided by many businesses.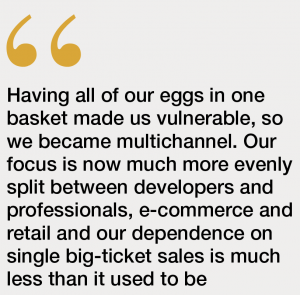 Deposits, second payments and outstanding debts need to be managed well – don't be afraid of being demanding.
Take a look at your outgoings – controllable costs such as payroll, power or transport can all be tightened and allow you the breathing space to get through tougher times.
The best way to help cash flow of course is to grow sales. During recessions there is a tendency to batten down the hatches and this usually means far less visibility and marketing in particular takes a hit. This can be an opportunity for braver retailers who can exploit the void created.
In my opinion, the opposite approach should be adopted, look at your business and shout louder. Use social media platorms, such as Instagram, Pinterest, Twitter or Facebook more, focus your activity on broadening your audience. Improve your content also on fast-growing media such as Houzz, adding links to your website and ensuring that your business is strongly represented.
At Bell, we did all of these things as part of a bigger strategic plan that had previously identified the reasons our brand was struggling and how to put it right. We were brutally honest with ourselves about our strengths and weaknesses. We sought customer feedback both directly and via Trustpilot. We identified what our USPs were and created a vision that built on these and addressed our development needs in pragmatic ways.
This led to clear actions that were all built around creating a more robust business. In 2007/8, if we did not sell a kitchen, it was catastrophic and clearly having all of our eggs in one basket made us vulnerable, so we broadened our offer and became multichannel. Our focus is now much more evenly split between developers and professionals, e-commerce and retail and our dependence on single big-ticket sales is much less than it used to be. This approach is so much more in keeping with changing consumer behaviour and shopping patterns and gives us a competitive edge over many other fitted-furniture businesses.
Consumers nowadays are so well informed, they can pull information from a variety of places and make conscious decisions as to whether to visit our or your shop. When you do attract them, they are knowledgeable about the products, prices and competitor activity. It is no longer good enough simply to open your doors and wait for customers to turn up.
If your brand is not visible online and on social media, they will simply choose somewhere else to shop. If they choose to shop online, this is their prerogative and we chose to make sure that we were at the forefront of this market, as well as having a strong bricks-and-mortar proposition. The industry needs to embrace the way digital technology has revolutionised shopping behaviour, instead of creating unnecessary barriers.
To be successful in challenging times requires an understanding of your business, its market and customer, a willingness to challenge the status quo and be far more demanding of yourself, your customers and suppliers. And you need to be brave enough to adapt and change your business to better suit the way consumers now behave. While strong financial disciplines are essential, it is the willingness to change and adapt that in my opinion will make your business ultimately not just survive, but flourish.