Caesarstone has opened its first studio space within its head office in Enfield, north London.
The 176sq m showroom showcases 48 Caesarstone products and is designed for end customers, kitchen designers, and architects.
Amir Reske, managing director of Caesarstone UK said: "We have had the benefit of analysing the visitor numbers over the past 12 months prior to the showroom opening, during which time we've seen guests from every area of our business. Fabricators and K&B partners, A&D contacts and commercial house-builder teams have all spent time with us at our UK headquarters."
He continued: "With surfaces playing such an important role within the overall design scheme of most modern kitchen environments, Caesarstone London Studio is the perfect place to start the planning process."
The new Studio includes a library of design and interiors publications, as well as design tools such as the Visualiser, as well as architectural design software from Articad.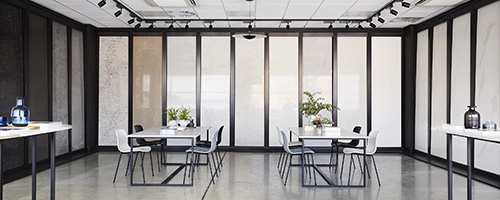 Jon Stanley, Caesarstone UK's vice-president for marketing, said: "We wanted to show Caesarstone products in an elegant, comfortable and domestic scaled environment that would be inspiring for all of our guests We also wanted to provide context for our products, which sit alongside other materials and colours in finished schemes; therefore, we have woods, fabrics and colour swatches on hand, alongside other interest pieces to help guests formulate their ideal design scheme."