The inclusive KBB market grew by 4% in 2017 compared with the previous year, according to AMA Research. Showering facilities, which includes easy-access enclosures and wet rooms, are the largest in this sector.
Multigenerational households have increased by 42% over the past decade, as affordable housing for the elderly has declined, meaning houses suitable for 4G living have become a large market for retailers and manufacturers.
AMA Research has attributed a 'significant proportion' of the inclusive KBB market to direct sales from specialist manufacturers to end-users.
After the decline of the construction industry in 2012, the inclusive KBB market has started to recover and has seen accelerated sales in 2014-2015 and continued its growth in 2016.
Hayley Thornley, market research manager at AMA Research said: "With an increasing number of elderly and disabled people in the UK, and the continued trend towards multigenerational households, the growing demand for inclusive bathroom and kitchen products looks set to continue. By 2022, the market value is forecast to have increased by 16% compared with the market size in 2017."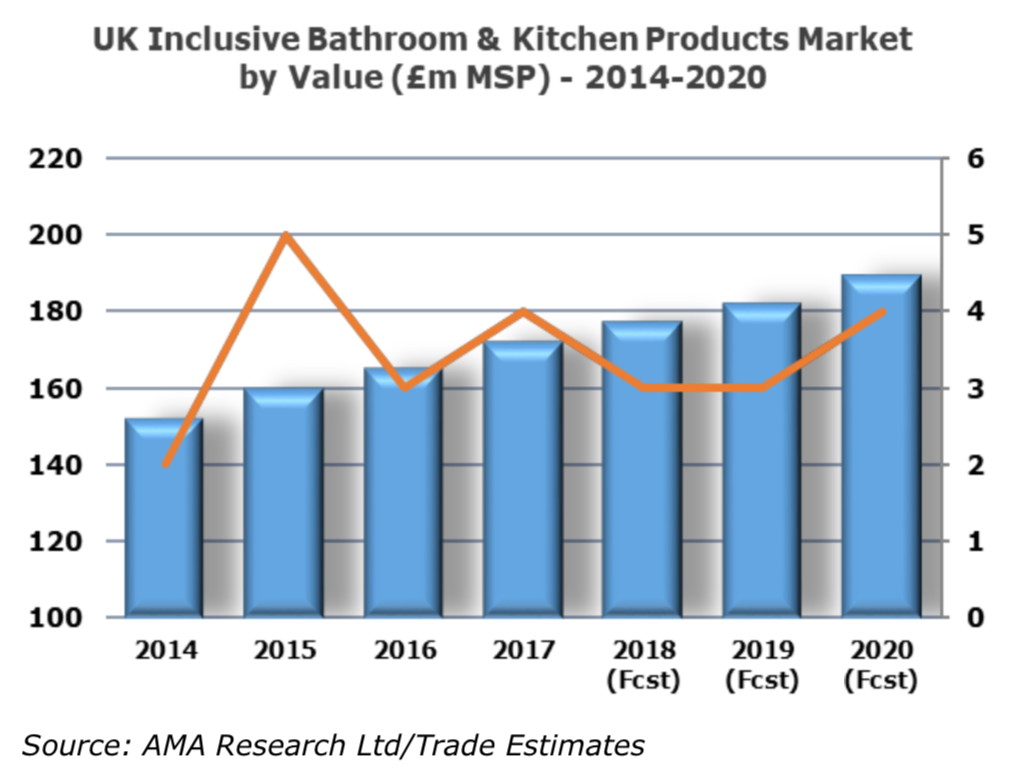 The market for people with disabilities has increased as well. Inclusive kitchens that have been developed for wheelchair access tend to be custom-built solutions to specific requirements, which can include specialist products, such as rise-and-fall units, lever-operated or remote sensor taps to shallow depth sinks.
Samantha Ashwood, senior product group manager at Häfele, said: "The report substantiates our own experience in the inclusivity market where we have seen almost 32% year-on-year growth. The point about inclusive solutions becoming more aesthetically pleasing is certainly worth highlighting. Designers are rising to the challenge of coupling beautiful looks and finishes with robust, everyday practicality.
"We have some major customers taking our Ropox range of height-adjustable wall cupboards and worktop systems and there is a real focus on making spaces adaptable and usable for all."
AMA Research shows that there is a growing demand for consumers to future-proof their houses as a way to add value to a property.
Ash Chilver, sales director at HiB, said: "The average bathroom has a long life cycle, so when homeowners invest in their space, they often look for options that will create a timeless elegance that won't become dated after a couple of years. This has resulted in a growing trend for traditionally designed products with a contemporary flair.
"British homes are also getting smaller. The onus is therefore on homeowners to be smarter about their bathroom design. In view of this, products which can enhance the style of the bathroom whilst also providing a space-saving solution have become must-haves, making all the difference for homeowners."