Oldham-based doors and fittings supplier HPP has built a new hi-tech warehouse as part of its latest expansion drive costing £2.5 million – the firm's biggest investment to date.
The 19,000sq ft building will be the biggest freestanding warehouse at its Oldham headquarters and will store worktops and panel products, as well as create extra space to boost production.
HPP, a family-owned business led by brothers Martin and Stephen Hill and managing director Keith Wardrope, said it will free up another warehouse for conversion into a new manufacturing production line later this year.
Martin Hill, who is overseeing the warehouse and manufacturing expansion plans, said: "This £2.5m project represents our biggest investment to date. Work began on the new warehouse in November 2017 and has recently been completed on schedule.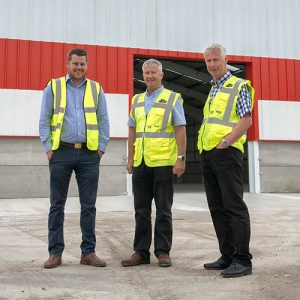 He added: "We're already making preparations to adapt an old warehouse for manufacturing, with an upgraded extraction system and waste-disposal hoggers feeding into our waste-recycling heating system. New manufacturing equipment will then be installed in the autumn."
HPP has another distribution centre in Sheffield, which will also be extended as part of the firm's ambitious investment strategy. The firm said this comes amid significant commercial growth in recent years.
Overall, HPP, which was founded in 1991, now has more than 250,000sq ft of floor space at its two sites. Customer sales, delivery, IT and marketing departments have been expanded.
HPP, which supplies more than 2,000 customers across the UK, including trade kitchen and bedroom installers, showrooms, property developers, and architects, said recent investments had boosted speed, efficiency and accuracy, and increased capacity for manufacturing bespoke products.
HPP manufactures its own-brand products, including Avanti doors, Glide sliding doors, and Aspect and Aspire kitchens and bedrooms. It also supplies products by other UK and European brands, such as Egger, Kronospan and XyloCleaf.