Magnet has teamed up with Samsung to launch a smart kitchen that the brands describe as "revolutionary".
Samsung's connected home appliances will be integrated with Magnet's innovation range in the new design.
The kitchen will feature Samsung's Family Hub American style smart fridge-freezer, which has internal cameras that allow a user to look inside their fridge with their phone, as well as a touchscreen on the fridge door from which you can buy groceries directly.
The Samsung connected oven and hob are also included, with functionality that can be controlled remotely with a smartphone.
The Magnet kitchen will feature a USB charging tray, cabinet-integrated soundbar and innovative storage solutions that occupy otherwise dead space at the back of wall cabinets.
Hayley Simmons, head of merchandising at Magnet, said: "We know our customers need all the help they can get to make life more relaxed, particularly family life as it can get pretty hectic when everyone is together at home.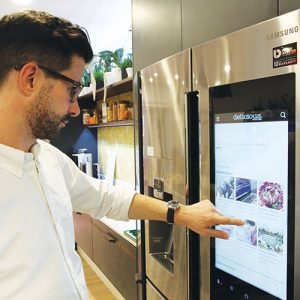 "A better-connected family starts with a better-connected kitchen, which is which is why we've partnered up with Samsung to offer a smart Magnet kitchen that fits our customers' lives and not just their kitchen."
Nick Bevan, head of product management for home appliances at Samsung UK and Ireland, said: "We want all of our smart home products to work at your convenience and the kitchen is a key place where we can make that happen.
"Innovations that actually help consumers and make their daily lives easier is something you'll see right across our product range, whether it's our Family Hub fridge freezer which allows you to browse online and create shopping lists right from your fridge door or our multifunction ovens. We're delighted to be partnering with Magnet to showcase how we can help."
The past few years has seen a number of appliance brands launch app-controlled, wifi-enabled home appliances as technology has improved to meet the growing demand for convenience in the home.
Whirlpool, Sharp and Electrolux are some of the brands to release connected appliances, while Smeg has launched its connected line-up with a smart wine cooler.
Last year, a report by Barclays predicted that the connected home industry could be worth more than $300 billion (£229bn) by 2025.
Elena Cochero, an analyst at video advertising technology firm Unruly, said: "The internet of things in the kitchen is fast becoming prevalent, widely accepted and user-friendly thanks to technologies such as remote access, voice control, auto-replenishment, image recognition, expiry date tracking, AI assistance and more.
"The next generation of appliances has the capability to learn and adapt to user habits and preferences. At the Unruly Future home we have been tracking this trend and educating brands on the role they can play in enhancing the consumer's quality of life."