In conversation with…
Patricia Urquiola

Spanish architect and designer Patricia Urquiola has done it all, f

rom tables to taps and showrooms to an exhibition about Ferrari.

Here, she talks to Vicki Evans about her work in the bathroom industry and her collaborations with Laufen on its Madrid showroom and Sonar collection
Q: Your range of work is impressive, from retail spaces to chairs to sinks, how do you manage working in so many diverse sectors?
A: There is one very important thing to keep in mind: if you repeat a formula, you are no longer creating. I really enjoy listening, creating networks, understanding the needs, and then finding different solutions. When I start a new project, I start with a white page.
Q: Looking at your work as whole, what is your main source of inspiration?
A: Inspiration comes from strange places. I do not have to look for it. It happens in my everyday life. Both at work or on my personal time. For sure, it is inspired by all my passions, all creativity fields. Art, literature, music, cinema, fashion, as well as from looking at objects – any kind of object that surrounds us. It is a process of interconnections.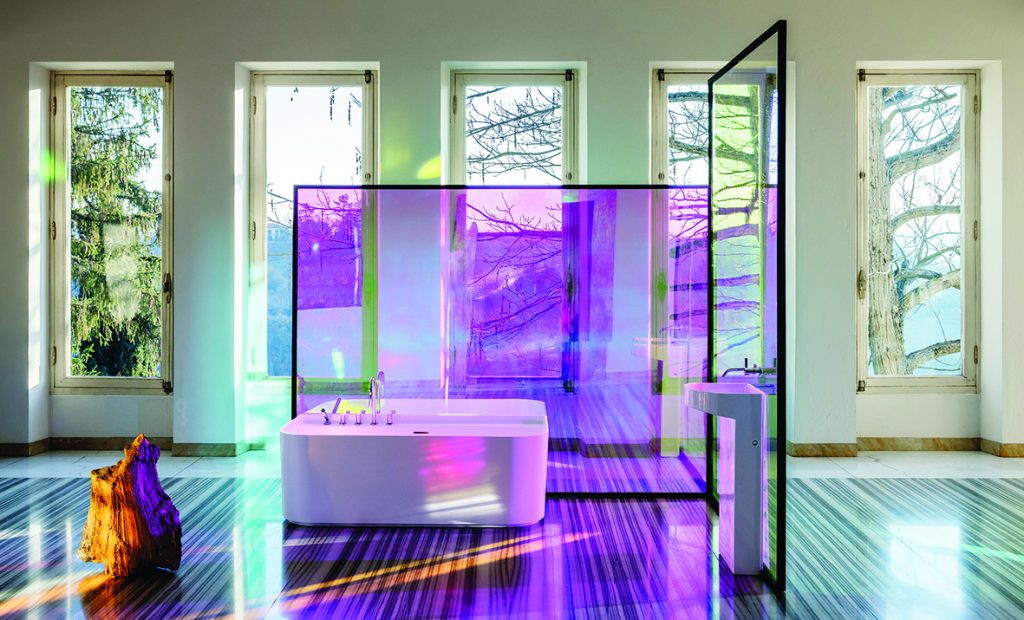 Q: How would you sum up your design philosophy?
A: My philosophy is to enter in deep empathy with the company I work with to understand the relationships, the users' needs and interpret these ideas. I respect each company's identity and I try to make them evolve. Every project is the result of several different journeys, it's important to build an emphatic team to start walking the path.
Q: You have been working with Laufen since 2016, what initially drew you to collaborate with them?
A: First, they called me to design their showroom in Madrid, a city that I care a lot for. Then we start talking about a design collaboration. I was interested in evolving the project with a bold and innovative approach. I wanted to interpret and explore the very unique and interesting characteristics of SaphirKeramik, both in terms of design as well as form and function. In this way, Laufen and I partnered to create the Sonar project.
Q: Could you talk through the inspiration and design of the Laufen showroom in Madrid? 
A: The idea was to create a space with multiple functionalities, a new kind of showroom, where people can also work. An elegant and strict space with fine materials, like marbles mixed with onyx, glass, resin and oak wood, inspired by the materials usually used in bathroom design.
Q: What is your favourite part of the Madrid showroom? 
A: I like the multifunctionality of the space. It's not only a place to show the new products or the finishes, but also a place to work and meet clients.
Q: What makes a good showroom?
A: I think a combination of many things, like a sense of place and time.
Every project has a fundamental element, you have to find it and it will be the one that guides you. When I design a space or an object, there is always an in-depth study of the materials, the company's history and other factors that bring to the final design.
Q: You approached Laufen to design the basin and sink collection. Why did you want to collaborate with them on this?
A: We wanted to create a range of different basins with varying dimensions and styles. With the Sonar collection, we have the freestanding washbasin, the double basins and the classic basin that can be put on a flat surface. To complete the collection there is the bathtub, with a linear part, that can fit to the wall and that has a shelf inside for the products you need.
Q: What was the inspiration behind the Sonar sink and basin designs?
A: The designs are unique thanks to the dialogue between elementary forms that interplay harmoniously in a sophisticated balance of angles and curves. The use of inclined planes, metric cuts, and small internal slopes represent the functional expedients that underline the drain.
Q: Water flow is an important factor in the Sonar basin collection. Why did you make that a feature?
A: I was attracted to the expression of purity and sober forms of architectural minimalism, as well as the contrasting natural phenomena of sound waves and their relationship with water. The contrast and balance of these two elements created an interesting design juxtaposition, and I was greatly inspired by this intersection.
Q: What attracts you to design for the bathroom industry?
A: I'm very attracted by new achievements and challenges, so I'm open to new projects within the industry. I'm curious and I like to discover new materials and techniques. With Laufen, it was interesting working with the very unique and interesting characteristics of SaphirKeramik, both in terms of design as well as form and function.