The chief executive of German white-goods giant BSH believes the tipping point for consumers adopting connected appliances will be when the products offer meaningful applications and services.
Speaking to kbbreview's sister magazine ERT at IFA 2018 in Berlin (August 31 to September 5), Karsten Ottenberg said providing services such as shopping, replenishment, automatic ordering and recipe guides will drive the take-up of connected appliances.
"Monitoring control will be some of it – not having to walk down to the basement to see if your washing machine is ready – it's a starting point, but that's not the killer application.
"We're finding meaningful things that we can provide through connectivity – services that consumers like to have in their daily lives, like helping them to decide what to cook."
He added: "For me, the drive will be connecting meaningful services for consumers that they use today – shopping, cooking, recipe guides and replenishment – ordering automatically."
At IFA, BSH demonstrated a wide range of networked home appliances from its Bosch and Siemens brands that can be controlled and monitored by its Home Connect platform and app.
Said Ottenberg: "As the European market leader, IFA is a highlight for us – it's a very important gauging point for getting in touch with our trade partners and consumers and getting feedback.
"We see a clear move forward with connectivity and digitalisation. This year, BSH has launched a clear strategy to become a 'hardware +' company – we have a target to create an open ecosystem for the connected kitchen and to make sure we get closer to consumers and that we serve them better, together with our partners.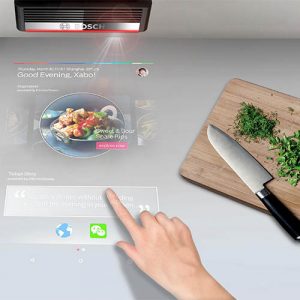 "The creation of products is a platform for exciting experiences – not just selling and buying, but using the capabilities of connectivity to really enrich the consumer experience.
"Consumers want experiences – that's what we have clearly in mind when we talk about becoming a 'hardware +' company. We're extending the excellent hardware to create experiences from not only products but also services – the products serve as a platform to deliver customised and superior experiences."
Ottenberg said that with its Home Connect platform, BSH was building an open ecosystem for the consumer by creating products that are easily connectable and by partnering with service providers with great offerings.
"It's clear to us that our investment in superior products and understanding consumers – using products as a platform to provide services – is the important thing.
"The industry of home appliances won't be ready to serve consumers of the future if you have to find point-to-point solutions – we haven't followed that approach. We wanted to create a platform, which is Home Connect, which is progressively getting more attractions in the appliance space, but also more services. By 2020, every new product that BSH will launch will be connectivity-enabled."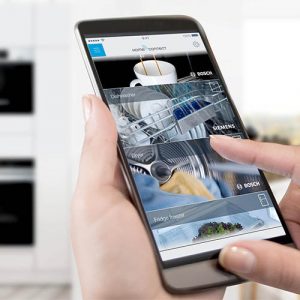 The BSH Group has a separate digital business unit that is focused on connected home appliances.
It has also acquired a majority stake in the leading food guidance app Kitchen Stories – a Berlin-based tech start-up – and will incorporate the service into several of its connected home appliances, including ovens.
At IFA, Bosch was demonstrating PAI (Projection And Interaction) – a new interactive projector for the kitchen.
The device can be mounted over the kitchen work surface in order to project a virtual control interface on to it.
An integrated 3D sensor detects every movement of the hands or fingers and allows touch control of the operating surface, enabling users to access a wide variety of digital services, such as looking at recipes, or controlling their networked home appliances with Home Connect.
PAI is said to offer similar functions to a tablet or a smartphone, but is much more robust and specifically designed for the kitchen environment. For example, it can be controlled even with dirty fingers. It does not take up any space on the work surface, leaving enough room to cook and bake.
PAI will be launched in China in February 2019 and then in the US at a later date.
There are currently no plans for a European launch.