'People want to deal with us because they know we will provide a quality service'
Rebecca Nottingham visits the new Loline Interiors showroom in Biggleswade, Bedfordshire, to find out how owner Dave Kirkpatrick is streamlining its brand portfolio to offer customers an even stronger service
If you're going to start your own business, then taking over one that is already successful and established in the local area isn't a bad direction to take. And that's exactly what Dave Kirkpatrick did 18 years ago when he, and his then business partner Bob Taylor, bought Loline Interiors in 1998.
The business was established in 1974 by local man David Perry. By the time Kirkpatrick and Taylor had made the decision to start a business of their own, 24 years later, Perry had done all the groundwork. The well-established showroom was located in a prominent position on Biggleswade's busy high street, it had what Kirkpatrick describes as "a great reputation for service and quality in the area" and a healthy annual turnover of around £400,000.
"I got to know David while I was a sales rep for a distribution company that supplied him with doors and appliances," Kirkpatrick says.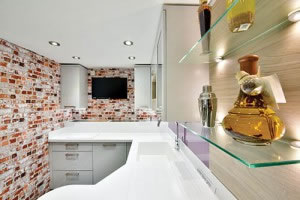 "I knew that the business was in good shape and in 1997 I had a chat with the showroom manager, Bob Taylor, who mentioned that David was looking to retire. It was a great opportunity to take on a business that was already very solid and successful, and in an industry in which we were both experienced and knowledgeable. So, we came up with a plan to buy David out."
Kirkpatrick recalls how, despite being a solid business, both he and Taylor felt that it wasn't being run to its full potential. Part of the problem, he tells me, was that the previous owner had primarily sold high-end German kitchen brands and many locals perceived Loline as "luxury and out of their budget". The new partners felt that by changing suppliers they could widen their appeal within the local market.
"When we bought the business, it was doing around £400,000 a year but, considering its reputation and the growing population in the area, it should have been doing double that. But, with prices starting from around £30,000 it was quite a niche business that was out of reach for many locals.
"Having spent a significant chunk of my kitchen industry career as a salesman for a distributor working with brands like Burbidge, I felt that buying in components, rather than complete kitchens, would enable us to cover all bases, rather than just the high-end and give us more flexibility both in terms of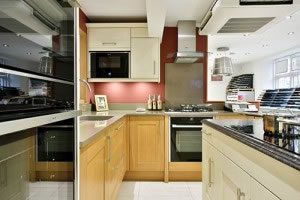 purchasing power and design. We get our carcasses made locally, so we offer a more bespoke service, and we buy the doors in. Our biggest supplier is PWS, who we go to for worktops and its Second Nature doors, and we also deal with Burbidge and Uform. Doing it this way, although the average cost of a kitchen, with installation, is £20,000, we can do one for anywhere between £10,000 and £60,000."
As the market becomes increasingly competitive, the relationship between supplier and retailer has become even more important. Less is often more in that respect and we've certainly seen a trend recently for retailers streamlining their product portfolio in favour of building a more solid relationship with fewer suppliers.
"I like to choose brands that support the independents," he explains. "Over the years, we've come to learn how important relationships with suppliers are.
"It stands to reason that the more suppliers you deal with, the more you lessen your relationship with each one and the service you offer your clients will suffer. We've streamlined the number of suppliers we use for that reason.
"Ten years ago, for instance, we didn't care which granite supplier we used," he adds. "Nowadays, even if I could get a worktop £100 cheaper, I wouldn't go to anyone other than PWS, because we know they offer us a reliable service and that counts for a lot."
Supportive
With the importance of service provided by suppliers firmly in mind, as a Neff 5 Star Master Partner, it's difficult to avoid the obvious discussion with Kirkpatrick about BSH and how its recent stock supply issues affected the business.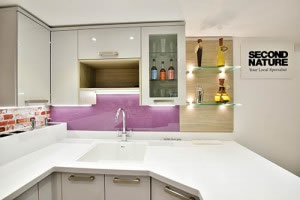 "Firstly, I have to say that we've dealt with BSH for years, because they have always been very supportive of independents," he explains. "As a retailer, however, my biggest bugbear is suppliers and distributors not keeping us informed of any stock and delivery issues. Their grasp of how important it is for us to have certain products on certain days is sometimes non-existent.
"When we were working on the layout of the new showroom, late in 2014, our plan was to include Siemens products in some of our displays but, when it came to filling the displays, suddenly we were faced with three- to four-month delays on products. We couldn't have empty displays, so we had to make a decision and chose to switch to AEG. Would I ever go back to Siemens? I don't know, we'll have to see how AEG performs.
"On the flip side, we were able to fulfil all orders for Neff products quickly and efficiently and that, I have to say, was down to the support we received from BSH. Neff is a great brand, it's a reliable product and it's always given us the least amount of problems, which is why we have always sold it."
It's difficult to say whether the tactic of offering mid-market products in a bid to appeal to a wider audience was the core factor in changing the business's fortunes. But, either way, within just a few years of taking over, the partners had turned Loline Interiors into a business working on between six to eight kitchens a month and an annual turnover of £1 million.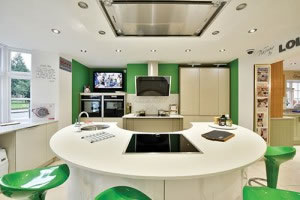 Sadly, Taylor passed away suddenly in 2009 leaving Kirkpatrick as the sole proprietor. Like the majority of small, independent businesses, Loline operates with a small team, with Kirkpatrick still holding a pivotal role. As well as managing the whole operation, he also takes an active sales and design role, alongside full-time sales designer Charlotte Norman. They employ three full-time fitters who are managed by installations manager Nigel Heasman.
"I know a lot of retailers prefer to subcontract the installation side, but we like employing our own fitters, because we have full control over the quality of the installation and availability," he says.
"People want to deal with us because they know we will provide a quality service and that if something does go wrong they know we'll do everything we can to correct it. I say to everyone, 'my door is open six days a week, if you're not happy come in and talk to me'. I think people feel even more confident in us because we have our own fitting team."
Recognising that he would benefit from having extra support and someone to turn to for advice and ideas, he eventually invited Heasman to become a director of the company and help run the business in 2010.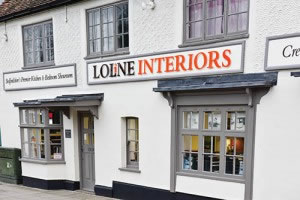 "Nigel has worked here for around 16 years, he knows the industry and most importantly he knows this business and how we work," he explains. "Just because I'm the owner doesn't mean I don't get things wrong occasionally, so I appointed Nigel as a director to help me run the business. We bounce ideas off each other. If I'm not here for any reason he takes the reins."
Nigel also introduced his daughter Samantha Kirkpatrick to the business in February last year. She has a young family and works part-time, but the aim is that she will eventually take over the whole business.
Like many independent retailers, Loline's core business is made up of repeat local business and recommendations. Kirkpatrick even classes lots of clients as friends, which highlights the solid reputation of the business in the local area and how well respected Kirkpatrick and his team are.
"Biggleswade and the surrounding villages are pretty substantial in terms of size," he says. "There's lots of development going on, so the area is constantly expanding. We won't start to benefit from the new-builds for at least six years, but it's good to know that there will be a significant amount of prospective business in the offing, which helps plan for the future.
"Last month, I did a kitchen for a client and it was the third one I've designed for him," he adds. "We regularly do kitchens for kids of clients. If you do a good job and maintain your reputation, you don't need to spread your wings further than the local area."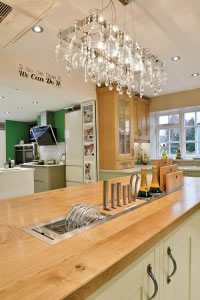 So what's next on the agenda for Loline?
"My challenge for 2016 is to raise profitability without increasing turnover," he says. "We're taking on a bespoke in-frame door range, Aisling, supplied by Uform. That will take us to the top end of the market, where we can compete with Smallbone or Mark Wilkinson. Lay-on doors have been the core of our business for 18 years, and I think they always will be, but taking on the Aisling brand will give us scope for more business.
"We finished 2015 20% up on the previous year and if we carry on this way, I've no doubt we'll be 20% up again this year," he concludes. "Because we're introducing the higher-end product, I expect the number of installations to potentially decrease and profitability to increase."