Former business partner Colin Sims recalls his time working with industry stalwart Richard Crisp, who died recently

It is with a heavy heart that we report the death of one of the pioneers of the modern-day kitchen industry, Richard Crisp.
He had always been a campaigner seeking to give the industry a clean and recognisable status, following the changes that took place in the 1970s. Those changes gave rise to a burgeoning growth in the sector and, inevitably, the appearance of get-rich-quick operators and 'cowboy' installers.
I first met Richard Crisp when I moved to Barnet in 1973. He was my immediate neighbour and of a similar age and my wife and I quickly made friends with him and his wife, Ruth.
Following a brief spell at RADA (he used to frequently recall that he was there at the same time as Brian Blessed – some people may remember the similarity in his demeanour and voice profile), he worked as a junior journalist for a Buckinghamshire newspaper. After getting married, he moved to Barnet where he worked for Clam Brummer, which at the time was owned by a family friend and based in Borehamwood. They manufacture a range of wood fillers, widely used in the furniture business (recently acquired by Rustins Ltd.)
At the time, I was working in the furniture business and so we had similar work interests.
Our respective houses both needed new kitchens and, with my knowledge of the kitchen sector as it was, we both installed a 'modern' kitchen manufactured by a small company in Send, near Woking, called Plus One Furniture. We made friends with the owner, Brian, who suggested that he would support us, were we to consider opening a retail outlet for his products. Barnet Kitchen Centre was opened in late 1974, taking a short-term lease on a small shop in an off-high-street location close to our home. Richard and I retained our respective jobs when we started and the shop was staffed by our wives, often taking our offspring into the shop by pram.
I could sell, Richard could design, and we teamed up with a small, local, building firm for the installation work. Things went well and the business grew. It soon became time to seek larger premises to enable us to properly display the capabilities of the company. This was at a time when decent supplies of things like sinks, taps and fitted appliances were difficult to obtain from UK sources. Neff had just about started distribution in the UK.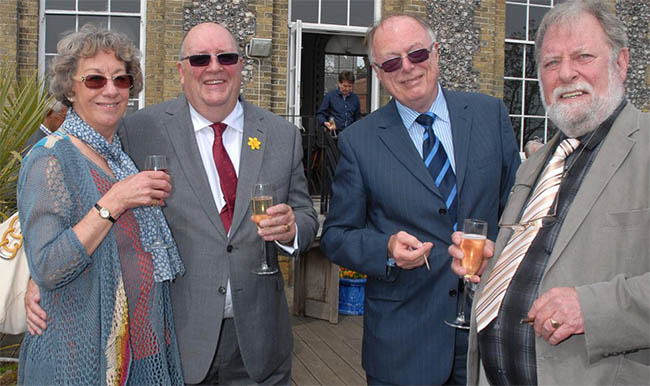 Two things happened almost simultaneously that changed the course of our respective lives. I was calling on one of my customers in Lea Bridge Road in London and the designer, Mike Brown, showed me a sample inset sink that had been left with him by a Swiss gentleman some days previously. I could hardly believe my eyes and its intrinsic quality and suitability for the up-and-coming kitchen specialist's trade.
He knew that I had an interest in a fitted kitchen specialist business and was happy for me to take the sink. I returned home immediately and telephoned the (now late) export manager, Ivan Heimann, at Franke in Switzerland. We had a quite lengthy, interesting and fruitful conversation. He informed me about their newly appointed sales manager for the UK, Duncan Marr, based in Manchester, who was the very next person I contacted by phone.
The following day, Duncan was on my doorstep at home by 9am. By the end of the day, we had concluded a deal to become a Franke distributor and had ordered a stock of sinks. Nowhere to put them and no corporate structure to operate with!
The second thing that happened was that Woolworths on Barnet High Street closed in 1975 and their building became available. It was far too large and costly for us, but was purchased by a building society and divided into two and we were able to take a lease on the other half, which included a huge basement storage area. Perfect for sinks.
We had to form a limited company and take a huge leap of faith. It meant us both committing to working full-time in the business and giving up our jobs. Scary!
Richard and I got together over a bottle of wine and a copy of Roget's Thesaurus.
We took the word Galley from a ship's kitchen, because of my love of boats, and Richard suggested Matrix, being the 'basis on which to build'. Hence, Galley Matrix Ltd was formed and we both liked the way the name rolled off the tongue, with 'foreign-sounding' connotations. A memorable name, we thought.
The kitchen showroom took shape and the sinks turned up on a huge truck and draw-bar, which blocked Barnet High Street every time we had to reverse it down an access alley at the side of the building.
In conjunction with Duncan Marr, we formulated a distribution price list tailored for the kitchen specialist. It was a mathematically calculated list based on purchase price ex-Franke and demonstrated a healthy profit return for the retailer. This seemingly insignificant move established a trend in the business, followed by many – often much larger – kitchen specialist distributors who were emerging to support the sector.
The acceptance of the Franke product among kitchen specialists was remarkable. The distribution side of the business grew rapidly. Barnet Kitchen Centre grew rapidly also, to meet the consumer demand for new, modern fitted kitchens.
In 1976, it became clear to Richard and I that each side of the business was inhibiting growth in the other. This was mainly a financial constriction. So, with the financial help of Richard's father Don (ex-treasurer of High Wycombe District Council), we were able to split the business into two. Richard and Don took and ran Barnet Kitchen Centre and I took and ran Galley Matrix Ltd as the Franke distributorship. At this time, Kevin Gould was appointed as sales manager for GM and the distribution business moved to the site of an old builders yard in Barnet.
Richard continued to run Barnet Kitchen Centre until 1983/4. He developed a very good reputation for the business and became a paragon of authority and knowledge of the trade.
Along with his retail operation, he became more and more involved in campaigning on behalf of the industry. He penned a very popular, regular feature for the trade magazine K&B (now kbbreview) under the name R.E. Taylor. This ran for several years.
He was also instrumental in the formation of the KSA (Kitchen Specialists Association) along with other well-know characters in the business, such as Derek Figgins in London and Alf Norris in Leicester. Richard spent many hours writing the articles of association for the KSA, which established the rules of membership and paved the way for the insurance scheme, which effectively bonded members and provided a unique level of security for each member's customers.
To establish a higher level of credibility for the KSA, he persuaded many of the leading manufacturers and suppliers to the trade to become associate members.
His quest for respectability did not stop there. He carried out a huge number of expert witness reports for members who were involved in litigious actions with their customers. He provided a totally unbiased service in the name of the KSA and was often expected to attend court, if the dispute between specialist and customer could not be settled in an amicable fashion. He was never paid very highly for this extremely demanding work.
While involved in this work, he developed a series of training courses that could be used by manufacturers, large retail organisations or individual kitchen retailers in how to properly survey, measure, plan and install fitted kitchens. His training courses were widely accepted by the likes of B&Q and Wickes.
In parallel, he was working with the CITB (Construction Industry Training Board) to try to establish a level of accreditation leading to certification for entrants into the trade.
The work that Richard has carried out over the past 40 years has probably had an effect on many current individuals and organisations operating in the fitted kitchen market, without them even realising.
Richard leaves his wife, Ruth and two children, Alex and Oliver. Our sincere condolences and respect go out to them.