The new Alno owner, European investment firm RiverRock, has explained why it resuscitated the German brand and why UK studios should have fresh confidence in it as a 'reliable partner'.
Jason Carley, portfolio manager at RiverRock, is the chairman of the supervisory board of the new company, Neue Alno.
He told kbbreview (see full story in November issue) that Alno AG had been in a bad financial state for at least 10 years if not more, with "literally hundreds of millions of euros of debt hanging over it."
But he said: "Alno is a well-known, excellent quality kitchen brand in Germany that produces a good product and is one of the biggest employers in the region where it operates.
"Its financial problems had nothing to do with the kitchens they make. It was all to do with the complicated financial structure of the company and mismanagement.
"The administration allowed the assets to be acquired debt-free."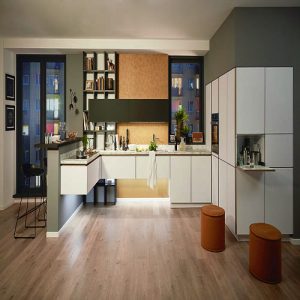 Speaking exclusively to kbbreview, he added: "We are selling the kitchens at a good price point and we are a reliable partner to deal with, with excellent delivery times. Though, of course, it will take time to fully rebuild trust."
Carley and the new management team at Neue Alno began their long road to rebuild trust in the UK industry a few weeks ago at Küchenmeile where they met former customers, like Kitchenology in Suffolk and Albany Kitchens in Hertfordshire, and outlined plans for the future.
They have brought back most of the old Alno range with one or two changes and showcased a new line-up for 2019, which includes new doors.
Thomas Kresser, appointed as chief financial officer (CFO) at the beginning of the year has now been promoted to chief executive and managing director.
"We have to create confidence and that started at the Küchenmeile a few weeks ago, where the team, including myself, was meeting with customers, spreading the message about the Alno strategy, and talking about our great product line-up for 2019," Carley said.
"We will stay focused on the premium sector of the kitchen market, unlike before, when multiple brands, from the entry-level Pino Küchen to Alno at the top, diluted the focus. The company tried to cover the full breadth and did so inefficiently. This contributed to its problems."
Find out more about RiverRock's future plans for the German brand and what the new Alno Neue chairman has to say about RiverRock's investment strategy in kbbreview's November issue.