Our roundup of the latest trends and products from Germany's annual Küchenmeile kitchen fair held from September 15-21

NOBILIA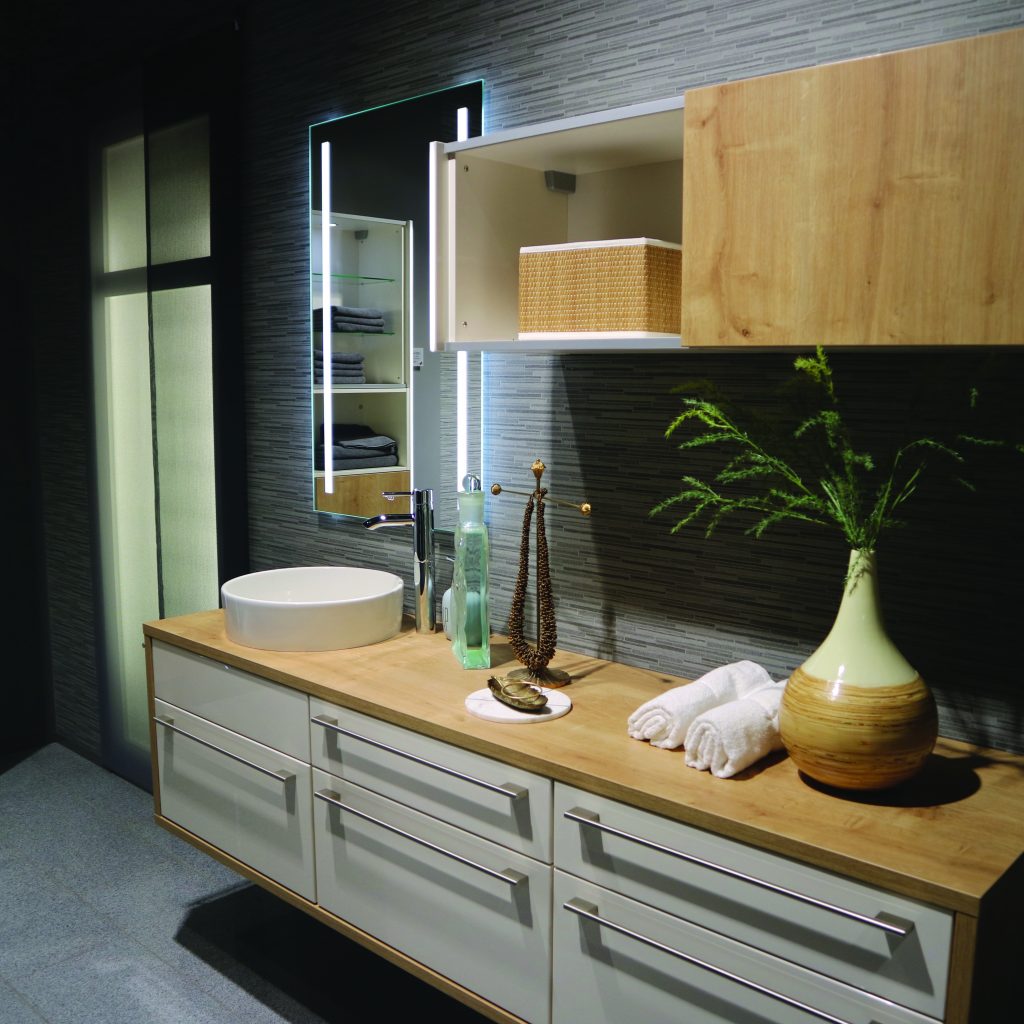 Nobilia's biggest launch at the event was its new bathroom and living room ranges. These additions are in direct response to Nobilia retailers using its kitchen cabinets in other areas of the house.
Head of UK sales and operations Charles Thomas says: "A lot of our customers already draw and design bathroom and living room furniture using our kitchen furniture. It works quite well and if you are a good designer, you are able to do that. But now we have made it easier for them to design, but also easier for the customers and the other markets we are in, such as the contracts market.
"It was a response to the demand and need for it. We received requests every year and now we have made the decision to do that. We are able to do this and there is the market out there that wants it."
BAUFORMAT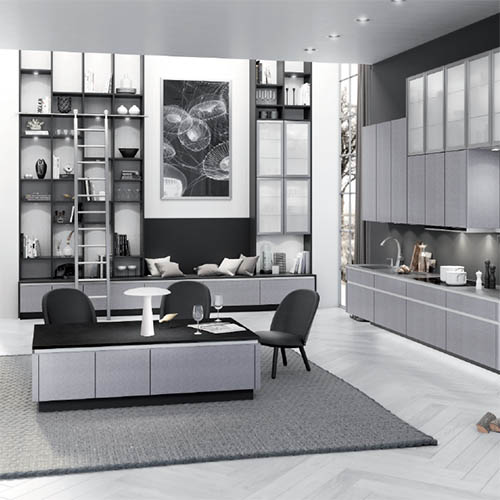 Bauformat's new CP35 handleless kitchen, which offers rails and carcasses in a wide range of lacquered colours. The doors are specially chamfered on top with flush rails. In line with current open-plan living trends, the cabinets have also been designed to suit other rooms in the home.
RATIONAL
The new Cascade kitchen combines tall units in a textured Eucalyptus Volcano finish with contrasting high-gloss, soft-lacquer base units in a neutral 'wool' colour that is also new for 2019. The design includes a new decorative frame system in stainless steel, also available in black. The worktops and plinth profiles are in Corian.
SCHÜLLER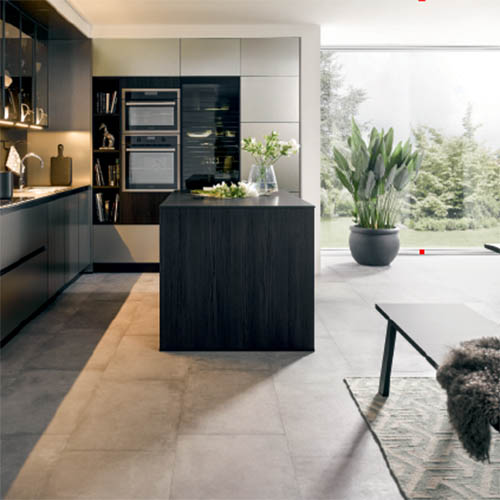 The new Corona range has fronts featuring a stainless steel metallic effect, contrasting with textured spruce onyx black. It features diamond-patterned glass fronts on the wall units and the pull-out shelf that moves forward from behind a glass roller shutter when needed.
BALLERINA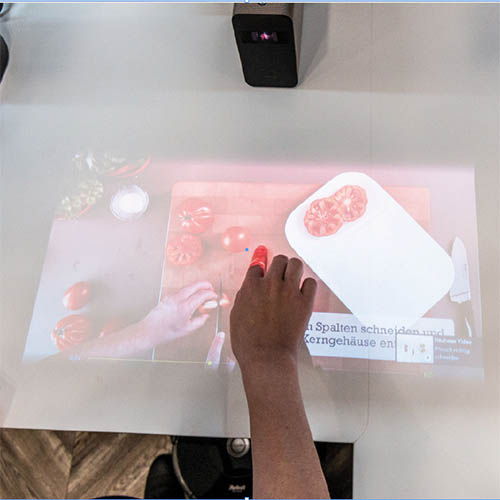 Ballerina's digital kitchen was developed in cooperation with Brumberg, L&S, Kesseböhmer, Liebherr, Blum and ieQ-systems.
The complete internet range can be operated by voice or touch. The worktop acts as a tablet PC and can even be used with dirty hands. Recipes, photos or YouTube films shown on the worktop provide a perfect guide for cooking.
HÄCKER
Häcker presented 44 kitchens at Hausmesse, 21 of the Classic product line and 23 from the Systemat section.
New features of Häcker's classic product line include the new Vancouver front with a horizontal wood structure. Antique oak in sand and natural shades are the new trend colours here, while sand antique oak and black oak are the additions in the Toronto collection.
With the new Meteor front, Häcker offered a plastic surface with a ceramic structure at an entry-level price. The model features oxide and black steel finishes and can be combined with graphite.
Graphite, a shade that was presented last year, was complemented by a high-gloss version for the Laser Brilliant product range, while a matt version has been added for the Laser Soft range and the Lotus frame front.
Häcker now offers a metal frame door in black with black tinted glass or stainless steel with frosted glass. Meanwhile, its worktop line-up has been complemented by three stone finishes and two wood replicas in a butcher-block look.
Spatial depth can be created in the kitchen nook with a real mirror on the rear panel. These are available in satin and glossy finishes, as well as in grey and bronze. Those who opt for the classic tile mirror can use the new grey and white Metro tile designs. These are also available in a plastic finish or as a glass back panel in the nook.

KELLER
Keller Kitchens, Dekker Zevenhuizen and Atag Benelux joined forces to open the Holland Trend Haus at Hausmesse. The three Dutch companies presented the latest trends and innovations in kitchens, worktops and appliances.
Each kitchen was equipped with a custom-made worktop and kitchen accessories from Dekker Zevenhuizen. The countertops featured exclusive colours together with contemporary Lanesto taps and sinks. Atag Benelux kitchen appliances came from three brands – Atag, Pelgrim and Etna, which had received multiple Red Dot Design awards in recent years.
Keller Kitchens' latest GL5100 model embraced the Scandinavian style. The simplicity of the design provides a blank palette for homeowners to add the colour scheme of their choice, whether that's cool pastels or bold hues on the walls or the cabinets.
STÖRMER
Industrial-style kitchens continued to set the trend as Störmer showcased its new wall-hung Regal open storage system at Hausmesse to create that look. Pictured is the brand's latest Nova Fenix collection in a dramatic black with the new industrial-style open storage. Available in 600mm, 900mm and 1,200mm widths, it offers a variety of accessories, including plate and glass holders and utensil hooks. The new modular storage elements are available in a distressed metal finish and it can also be used throughout the entire open-plan kitchen and living space.