A young designer at independent studio Herbert William Kitchens has refuted suggestions that app-obsessed millenials will make the kitchen obsolete by abandoning home-cooked food in favour of take-outs made by robots.
A controversial report by investment bank UBS published earlier this year entitled: "Is the Kitchen Dead?" posited an extreme scenario that by 2030 home could be built without kitchens.
As evidence, the report pointed to the astronomical growth of online food delivery platforms, like Deliveroo and UberEats, which could within the next decade bring down the cost of food production to rival the cost of buying raw ingredients to cook at home – a potentially attractive concept, it predicted, for "time-starved and asset light millennial consumers".
But Grant Hughes, a former B&Q showroom lead-taker, who has worked at Hampshire-based Herbert William for the past two years told kbbreview: "Here's a revelation. Much of the millennial generation – and at 26 years of age I am considered one – loves to cook. With emphasis on healthy, eco-friendly living with nutrient-rich ingredients that are tasty and wholesome.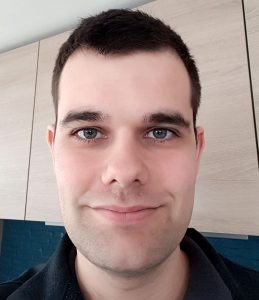 "Yes, takeaways are increasing in popularity, but this does not replace the need for a functional, easy-to-use kitchen."
But what does a "functional, easy-to-use" kitchen look like to a generation that grew up with smartphones?
"The truth is, we haven't seen many millennials buying kitchens yet. Using myself as an example, I won't be able to afford a deposit and a mortgage until I am at least 32 – if I can ever afford one at all – and I am of the older age bracket considered to be a millennial.
"So a lot of my peers, except for the top earners, will not be purchasing their first kitchen for years yet.
"We are looking forward to this and can see this market trend coming. By the time that demographic comes our way, smart kitchens will be in full flow.
"But is the smart proposition really perceived as a need, even by that millennial demographic?"
In an opinion piece to be published in the December issue of kbbreview, the 26-year-old kitchen designer, said: "I would like to put forward an alternative view of how we as an industry can evolve the humble kitchen into the hub of the home."
But before getting to that, he offered a note of reassurance to the kitchen, appliance and grocery industry, anticipating a market for a "U-shape kitchen with the classic working triangle for a long time yet".
"What I am suggesting is a new way to think of the kitchen, rather than just considering it old-hat," he said.
Find out how the kitchen should evolve within the next 10 years to attract millennials like Grant Hughes in the December issue of kbbreview.