Homebase.co.uk was voted the worst online shop in a Which? annual survey of 10,000 internet shoppers in the UK.
Shoppers panned the retailer's poor product range, product quality and poor value for money.
The survey was based on the experiences of respondents over the past six months.
The respondents were asked to rate websites for their experiences buying particular items and to consider a variety of factors, including price, product range, deliveries, product quality and the returns process.
Homebase.co.uk achieved a customer score of 55%. Shoppers told Which? they found the site difficult to navigate and not always up-to-date with stock information. One disgruntled customer told Which? that the "unattractive site is not very clear".
Rival B&Q's website DIY.com fared only slightly better than Homebase.co.uk, but was still relegated to the bottom 10, with the site deemed difficult to navigate.
"It's one of the slowest sites I've ever encountered," bemoaned one customer.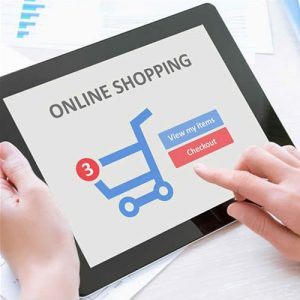 "It's a poor website that is not user-friendly", said another.
Homebase and B&Q have both been struggling as their traditional market of cost-conscious home improvers have frozen household budgets as Brexit uncertainty has chilled the economic backdrop this year.
Private equity-owned Homebase is in the middle of a rescue plan and the former boss of HMV, Ian Topping, has been brought in as its new chief executive to deliver a turnaround.
Meanwhile, Kingfisher, which owns B&Q, is halfway through a complex five-year transformation plan that includes investing in a stronger digital proposition.
Reporting half-year results in September, Kingfisher said that this investment would be focused on improving its core e-commerce sites, which would be better enabled by a new single IT platform for all its businesses, better site search and new mobile sites.
The most highly rated shops in the Which? survey were less familiar small specialist retailers that scored well for customer satisfaction, personalised service and likelihood to recommend.
RicherSounds.com, Rohan.co.uk, SeasaltCornwall.co.uk and WexPhotoVideo.com all came in with a high overall customer score of 93%
These retailers achieved a five-star rating in most categories.
When Which? asked people what makes them shop online, two-thirds (68%) of respondents said they liked online shopping because they can do it at a time that is convenient for them.
Almost as many (63%) said it was easier to find exactly what they wanted online and three-in-five (57%) also said they had more choice of products.
More than half (56%) of customers said it was easier to compare prices across different stores when shopping online and the same number (56%) said it was more convenient to have their items delivered than to pick them up in person.
Harry Rose, editor of Which? magazine, said: "The online shops with the happiest customers tend to be the ones that offer a personal service, quality items and deliver quickly and conveniently.
"Where the big players are lacking, either with poor service or confusing websites, smaller more specialised online retailers have seized the opportunity to make their mark and give shoppers exactly what they want."
• How can you make sure that you are maximising the potential of the internet to build your brand and make more sales? Read our feature in the December issue of kbbreview to make sure that your online presence packs as much of a punch as your showroom.