A South Korean consumer goods and electronics manufacturer is betting that smaller households and cramped worktops are the future.
At the 38th annual Hong Kong Electronics Fair in October, Ina Inc, which is based in Gwangju – a city in the south-west of South Korea – was showing a multifunction oven/microwave, with complete oven functionality in the size of a 25-litre microwave with touch control system.
The demonstration team at the stall highlighted the micro-oven's rapid defrosting technology, which allows "fast and uniform" thawing at minus –3°C in seven minutes without any damage to the contents in terms of loss of juice, shape change and bacterial defects.
It has just been launched and is commercially available at a suggested RRP of US $200. The Inacube IMD-F251A is advertised on the company's brochure as "slim and perfect", offering four functions in one, including grilling and drying.
Toby Griffin, UK KBB consultant, calling for more practical kbb innovations
In Japan, drying fruit is popular, but you could also use it to make beef jerky or dry pet food.
The team say that it can make perfect toast and pizza and you could even roast a chicken, although a more traditional oven would be better for that.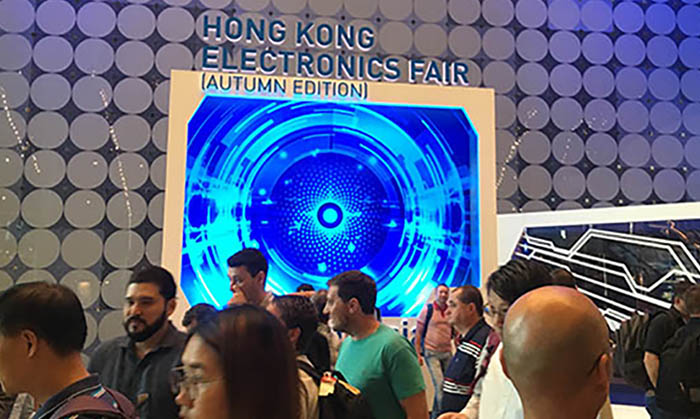 At 483mm (W) by 281mm (H) by 400mm (D), it is smaller than its larger cousin, the 34-litre Inacube HaedongN, but the director of the research institute at Ina Inc, Lim Seung-kwan (pictured above), said one Japanese buyer asked if they could make one even smaller for the Japanese market. The expense of the mould meant that changing sizes would be unlikely at the current time.
"In urban areas all over the world, housing has become very expensive and people are living in smaller homes," Lim said.
Also on display at the firm's stand at the fair, was a compact tumble-dryer with size dimensions of 490mm for its width, 630mm height and 416mm depth. It can take a 3kg wash load and is more than three times smaller than a standard-sized model. It was launched in its domestic Korean market, under the Daewoo brand, and in China as a white label product in August.
More than 63,500 buyers from 139 countries, including the UK, visited the autumn Hong Kong Electronics Fair in October, which was organised by the Hong Kong Trade Development Council (HKTDC) and showcased a broad range of the latest consumer and industrial technologies and products.
Exhibitors included manufacturers of smart-home appliances and household devices, as well as internet-of-things platform providers that combine smart devices and consumer services into a single ecosystem.
Look out for our feature next week on how companies in the east are using artificial intelligence to create innovations that will transform our homes and the way we use them.