Top bathroom brands arrived at the UK's hospitality and hotel design show Sleep + Eat at London's Olympia exhibition hall cautiously confident in the future as the UK Prime Minister travelled to Brussels in a last-ditch effort to secure a Brexit deal.
PM Theresa May has threatened to pull out of a crunch EU Commission summit this Sunday unless an agreement is reached in the next 24 hours over the UK's future trading relationship with the bloc, which could derail all the progress made so far.
But, despite the tense political backdrop and heightened uncertainty acting as a huge drag on the UK economy, consumer confidence and the housing market, the nation's most expensive bathroom manufacturers were keeping their heads above water and launching new products and bold collections in partnership with international designers.
Luxury shower firm Roman was proudly displaying a Union Jack on its exhibition stand right at the front of the hall and its management team said Roman sales were up 16% this year despite the headwinds created by Brexit policy uncertainty.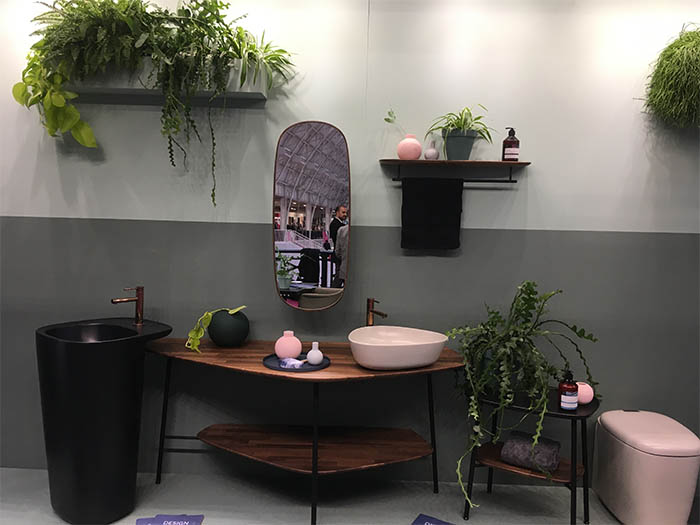 Mark Teasdale, Roman UK sales director, told kbbreview that it had been "a strange market this year".
"The housing market in the south-east corner has been slow, compared with growth in the north-west and our retail business has largely reflected that."
He said Roman was seeing its UK house-builder partners request ranges a few rungs below the price point they typically order, suggesting that the difficult economic environment was biting in the contracts space.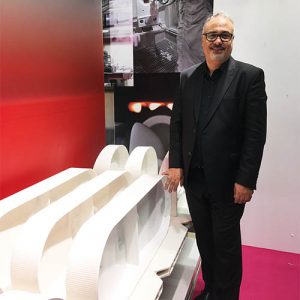 As for trading, Teasdale suggested that the negative comments being blasted from the media day in and day out were unhelpful, but added: "We offer a good service and there is still a demand for quality branded products".
Roman managing director David Osborne told kbbreview: "Our main concern about Brexit is the currency swings as a result of a no-deal.
"Mark Berrisford-Smith, head of economics at HSBC's commercial banking business, suggested at the BMA conference that the pound could fall to $1.10 overnight if the UK crashed out."
Meanwhile, Anand Gandesha, head of digital and marketing communications, at Hansgrohe told kbbreview that Hansgrohe and the higher-end Axor brand had each achieved "good single-digit growth" this year.
He said the firm had contingency plans in place in case a no-deal created the worst-imagined situation, like blockades at ports, and while he wouldn't reveal them to kbbreview, he reassured UK retailers that "service would be uninterrupted" in a soured UK-EU political environment.
Ilker Hussein, commercial director at Swiss bathroom brand Laufen, said the important thing now was to get behind Prime Minister Theresa May and her deal to ensure a "a degree of stability".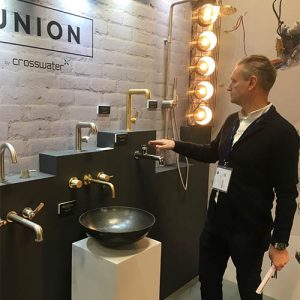 He said Brexit was holding up projects, like Battersea Power Station's £1 billion third phase, which is now 18 months delayed with no signs of activation and he said the consequences of Theresa May being forced out of office now was "very dangerous".
Speaking to kbbreview at the Laufen stand, showcasing new designer bathroom collections made from Laufen's proprietary hi-tech ceramic material, SaphirKeramic, Hussein said: "The danger is, if Theresa May goes and her successor cannot get a deal through, then the uncertainty could drag on for a very long time."
"This is like a divorce, so it's going to be painful. But what we need now is a clean break, so we can move forward with some clear guidelines."
Hussein said that Laufen, owned by the Spanish Roca Group, was growing globally and that ultimately, the ambition was to get to the size of Duravit or Villeroy and Boch but without losing its "unique" identity.
Meanwhile, judging from the bathroom collections on display at the Sleep + Eat event, it seems that innovation in material, form, technology and colour is finally coming to the bathroom.
But Constantina Tsoutsikou, creative director, London, HBA, who designed a sleep set for the show in collaboration with the Natural History Museum, urged the supply chain to be more thoughtful and innovative in the materials they use to reduce waste and protect natural resources.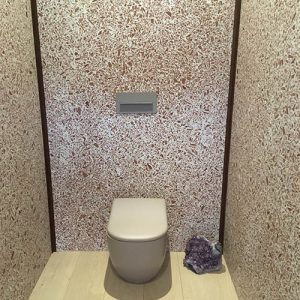 On her sleep set, she used timber terrazzo – essentially leftover wood chips and recycled resins and composites – for the bathroom walls and natural Italian stone for the basin, which was designed to have the appearance of still being under construction.
"The wood walls from the bedroom flow into the bathroom to promote a fluid transition, as does the clear panelling, which also means you don't need to use grout," she told kbbbreview.
She said the bathroom industry should take inspiration from fashion, offering retailers and consumers the opportunity to trace their products through the supply chain to check their green credentials. "There is a big focus on technology and digital, but perhaps this is missing the point".
Look out for an overview of the show by former Laufen UK boss and owner of Brass and Clay Russell Barnes in the January issue of kbbreview