Topps Tiles said it would increase stock levels of key selling lines ahead of the UK's planned departure from the European Union (EU) as it reported a 25% drop in pre-tax profits for its financial year to September 29.
Warning that Brexit could create supply problems at the group, a drop in consumer confidence and staffing issues, the UK tile retailer, which has 368 stores around the country, said pre-tax profits fell to £12.7 million, from £17m the year before. Adjusted profits, excluding one-off costs and gains, before tax fell to £16 million, from £18.6m the year before.
Sales, excluding those from its commercial operation Parkside, were almost flat – up 1.5% to £214.8m.
"This has been an important year of strategic progress for the Topps Tiles Group, in which our expansion into commercial has seen us double our addressable market, while remaining firmly within our tile specialism, where our buying scale and expertise gives us a significant competitive advantage," said chief executive Matthew Williams.
He added: "Against a challenging market backdrop, the group delivered a robust trading performance for the year with flat like-for-like sales and market-leading gross margins in retail, and the foundations laid for significant sales growth in commercial in the year ahead."
In the first eight weeks of the new financial period, the firm said revenues, stated on a like-for-like basis, decreased by 1.9%, compared with the same period last year, when sales rose 3.2%.
But Williams was "cautiously optimistic" about future growth, with further expansion into the commercial tile market.
The firm said two commercial showrooms were opened this year, in London's exclusive Chelsea neighbourhood and Leicester and announced plans to open two more in the year ahead. It said its strategy was to "disrupt" the commercial tile market and become a market leader in that space.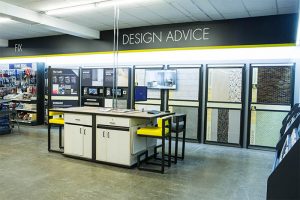 Meanwhile, Topps Tiles continues to focus on improving its retail operations, both online and in-store, investing in digital marketing and toolkits to improve the customer experience and support colleagues to make sales.
"We are continuing the roll-out of our all-store improvement programme, which includes new initiatives, such as a design advice area.
"This provides a space in-store for colleagues to interact with customers in a more consultative way, really understanding their needs and providing bespoke design solutions.
"The majority of our customers shop infrequently for tiles, which means that when they do, they need lots of advice and expertise.
"Our customer satisfaction scores are very important to us and in the year ahead we will launch a new 'voice of the customer' feedback programme that will enable us to listen to our retail and trade customers' feedback in real time, allowing us to learn and adapt to their needs."
The Leicestershire-based company said the "sustained trend" in the UK away from DIY and toward "do it for me" meant that its trade customers were becoming increasingly important to the business. It said 85,000 traders were registered with its loyalty scheme at the end of the financial period, up from 55,000 the year before.