This year's Sleep + Eat event, a major hotel interior design showcase for architects, designers, and suppliers, attracted a record number of buyers, its organiser UBM has said.
Some industry players had expressed concern about the change of venue to London's Olympia exhibition centre from its former home at Islington's Business Design Centre (BDC), but UBM said the two-day event was "packed", with more than 1,200 out of the 5,000-plus visitors also attending the sleep conference.
UBM said the 2018 event, which was initiated by Grohe 13 years ago, saw an increase of more than a fifth (24%) in international visitors as it broadened out to introduce restaurant and bar design trends and emerging innovations to the show.
"Sleep + Eat 2018 was a pivotal moment in the show's 13-year history," said Mark Gordon, brand director for Sleep + Eat.
"Not only did we relocate to Olympia London, but we introduced the restaurant and bar design element and it appears that our timing was spot-on – 73% of our attendees stated they were interested in both hotel and in R&B design.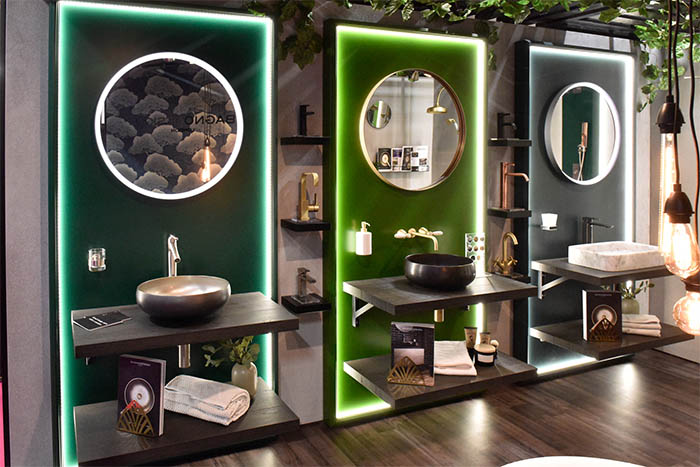 "I am delighted with the tremendous feedback we have received from the entire hospitality design community and look forward to building on the show's amazing success for 2019."
Reviewing the event for kbbreview for our January issue, former Laufen UK boss Russell Barnes said "the atmosphere was good" with a more balanced mix of interior design, furniture, wall and floor coverings, soft furnishings and bathrooms than in the past.
Now managing director of Brass and Clay, Barnes told kbbreview: "I think one benefit of the move to Olympia was that the show did not look so bathroom-dominated, which had been a criticism of the BDC location from non-bathroom companies.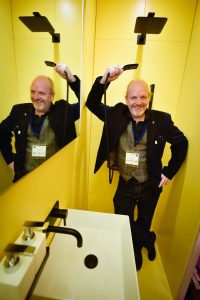 "A more considered balance should attract more designers and architects – after all, we do want to talk with newcomers, do we not?"
UBM said there were more than 150 exhibitors from around the world at the 2018 event, including luxury bathroom brands Roman, Merlyn, Sanipex, Hansgrohe, Dornbracht and Grohe, which is still a key sponsor of Sleep + Eat and hosted the VIP press lounge in a 29sq m stand.
Most of the bathroom brands used the show to launch new collections and showcase flagship products.
Swiss bathroom solutions firm Laufen demonstrated its new Sonar sanitaryware designed by Patricia Urquiola using the firm's own hi-tech ceramic material, SaphirKeramik, allowing for the creation of wafer-thin walls and finely-defined curves. It also showcased its award-winning Cleanet Riva and Navia shower toilets.
Sanipex UK exhibited its Bagnodesign brand, while Vitra's stand highlighted its Plural collection, a partnership with Milan-based American designer Terri Pecora, with a neutral colour palette and wood finishes.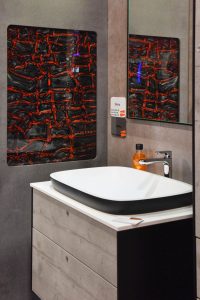 Barnes picked out Hansgrohe and Dornbracht for "leading the way" with PVD metallic finishes, blacks and colours in their collections, marking a clear and sustained shift in the industry from clinical chrome and white, as well as the appearance of Italian bathroom brand Zesther, new in the UK market, showcasing bathroom wall panels in striking colours and "stunning" brassware.
Hotel room concepts included the Natural History Museum room from HBA London, which included a bathroom made from "long-lasting, traceable" materials with the lowest possible environmental footprint and a sculptural washbasin. There was also a West Ham FC-themed concept room with a yellow bathroom designed by Australian architect firm Denton Corker Marshall.
"It's always great to see the giants of the industry investing a modest part of their large marketing budget simply to deliver innovation and trends," Barnes wrote in kbbreview's January issue.
"Sleep offers the chance to talk to new, upcoming designers and hotel owners in a subtle, design-led way. Maybe we could learn from this when it comes to our main-event exhibitions."
Read the full review of Sleep + Eat 2018 in the January issue of kbbreview pgs 46 to 48.