We're now in bed with the people we can rely on
In the prosperous Leith waterside area of Edinburgh, Gus Riddle and Ian Coghill run Riddle and Coghill, where contracts business is booming and turnover has topped £3 million. Chris Frankland went to meet them
It was the evening before my interview with the two directors of Riddle and Coghill. Ian Coghill and I were discussing over dinner the topics we might talk about and the photographs I was planning to take. When I mentioned that I was interested in their growing bedroom business, Coghill said, "let's do a Morecambe and Wise homage", referring to the sketches where they'd be pictured reading in bed. And that's what we did! (see picture below)
Not that bedrooms are the mainstay of the business – that is still kitchens but with a growing contracts side, Riddle and Coghill are finding that bedrooms can be a good add-on fit while they are on-site.
Their involvement in contracts goes back to when Gus Riddle and a colleague left their jobs at a timber merchant in 1999 to set up on their own. They took a bit of contracts business with them.
Riddle found the current retail premises in Lindsay Road, Leith, adjacent to the Britannia Quay, where he fitted out 334 apartments over three to four years. Doors opened on what was then Ocean Kitchens and Bedrooms [as they are near Ocean Terminal] in 2008, just a few days after the recession was announced. Then Coghill joined him after they met at a trade fair in Birmingham.
"I wasn't happy where I was," explains Coghill. "I was working for a company up in Fife and wasn't seeing eye to eye with the people there and decided that Gus and I would join forces. We decided to give it a try for six months and if that worked we'd go 50:50, which is what we did."
The name was changed to Riddle and Coghill four years ago.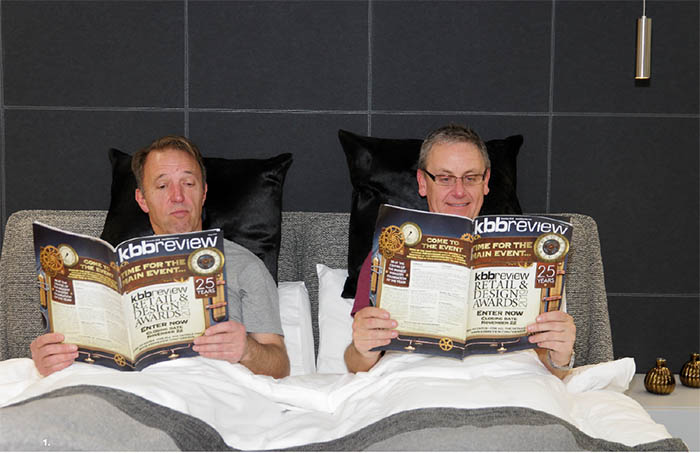 Now the business is turning over £3.2 million a year and employs just under 20 staff. Turnover is growing and the company is debt-free. Contract work has increased to 60% of that turnover, but for now, let's get back to bedrooms.
Is this a growing part of the business?
"It is," confirms Coghill. "We have traditionally done bedrooms for our kitchen clients. In a house you've only got one kitchen, but up to five bedrooms. On one current project, we're doing the kitchen, utility room, boot room and five bedrooms – including dressing rooms and gyms. So it is a growing market. We have developer clients where we do the kitchen and the bedrooms and it works well for us. Some might be quite basic with just a sliding door, a hanging rail and an upright, but that's half a day's work we can tag on to a utility room, as we've already got our man there."
But, having seen the display of Italian brand Porro in the basement, I know they do more upmarket bedrooms. Coghill confirms this: "We have started doing higher-end projects, such as St Andrew's Square, where they have a development of townhouses where we put in the kitchens and bedrooms. We used next125 for the kitchens and Porro for the bedrooms, as well as Caledonia for the sliding wardrobes and also Global for the sliding door mirror systems. We recently won a contract for 180 bedrooms using Porro over a three-year period. The only issue is that they're sometimes a little bit slow at getting things turned around compared with the Germans."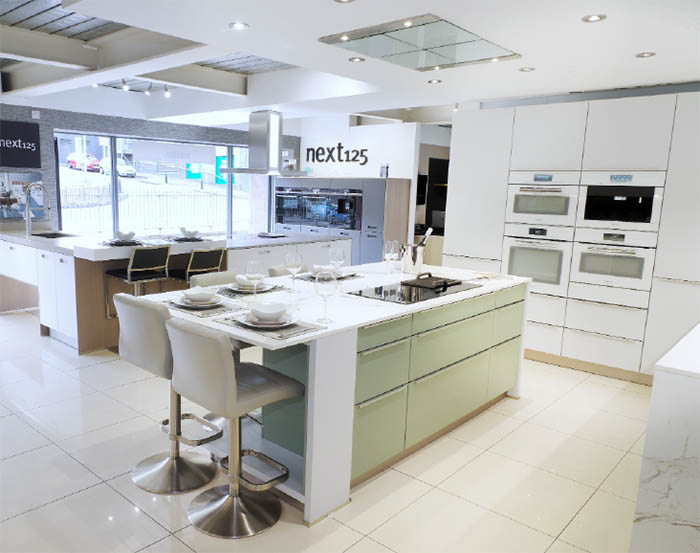 And is a bedroom an easier fit?
Smiling, Riddle answers: "You would think so, but they can be trickier to plan. They tend to be more bespoke than a kitchen, as you're trying to fit as much storage as you can into the nooks and crannies. And they're lower-value because you don't have the appliances, worktops and sinks. In installation terms, they are quicker to fit, but it's less value from a day's work. It might take two days to fit a bedroom that's £3,500 and two days to fit a kitchen that's £15,000."
On the question of value, Coghill adds: "We have stayed away from low-value, unless it is in conjunction with kitchens where we will be on-site anyway."
But kitchens are their mainstay and the key brands for Riddle and Coghill are Schüller and next125 from Germany. Modern kitchens account for 80% of their sales and, as Coghill puts it: "Quality-wise, I think in modern kitchens the Germans still have the edge." For more traditional kitchens, they use Caledonia.
And as our headline reflects, they believe that finding the right suppliers is key to success. So why Schüller?
Riddle says: "We were with a different German manufacturer originally that I had used for contracts work. Their telephone service wasn't the best, there would be some kind of mistake on four out of five orders and there were damages and shortages.
"With Schüller, we can phone them anytime from 7am to 9pm. They highlight our mistakes rather than us having to highlight theirs. They always make sure something is how we want it. Damages and shortages are virtually zero."
Tight ship
Coghill tells me that they have grown to be one of the largest Schüller retailers in Scotland and that InHouse [the UK importer] often brings other Schüller retailers in Scotland over to see how they work.
And if I had to describe my impression of their business, I'd say they run a tight ship. They fit a couple of hundred contract kitchens every year and have a team of six kitchen fitters at their disposal. Electrics and plumbing are handled by subcontractors.
So how come so many retailers complain that contracts work is too risky and they won't pay a decent price?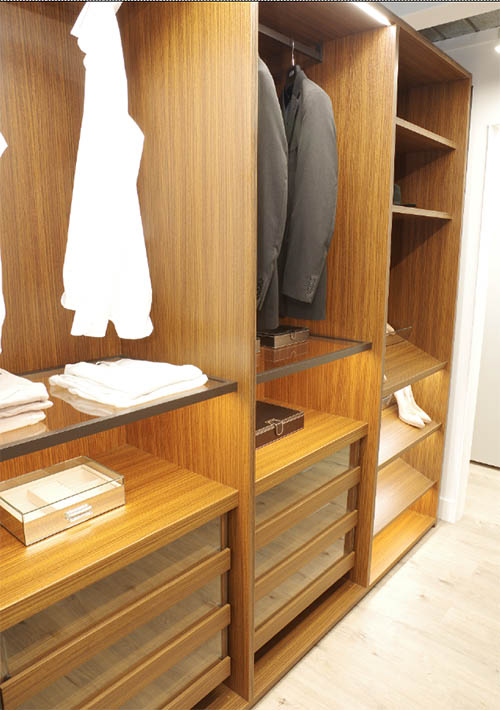 Coghill tells me that the company makes sure there is no risk. "Developers pay a deposit, a mid-payment and a final payment, pretty much in line with retail. We won't expose ourselves to risk. We can insure companies if they need terms, but that increases the cost base, which we explain to them. In our experience, if you've got a company that's well financed and you explain the costs to them, and give them the bottom-line differences, they will work with your terms. Who doesn't want to save 10%?"
He sticks to his guns. "If they can't meet those terms, we're not interested, irrespective of their size. And we don't go out looking for contracts work, it's all by word of mouth and recommendations."
Contracts work is a grower for Riddle and Coghill, which has seen it expand from 49% to 60% of turnover over the past couple of years. Coghill explains why: "Edinburgh is going through a boom time. Contracts have held up. Property values are up, so builders are seeing a return on their investment."
Riddle strikes a note of caution though, suggesting that "next year, with Brexit coming along, we could have a leaner period on contracts as developers will be holding back to see what happens".
But what scale of contracts will these guys take on?
"We'll take on anything we feel we can cope with," says Coghill. "We've got one that we're partially through and that's 400 kitchens over a four-year period and that could go up. We can deal with that easily."
Hole in one
But things could get bigger than that. As a keen golfer who organises many local events, Riddle ended up playing at the Archerfield course with a member of the Malaysian royal family. He'd been staying at the award-winning Old Town Chambers serviced apartment development in Edinburgh, which Riddle and Coghill fitted out with next125 kitchens.
Riddle explains: "He thought it would be perfect for a development he was doing in Langkawi. It's not happened yet, but that could be 1,000 kitchens."
In terms of their retail kitchens, they tend to work more locally in Edinburgh and the Lothians, Fife and Perth, with occasional forays to Inverness and the islands.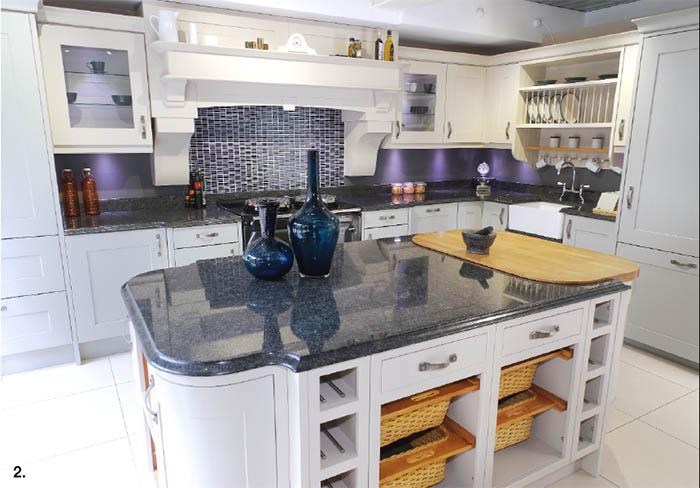 We break our interview while Coghill dons his apron and cooks lunch for us and the showroom's two designers, Rosa Solórzano Vilches and Yasmeen Forsyth. Clearly a keen amateur chef and adept at using the Miele steam oven and induction hob with griddle, in no time flat he rustles up a delicious seafood linguine with scallops, prawns and calamari.
Which brings us neatly on to appliances, and Coghill has no patience with retailers who complain they can't make any money selling them.
"I read kbbreview and see people saying 'oh, we can't make money on appliances', but I cannot for the life of me imagine a kitchen retailer not selling appliances," he tells me. "We make proper margins on every appliance we sell and we don't let our margins on furniture carry the appliances. A lot of appliance manufacturers have bastardised the value of their products whereas Miele, for example, has made inroads in maintaining a stability of price where you can make a margin. If you look at AO prices, we can make a 25% margin on the prices they are advertising if we buy correctly."

"I cannot for the life of me imagine a kitchen retailer not selling appliances. We make proper margins on every appliance we sell"

Ian Coghill director, Riddle and Coghill
He adds: "It's knowing how to get the best prices from your suppliers. You need to be loyal to them and give them volume. We buy approximately £2 million worth of goods from our suppliers. We have weeded out the people that aren't good suppliers and we're now in bed with the people we can rely on."
And so what does the future hold for Riddle and Coghill?
Coghill reveals that caution may be the order of the day for the immediate future: "Carry on as is until the whole Brexit scenario has washed through. Until we have a degree of certainty, it would be too risky to make any big decisions. Gut feeling is not a lot will change.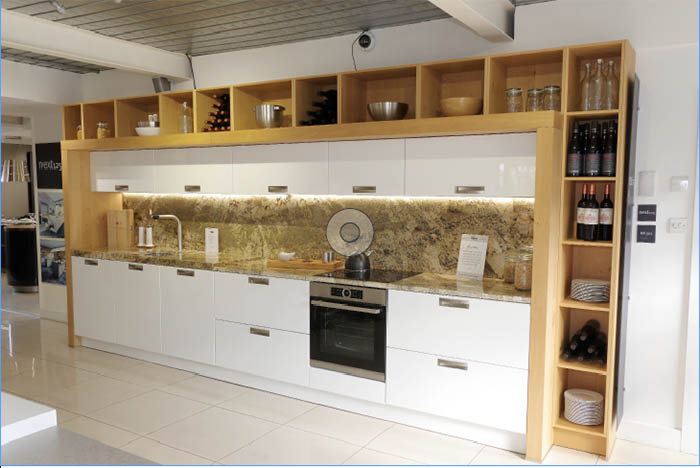 "Steady growth has been the model to date. If we can maintain the turnover levels reached or even fall back slightly, we wouldn't be too worried in the present climate. After that, I foresee us heading towards the £5 million mark purely on the generic growth we seem to be able to achieve, and without the huge marketing expenditure others seem to require.
He concludes: "We have looked at expansion into multiple showrooms, but the overhead for the likely sales doesn't stack up. I guess it depends on whether or not you want to be the biggest or the best. We leave our clients to decide that. Given our lack of advertising, marketing and social media, I assume we must do a pretty good job – real news, as opposed to fake!"