SPONSORED: To help retailers maximise opportunities and increase sales, steaming hot water tap specialist InSinkErator has put together this guide highlighting the key features and consumer benefits of its 4N1 Touch tap collection.
Steaming hot water taps can be a valuable add-on sale to either a new kitchen project or even as an individual sale for retrofitting in an existing kitchen.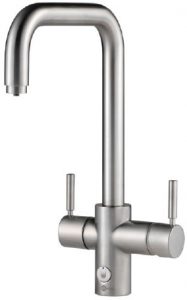 They can easily be displayed in showrooms and, with the increasing choice of finishes and styles available, a steaming hot water tap can add a striking focal point to any demonstration kitchen, as well as making a real difference to the homes of consumers.
So, how do you convert customers and convince them that a filtered, steaming hot water tap is not just another tap?
To help you educate your clients and, ultimately, close the sale, we've outlined some of the major features and benefits of our 4N1 Touch tap range.
5 reasons why your customers need an InSinkErator 4N1 Touch tap

Time-saving
Homeowners are increasingly time-poor and InSinkErator 4N1 Touch taps are ideal for speeding things up in the kitchen. Not only can you make hot drinks on demand, the 4N1 is a helpful addition as the steaming hot water can also be used for numerous tasks, including the following:
Cooking food such as rice, pasta and vegetables quickly;
Melting chocolate (over a bowl of hot water);
Heating knives and ice cream scoops;
Peeling citrus fruits (soak in hot water first);
Loosening lids;
Warming up babies' bottles;
Cleaning cooking utensils.

Appeal to their eco-conscience
The pool of 'green' consumers is growing, so explain how, by installing an InSinkErator 4N1 Touch tap, they can join the fight against plastic waste. Consumers with a 4N1 Touch Tap have access to instant filtered water readily available in their own home, reducing the need to purchase bottled water.
Streamline gadgets
Explain to your customers how, by ditching the kettle and water filter jug, and installing an InSinkErator 4N1 Touch tap, not only does it mean fewer gadgets it can also free up valuable worktop space.

Save energy – save money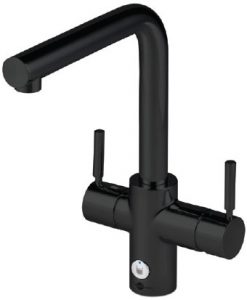 According to the Energy Saving Trust, 40% of households boil the kettle at least four times a day, with 75% admitting to boiling more water than they need; accounting for a significant amount of wasted water and energy every year. InSinkErator's 4N1 Touch tap dispenses filtered steaming hot water, and regular hot and cold options, from the same fixture, which also eliminates the time lost waiting for the kettle to boil.

Clutter-free kitchens
As the demand for minimalist-style kitchens increases, so does the need to keep worktops clutter-free. By replacing the standard mixer tap with a 4N1 Touch tap, the consumer can gain maximum functionality without taking up any additional worktop space.
Key Features of the 4N1 Collection
An elegant one-piece tap designed and manufactured in Italy, with the reliability and reassurance of a world-class brand.
Safely dispenses filtered steaming hot water, filtered cold water and regular hot and cold options.
The 4N1 Touch tap provides a stream of filtered cold water for 30 seconds, at the touch of a button.
Self-closing, easy-to-grip steaming hot water handle with push-lever safety locking mechanism.
The innovative 2.5 litre NeoTank features a digital, adjustable thermostat, enabling users to set the desired temperature of the water.
Ideal for retrofitting.
Five-year in-home limited warranty on the tap and two-year parts-and-labour limited warranty on the tank, for peace of mind.
Comes complete with installation kit.
Available in three shapes; the L shape, the J shape or the U shape.
Available in three on-trend finishes; Brushed Steel, Polished Chrome or Velvet Black.

For more information on InSinkErator's 4N1 Touch tap collection, please consult your account manager or contact:
T: 01923 375 349
insinkerator.emerson.com/en-gb