Household appliance makers selling in the European Union will be forced to make sure their products are designed so that they can be repaired at an affordable price under new rules due to be passed imminently.
In a major coup for a growing worldwide movement called the Right to Repair, EU ministers have over the past few weeks agreed to proposals that will increase the lifespan of dishwashers, washing machines and fridge-freezers and their component parts in member states.
These proposals will also force manufacturers to make household appliances easier and cheaper to repair and end the growing practice of producing sealed units that cannot be prised apart because they are glued together.
UK Whitegoods, an online retailer of appliance spare parts, told kbbreview that the makers of washing machines are particular culprits for making sealed units that prevent the replacement of small, cheap parts.
UK Whitegoods said "sealed" washing machines accounts for about half the market, with many leading brands producing washing machines in this way.
"On December 10, the EU's 28 member states agreed on a new set of manufacturing laws to make fridges and freezers more easily repairable and longer-lasting. The vote was the first of its kind for Europe," said Kenneth Watt, director and one of the founders of UK Whitegoods, which aims to be consumer champion for those with appliance problems.
"Most notably, the agreed text foresees that repairers should be able to disassemble some critical parts without damaging the product and with the use of commonly available tools.
"Components of products are very often glued together or welded, which makes the replacement of failing parts very difficult."
Similar laws are being considered in some states in the USA.
"This is an important and much needed step forward for the right to repair in Europe," said the European Environmental Bureau (EEB), the largest network of environmental citizens' organisations in Europe. It currently consists of around 150 member organisations in more than 30 countries
"All in all, it's a victory for consumers and the environment as for the first time ever we now have some requirements to produce longer-lasting and repairable products.
"This sets an important precedent for more products to be included in the directive in the future. However, some parts of the text should have been improved.
"We regret that key spare parts will only be made available to professional repairers. This may limit the scope and affordability of repair services."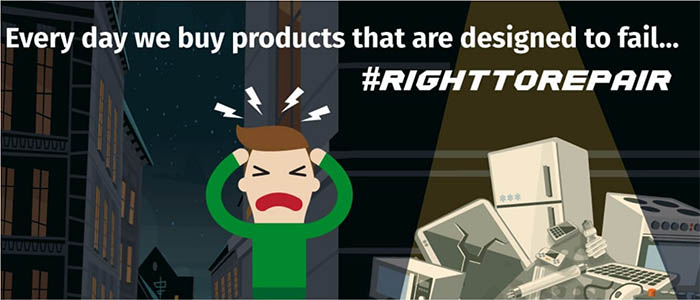 Amdea welcomed the new regulations and told kbbreview that they will make appliances "even more sustainable than they are today".
"Our sector has always made a significant contribution to the circular economy, by designing and manufacturing innovative products that minimise the use of scarce resources; save labour, time and money; and reduce waste," a spokesman said.
Amdea believes that the proposals will be adopted by the UK regardless of what arrangements are made as a result of Brexit.
Commenting on the impending new laws, Brendan Bulfin, customer service director at BSH, said: "At BSH, we have long maintained that investing in a quality appliance is a sound environmental choice because it should last longer. Only this week, we received a message from a customer that they are just replacing their 'still working' 31-year old dishwasher and they wanted to thank us for its reliability. But on the occasion that one of our products does go wrong, we would also advocate repairing rather than replacing it. With this in mind, we routinely keep appliance parts for at least 10 years and we also have our own national repair division."
Miele is another manufacturer that said it is committed to making products that are "built to last and are kinder to the environment throughout the entire lifespan, from production to disposal", according to marketing director Dominic Worsley.
He added: "Miele recognises that appliances may need to be repaired during their lifespan. Its appliances are designed to be repairable, with spare parts to prolong a product's lifespan where possible. Around 63,000 different original Miele spare parts are permanently held in stock at the company's central warehouse in Gutersloh, Germany.  This means that even discontinued models can still be repaired if possible."