Sarsen Stone Group's marketing manager Grazziella Wilson believes building relationships with today's online bloggers, whose recommendations have proven to influence buyers, is crucial
Likes, shares, views and retweets. I don't know about you, but as a marketing manager, I spend my evenings trawling my brand's social media pages taking a look at exactly those things.
And when I'm not spending my evenings replying to direct messages on various platforms, checking the brand statistics, and thinking about my next social media campaign, I'm curating my own personal pages to make sure that I've nailed the perfect shot for Instagram.
Social media – and, to be more specific, influencer marketing – has quite literally transformed the way we shop. This week alone, I've signed up for HelloFresh because my favourite lifestyle blogger told me I had to, bought a shirt I saw on the Instagram feed of my favourite fashion blogger, and contacted a garden designer because an interiors blogger shared a picture on Instagram and I felt like it was screaming, "you need him to do yours" at me.
I am well and truly under the influence and without even knowing it. I'm sure you are, too.
What exactly is an influencer?
An influencer, Forbes defines it as "someone who has the power to influence the perception of others or gets them to do something different".
Having spent the earliest part of my career working in fashion, I got a very close first-hand look at the impact "influencers" had on the brand I was working for. Items would sell out mere minutes after an influencer had tweeted about them. There'd be waiting lists for pieces which had not even been released on the website yet, simply because they had been snapped on bloggers' social pages. And, the coolest of all – a real "pinch me, is this actually happening?" moment – celebrities asking to borrow our clothes in return for a post on their official social media.
When I started my business, my ego told me I needed to be in Vogue – but my sales came and grew predominantly through social media.
Now, I get what you're thinking – fashion is an easily exchangeable throwaway, and you're right. You can't decide on a whim to rip out your kitchen and replace it with the one you've just seen on Instagram, nor can you pull up those tiles that you recently laid and replace them with the ones you spotted on the floor at the coolest London hotel opening.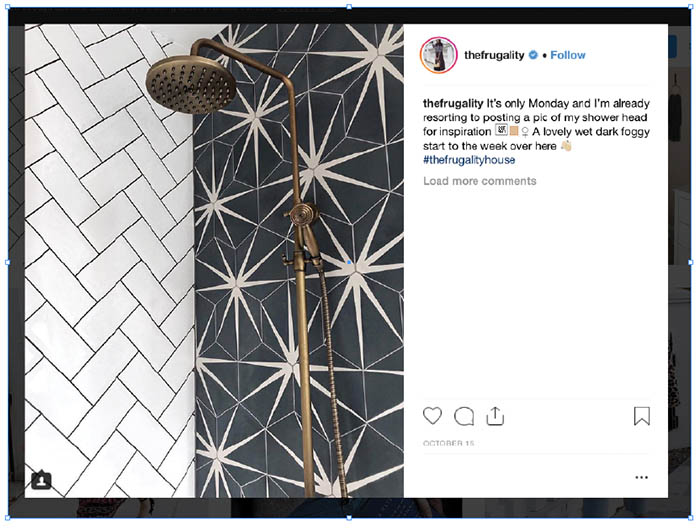 You can't, however, ignore the stats that are stacking up. Instagram now has one billion users worldwide, and the recent Global Consumer Insights Survey 2018 from PwC tells us "opinions and suggestions on social media sites – posted by friends and strangers alike – have more influence on specific purchase decisions than factors that retailers can control, such as advertising, promotions, and pricing". It also highlighted that "social networks are most influential" when consumers are looking for inspiration.
Making the move from the fashion industry to the KBB industry, it became evident that influencer marketing had been relatively untapped – on both a retailer and supplier level. When lifestyle blogger The Frugality, who has almost 200,000 followers, put Ca' Pietra's hexagonal encaustic Lily Pad tiles in her bathroom this year, they were an overnight sell-out. That is the power of the influencer.
The Lily Pad tile became Ca' Pietra's quickest-selling design of the year and months later, as I walk around the busy samples department, I can still spot Lily Pad heading out of the door quicker than you can say the name. And in response to consumer demand, Ca' Pietra has just launched a Lily Pad tile in porcelain, driven purely by The Frugality. Her followers demanded a tile that looked exactly the same as The Frugality's, but they wanted one that was more affordable and easier to maintain – and Ca' Pietra listened. The tile is sure to be a best seller, too. Now, that's the power of an influencer.
"When one lifestyle blogger put our hexagonal encaustic tiles in her bathroom this year, they were an overnight sell-out"

Grazziella Wilson, marketing manager, Sarsen Stone
As I plan out our influencer strategy for the next year, I'll be analysing everyone's audience demographics. I will need to think about campaigns that match the personality of those individual bloggers we work with, rather than adopting a 'one-size-fits-all' approach. I will also consider my micro/macro influencer mix, so that I work with bloggers who bring in a whole mix of follower numbers and reach. I will also need to make sure that, at the end of my influencer projects, I can, as far as possible, map our return on investment.
How do you work with influencers?
You need to proactively seek out influencer partnerships or ask the suppliers you decide to work with what their strategy is. Influencer marketing should be a high priority to any supplier you partner with. If they're proactively marketing the product and consumers want it, then you can sell it.
Whether they're macro influencers or micro – and I suggest you work with a mix of both – they have a dedicated community who have chosen to hit like or follow, and consumers believe them more than they believe you. Influencers can reach consumers that you might not have access to, they can increase brand awareness, deliver content that is inspiring and authentic, and relay messages about your brand in an honest and authentic way.
So, as you start planning your marketing strategy for 2019, take a touch of the traditional advertising and mix it with creative new social media campaigns and inspiring influencer activity.
It doesn't matter whether you're a supplier or a retailer – it really is time to start building good relationships with your industry's most influential bloggers and influencers.