Shares in internet appliance retailer AO fell after the company said that chief executive Steve Caunce would be stepping down with immediate effect.
The firm said that, having led the group "through two years of intense activity", Caunce (pictured above) will step back to "a less demanding business role" in AO to get a work-life balance.
AO founder John Roberts, who led the business until February 2017, will once again take over as chief executive.
AO shares had a rocky morning, dropping more than three pence to 118.54p at 1pm BST.
Investors have been turning their back on the group for a while, with the shares down more than 25% from two years ago.
Recently AO has been trying to diversify away from static, large household appliance sales, buying a mobile phones business last year.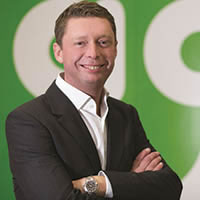 AO chairman Geoff Cooper said: "Steve has significantly professionalised and upgraded our business and operating capabilities.
"He has established and strengthened management teams in the UK and continental Europe, who are both getting on with execution of our strategy. As chairman, I have been impressed with his work as CEO; he has made a fundamental contribution over 13 years both in building AO into the business it is today and in setting out our commitment to delivering for shareholders going forward."
Caunce said: "It is a privilege to have played a significant part in AO's success and to have led the company for the past two years. I have decided to step down at a time when I feel AO is well placed to continue to thrive as a leader in our sector. I look forward to contributing to the AO team as we execute our strategy."
Roberts paid tribute to Caunce for his "vital" role in AO's development.
"I look forward to continuing to work with him, as I have over the past 13 years.
"AO's future is incredibly bright given our depth of talent at all levels of the business. I am fully committed to the business and the execution of our focused strategy and can't wait to get stuck in again as CEO as we move on to the next exciting stage of the AO story."