Swatches sitting on a showroom worktop do little to sell today's dramatic tile designs. Vicki Evans was at the Cevisama show in Valencia and found some inspiration to create more in-store theatre with your displays
Finding the ideal way to display tiles to their best advantage in a working showroom can be a challenge.
Apart from installing ranges of floor and wall tiles into a static rack or small worktop POS sample trays – the options for inventive, interactive and informative displays are hard to come by.
Walking around the Cevisama show in Valencia (January 28/February 1), where the whole exhibition centre was full of tile companies vying to catch the eye of passers-by and tempt them on to their stands, there was plenty of inspiration for putting together more interesting displays.
Of course, a lot of these were not suitable for the typical showroom for example Harmony's display that featured full wall displays. But certain elements can be taken from them and used to help get clients more excited about tiles.
Tiles can add value to a project and be an important add-on sale, but the showroom owner needs to be more creative to get people excited about them. As Clare Baldwin, UK agent for Pamesa, says: "I think that people have to be a bit more imaginative. Showroom owners have to think, 'what can I do to add value?' that makes people come in and say, 'that's what I want my bathroom to look like'. And customers don't want to have to do a lot of work – they just want to see everything in-store ready.
"You have to interact with customers directly. I would say to people, it is best if you can put tiles in a display setting, so people can envisage what they will look like in a big space. Then, if they want to interact, you can then use swatches."
Some brands, like Pamesa, are investing in virtual reality to display their collections and show how a heavily patterned or bold colour will work in a design.
However, most showrooms will on average have only a handful of displays, so here are a few ideas for presenting tiles in more creative ways.
Mood boards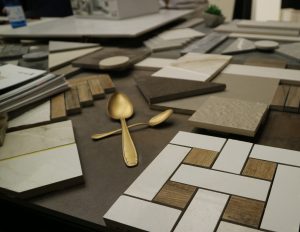 Creating a mood board for tiles can be an impressive way to help clients appreciate how they can work within their kitchen or bathroom. Azteca's mood boards show how different textures, colours and looks can be mixed to create a single look – for example, plain tiles, matched with embossed, mixed with wood and marble effects that then can be contrasted with gold accents.
Creating a mood board based around a theme or style is a space-efficient way of showcasing design ideas. It could be taken one step further and by creating a whole design and show how a tile can be matched with the sanitaryware, cabinetry or brassware.
Art installations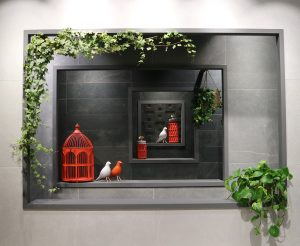 If you are a showroom owner blessed with an abundance of space, then it might be time to get creative with the way that you showcase tiles by making them into art installations.
Use them to create set pieces, like on Durstone's stand, which built a 3D effect by layering different swatches of Terrania tiles and adding in real plants and coloured birds.
This requires careful planning – plus potentially permission from your suppliers' area sales manager – but it is a way to highlight tiles in a dramatic way. This could also be effective for a front window display to add intrigue and draw people into the showroom.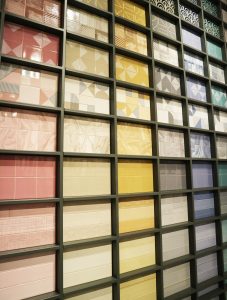 Feature wall
Vives created a giant feature wall by layering different types of tiles together, which demonstrated the variety of colours and patterns available, but in a space-efficient way. It used small samples, so it could accommodate nearly 80 individual styles in a very compact display.
Mounting single tiles on the wall like an art exhibition can show their value a lot more effectively than just having them in the sample box on the counter. Starting with the plainer styles at eye level will draw in more conservative customers, who can see how to mix them with the more adventurous ones at the top.
Layering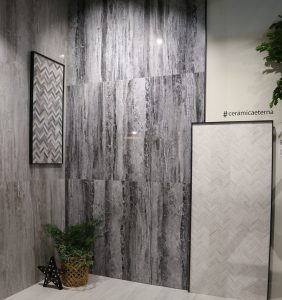 One common theme at Cevisama was layering different tiles from a collection to show how they can work together. It is also a space-saver, as you can combine multiple tiles in one setting.
Larger tiles and slabs give a better representation of how the tile will look when installed, as a 100mm sample cannot create the same effect as whole wall. Layering several on one wall can show off a variety of styles. For example, this display by Azteca layers five surfaces in one section to give a full representation of its latest collection.
To prevent this looking chaotic, stick with white or neutral on the back, then layer up the tiles and avoid putting contrasting colours or patterns next to each other. Azteca used this throughout its stand with the additional detail of a black border to make the tiles pop.
Interactive displays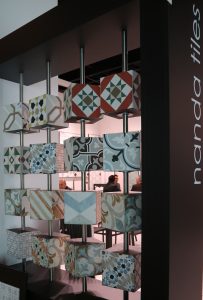 Reminiscent of the giant noughts and crosses games you used to play at the park as a child, Nanda Tiles built an interactive display for its tiles. Each sample was mounted on a block that could spin around, which made it a less passive experience.
This might require a lot of effort and permission from a supplier, but creating an engaging experience for the customer is an effective way to up-sell and maximise add-on sales.
There is a greater variety of tiles available today than there has ever been. Taking the time to create engaging, interactive displays that catch the eye and encourage customers to be more adventurous, could be the key to boosting sales.