More than a hundred plastic-backed fridges, freezers and fridge-freezers are still being sold by the UK's biggest electronics retailers despite evidence that this type of backing poses a fire risk, a Which? Investigation has found.
Tests by the consumer campaigner have found that the plastic backing used on fridges and freezers can be extremely flammable and, in the event of a fire in your home, can dramatically accelerate the spread of flames.
The London Fire Brigade and Electrical Safety First have also warned about the dangers of flammable plastic backing and an electrical fire expert stated in a report for the Grenfell Tower Inquiry that plastic casing is combustible and will contribute to the spread of a fire.
It was claimed that the fire that devastated the Grenfell tower that killed 72 people began in a plastic-backed Hotpoint fridge-freezer, though Hotpoint parent firm Whirlpool has rejected those claims.
Which? said AO.com was the worst offender, displaying 173 plastic-backed models as of January 21 2019.
On that date, Argos was listing 137 plastic-backed products, Currys PC World had 56 and John Lewis and Partners had three, according to Which?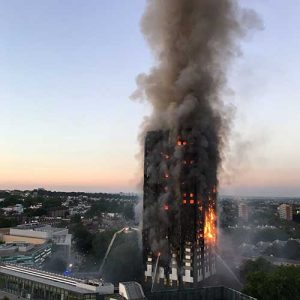 All four retailers said that they now have fewer plastic-backed products on their websites than they did on January 21. John Lewis said the products were listed as plastic in error and the descriptions had been corrected.
John Lewis said it hadn't sold a plastic-backed refrigeration appliance since April 2018.
After being approached with the results, AO told Which? it would stop selling the models by July. Currys PC World and Argos did not commit to a date that the products would be removed from sale.
These plastic-backed fridges, freezers and fridge-freezers pass existing standards, but Which? has criticised the current product safety tests as not being fit for purpose.
The Government has committed to introduce stricter standards that require the backing of all fridges, freezers and fridge-freezers to be made of material that meets a higher standard of flame retardance, but it is unclear exactly when these will be introduced. The details are vague too.
Which? said positive steps have been taken by many manufacturers to redevelop their products ahead of the new regulations, and urged the rest to do so immediately.
It also urged retailers to stop selling plastic-backed appliances immediately due to the safety risk.
Alex Neill, managing director of Which? home and product services, said: "We've repeatedly asked manufacturers and retailers to stop making and selling these potentially unsafe products, which could put people's lives at risk. It's a big win for consumers that some manufacturers and retailers have acted, but some are still dragging their feet.
"Responsible retailers need to put the safety of their customers first. They need to take immediate action to remove these products from sale, rather than allowing products to enter people's homes that could pose a fire risk for many years to come."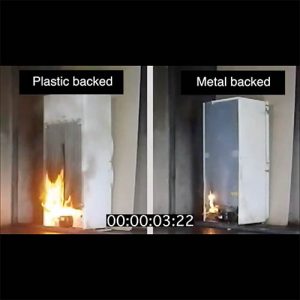 An AO spokesperson said: "Currently, 9.5% (as of February 7) of the fridges, fridge-freezers and freezers that we sell are plastic-backed and these all meet the current legal safety standard. In line with customer demand, we are working with our suppliers to phase these out and only offer metal-backed fridges which we expect to complete by July this year.
"Over the last four months, together with manufacturers, we have more than halved the number of plastic backed fridges in our range. In the meantime, we are constantly updating our website with information about the backing material of fridges so that customers are able to make an informed choice when buying from us."
A Currys PC World spokesperson said: "As of today, (February 5), we have a total range of 733 refrigerators (fridges, freezers and fridge freezers). Of this, 16 have plastic backs (15 fridges, 1 freezer and no fridge freezers). This is 2.1% of the total range. All 16 are end-of-line ranges. These products comply with the applicable safety standards. All of our new own-brand range of fridges are metal-backed. As we've stated previously, the safety of a fridge depends on far more than simply what backing material has been used."
An Argos spokesperson said: "As we have made clear to Which?, we offer a small range of plastic-backed lines and the vast majority are metal-backed. Some of these were incorrectly labeled as plastic and we are updating our website to make sure this is clear for customers."
A John Lewis and Partners spokesperson said: "Ahead of the upcoming changes to safety standards, we have not sold any plastic-backed fridges since April. With regards to the Smeg models, these are in fact metal-backed and we have now corrected the online product description. The Fisher & Paykel model was listed in error and has now been removed from our website."