The contracts sector is shunned by many KBB retailers, and with good reason, as it can be risky. Approach it the right way, though, and it can be very lucrative. Francesca Seden talks to three kitchen and bathroom retailers who have made a success of this market and gets their advice on how best to avoid the pitfalls and enjoy a useful boost to turnover and profits
Last year was a good one for the contract sector. House building in England hit its highest level in a decade, according to the Office for National Statistics. The number of homes added in the UK rose 2% to 222,190 in 2017/18, the most since the industry was plunged into financial crisis 10 years ago. Among these were 195,290 new homes, while the remainder came from splitting houses into flats and converting shops, offices or industrial buildings.
Planning and development consultancy Lichfields noted an increase in house building of 74% over the past four years to 2018, which it said provided a huge boost to the UK economy. Its report showed that the house-building industry in England and Wales is now worth £38 billion and supports nearly 700,000 jobs.
Brexit bother
You would be forgiven for thinking that now is the perfect time to think about getting involved in this lucrative market, but there is the issue of Brexit to consider and the uncertainty it is likely to cause.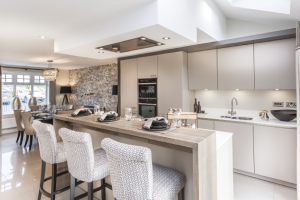 The Royal Institute for Chartered Surveyors (RICS) predicts that the number of homes being sold – and their prices – will fall over the next three months. According to RICS, each home is already taking an average of four months to sell, the longest since records began in 2016.
"The ongoing uncertainties surrounding how the Brexit process plays out is taking its toll on the housing market," says Simon Rubinsohn, RICS's chief economist, talking to the BBC.
"Indeed, I can't recall a previous survey when a single issue has been highlighted by quite so many contributors."
That said, RICS estimates that prices will still rise by 1% in 2019.
Despite the bleak RICS forecast, this is still a market worth exploring, given the good news of 2018 and, once the dust settles post-Brexit, confidence may well bounce back. Most retailers kbbreview speaks to are at the very least pragmatic and even confident about a future.
Anthony Crespi, a director at Hubble Kitchens and Interiors, with branches in Guildford and Chichester, says: "Our departure from Europe could lead to imports from the EU being more expensive and delivery times extended, so we may need to reassess our supply chain. We need to analyse the outcome of the trade agreement and how new 'freedoms' will influence our business and market endurance, so we remain competitive and efficient."
Iain Gillies, managing director at Mihaus in Glenrothes, Fife, argues that people will still want German kitchens but advises anyone getting started to a "what if plan".
Mark Harrison, managing director at Stuart Frazer in Manchester, adds that, because of the size of the UK market, there would have to be a commonsense approach to trade, as the UK is the biggest overseas customer for many European suppliers.
So what are the challenges and will independent retailers be well-placed to take advantage in this competitive sector?
Ultimately, our complete departure from Europe could lead to imports from the EU being more expensive and delivery times extended so in time, we may need to reassess our supply chain

Anthony Crespi, director, Hubble Kitchens and Interiors, Guildford and Chichester
Softly, softly
Our experts agreed that a slow, steady process, building a client base over years is the best and least risky way forward.
Stuart Frazer is owned by Mark Harrison who set up the company over 43 years ago. The company has two parts: a retail side and a contracts side. Stuart Frazer for developers is a wholly owned but separate division of Stuart Frazer. It was set up specifically to handle contract business. Harrison heads up the retail side of the Stuart Frazer business, a totally separate entity to the contract division. He explains that over the years he has built strong relationships with developers, which has led to larger higher value contracts being taken on by the contract side.
Iain Gilles also began small and built the business gradually. He tells me he had developer colleagues who he called on when he wanted to get involved in contracts..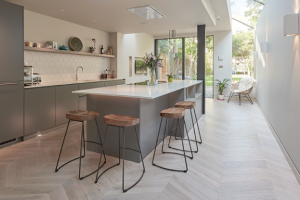 Small, high-value developments are probably a good place to start as they will be fairly close to the retail model. "It's still essentially a two-way relationship – business owner to business owner, rather than having to deal with a buying team," comments Gillies. "So that has its benefits as you can develop that one-to-one relationship."
"It's a great intro to the market – for many, far enough to dip in the toes", adds Harrison. "The market is there for retailers, though, as more developers are looking for higher-value brand names, as they recognise the value of a great kitchen to sell the house."
Yet there are some great misconceptions when it comes to the perceived cost, with many building firms assuming a retail kitchen by Siematic, for example, is just not viable. Both Harrison and Gillies agree that the only way to combat this is through like-for-like quotations in which they can demonstrate the value they offer.
For Hubble Interiors, Anthony Crespi adds that dealing with small contractors works for them because of their close proximity geographically to each other. "The contractor can bring the client to our showroom so that they can benefit from seeing and handling a display kitchen, bedroom or bathroom that will be similar to the one they will have specified in their new home. This really creates a greater desire, especially once they have conversed with, and subsequently gained a greater knowledge from our retail displays and in-house design and sales teams."
Infrastructure
However you're thinking about entering the contract market, particularly if you want to tackle larger jobs, it's essential that you have strong infrastructure in place before you start.
You must ensure you're well-funded, with plenty of cash flow, because of those dreaded 30-day (or longer) payment terms. You also need to be prepared not to get paid at all if something goes wrong and you're to blame.
Our experts agree that developers are pretty unforgiving and will not hesitate to terminate the contract and refuse payment if work is not carried out to the expected standard, or if there is a problem that holds up the development.
Harrison adds: "You have to deliver what is expected on time, and not cause the developer any problems. There's a misconception that these jobs can be done cheaply, but you cannot cut corners. You have to treat these jobs as you would your other retail jobs. The standard has to be high.
"Knock-on delays affect other things. They are keen to tie you up in knots contractually. You have to make sure you have enough wool on your back should things go wrong."
Warehousing is also important, because it's likely for contract jobs to be delayed, leaving you with lots of stock. Harrison recommends having dedicated warehouse space with an area for each of your contract clients.
"Developers often run late on jobs and they will still pay you, providing they can see the goods," he says. "The customer needs to be able to identify what's theirs. It means you get paid quicker, and they'll adjust their payment terms to suit you if they want you to do the job."
You should also consider having a dedicated contracts team as well as strong logistics and a robust business software management package because, as Gillies jests, "Post-It notes just won't cut it!"
There's a misconception that these jobs can be done cheaply but you cannot cut corners. You have to treat these jobs as you would your other retail jobs. The standard has to be high

Mark Harrison, managing director, Stuart Frazer, Manchester
So why bother?
You might be thinking that this all seems like a lot of hassle, so why bother? For many, perhaps the majority, the answer would be "don't". However, if your business is set towards the higher end of the market, and you already have much of that infrastructure in place, our experts say now could be a good time to get involved, because developers are increasingly recognising the extra value of a kitchen from a well-respected local independent retailer.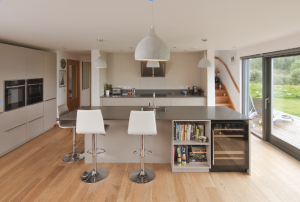 Harrison, Gillies and Crespi all report up-specifying on contract jobs where they feel the current specification might not match up to the value of the property or meet the expectations of the purchaser. As local, independent retailers, they are armed with that local knowledge and have naturally carried out that local market by the nature of their retail business.
Brands used by our experts include Siematic, Leicht, Gaggenau and BSH, Miele, Corian and Spekva – premium brands that you might not readily associate with the contracts market.
In addition, purchasers of property in higher-end developments may be allowed to have a say in the design elements of the kitchen, which means that you, as a retailer, have an opportunity to up-sell.
Crespi comments: "We often find ourselves up-selling across our contract kitchen projects as a result of customer input at the early stages, especially with properties bought off-plan. We also try to use key features when designing larger-scale kitchen projects to attain a level of exclusivity – a strong selling point for a developer.
Get in early
If you are getting started in the contracts market, but are new to it, there are some other important things to bear in mind. One is to ensure your early involvement in the project, otherwise kitchen designers can find themselves sidelined by architects.
It can also be beneficial to get involved in the planning stages of the build, as you may then be able to influence the build to better fit your kitchen design.
Harrison says: "Too many people in this business will just design a kitchen based on what the architect has designed and what the builder has built, but we can go in and say, 'if you move that stud wall 10mm to the right we could do this, or if you move that window here, we can do that', and you can really help the developer to create something that functions much better.
"I'll have developer clients sending me plans so I can offer advice and comment not only on the kitchens, but the whole property layout, and I'll say the downstairs loo is too small or you haven't got a cloakroom. That's just down to market awareness, as I know what someone buying a £500,000 five-bedroom house will expect. 
"Architects tend to think they are the be-all-and-end-all when it comes to design and they don't like being told they're wrong."
Gillies agrees: "Architects can be extremely precious and they don't like anyone criticising their design work. Developers are usually conscious of this and tread quite carefully."
Architects can be extremely precious over their professional and they don't like anyone criticising their design work. Developers are usually conscious of this and tread quite carefully

Iain Gillies, managing director, Mihaus, Glenrothes, Fife
Installation
Installation is probably the most important element of any kitchen project. For Mihaus, the process is simpler than most, because they only do dry fit and not the plumbing or electrics. "That is one of the big attractions for us," Gillies comments, "as it's just a two- or three-day fit and we can do it with one tradesmen rather than a team. It's much easier to deal with."
Hubble Kitchens uses a combination of in-house installers and subcontractors, both trained in the specific products the brand supplies. Crespi says having an employed team of installers is beneficial as it offers them greater flexibility for larger-scale projects that can often be delayed or brought forward.
He adds that the advantage of having a long-standing subcontractor team, is the support it provides us and our customer through our busy periods. 
Harrison adds that he uses four subcontractors and pays them "more than the going rate to ensure they do a good job".
Lucrative
Contracts work has its risks, but it can be very lucrative, if you plan for all eventualities. Start with smaller, higher-end, developments where you can build a strong relationship of trust with the developer – much as you would with any retail customer. And remember, there are developers out there looking for retailers like you.